If you are looking for a true getaway on your next golf trip, one that offers world-class golf in a truly unique wilderness setting, then plan a visit to the Big Cedar Lodge sitting right in the heart of the Ozark Mountains of Missouri.
The nearly 5,000-acre resort, the brainchild of Bass Pro Shops founder Johnny Morris, is an outdoor lover's paradise featuring hiking, boating, shooting, horseback riding, outdoor heated pools, fishing, a full-service spa, and a 10,000-acre wildlife preserve.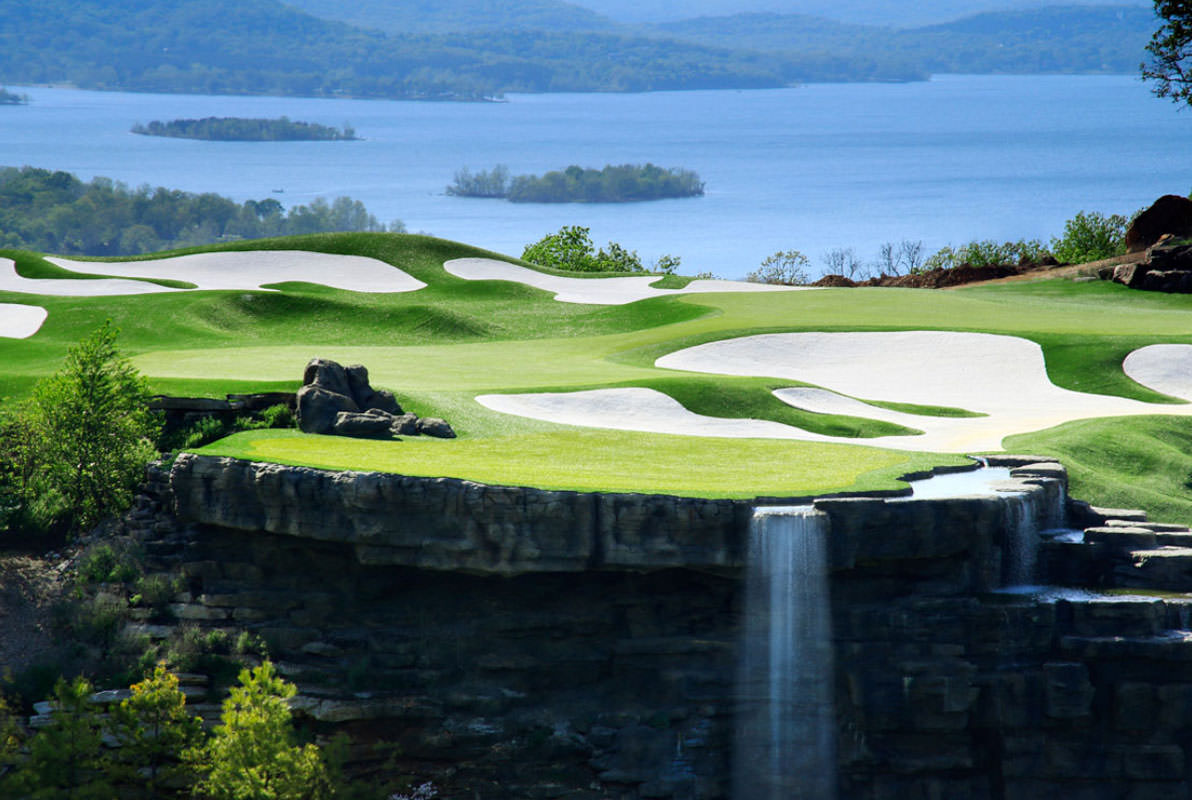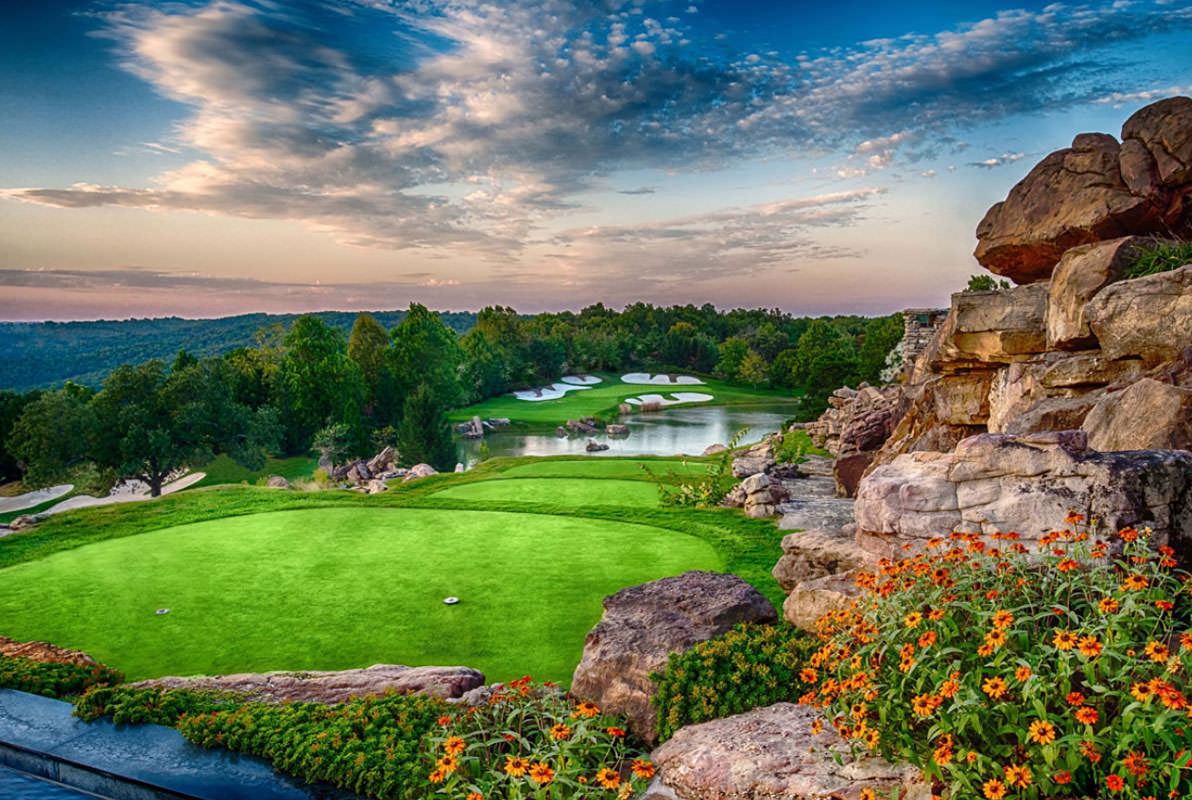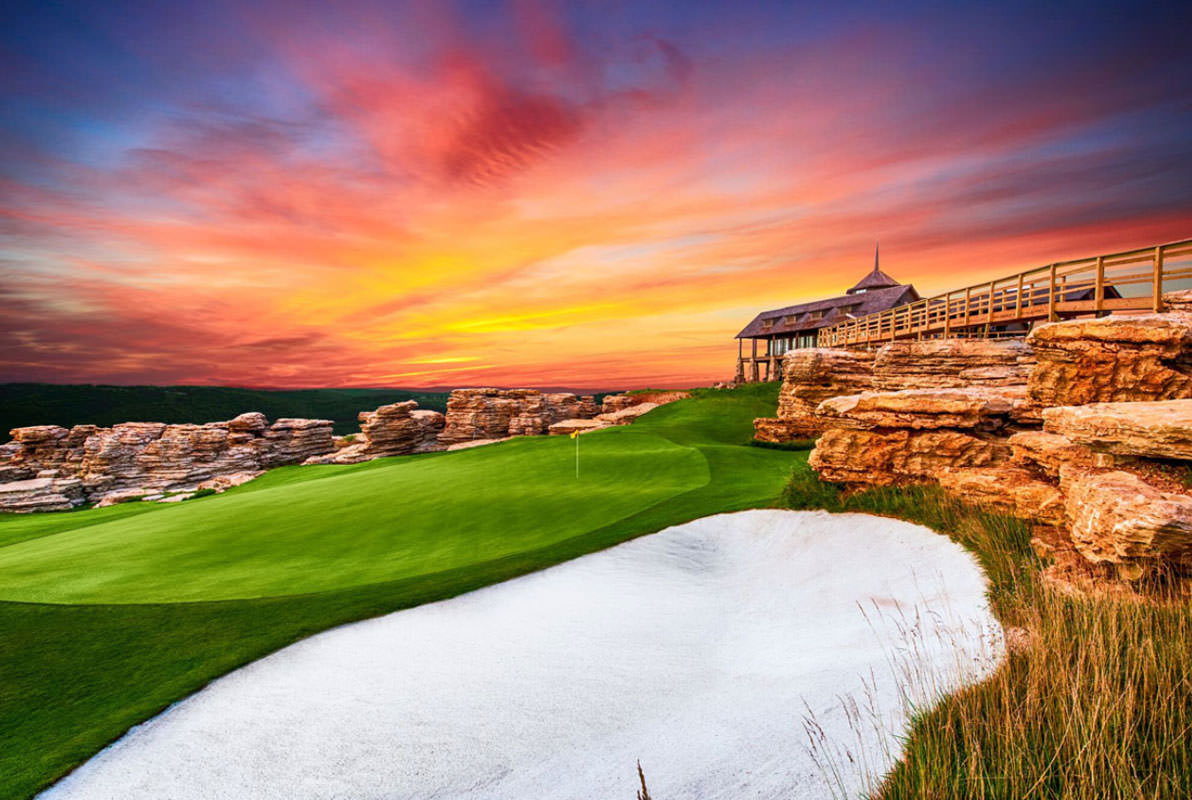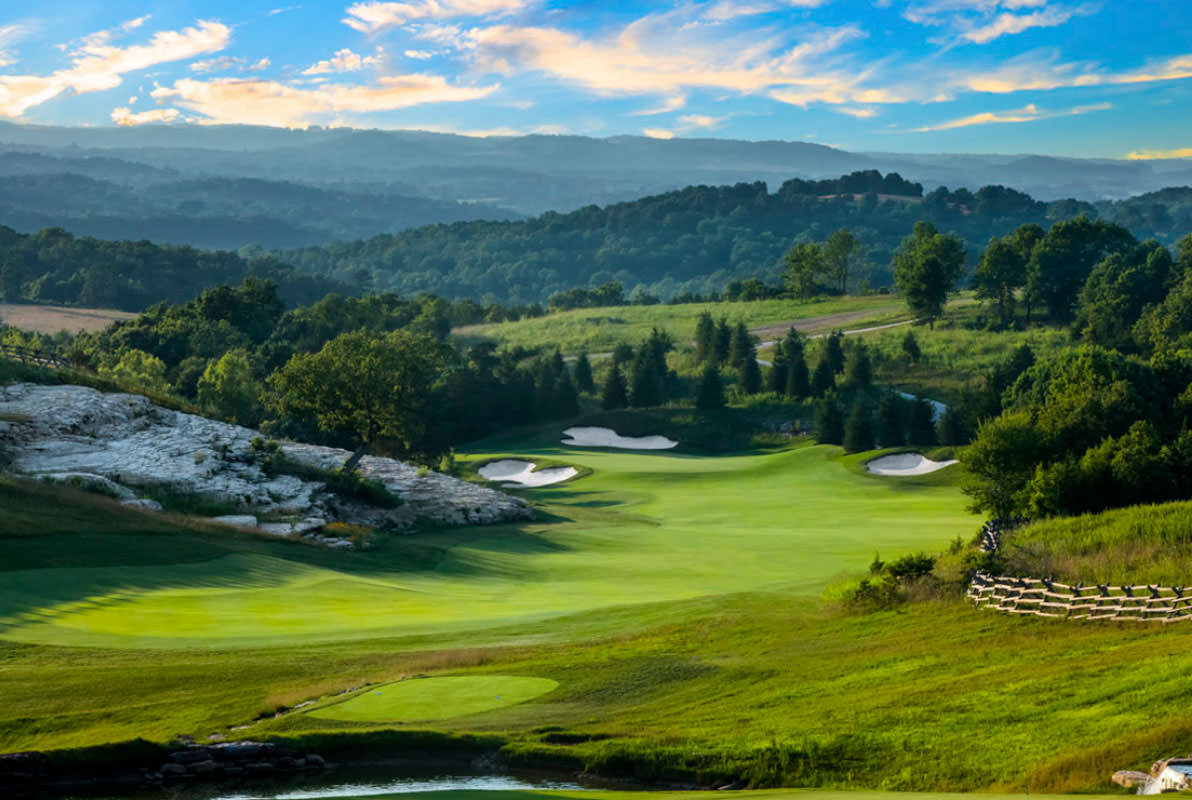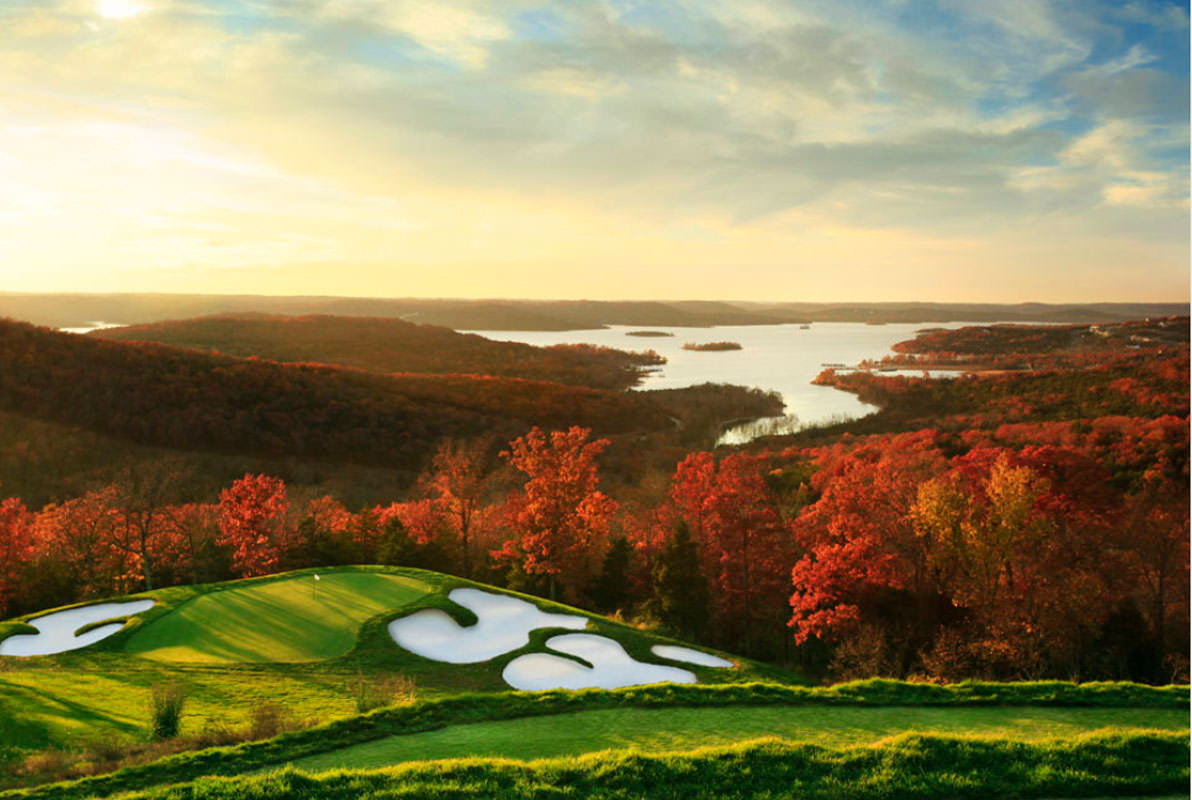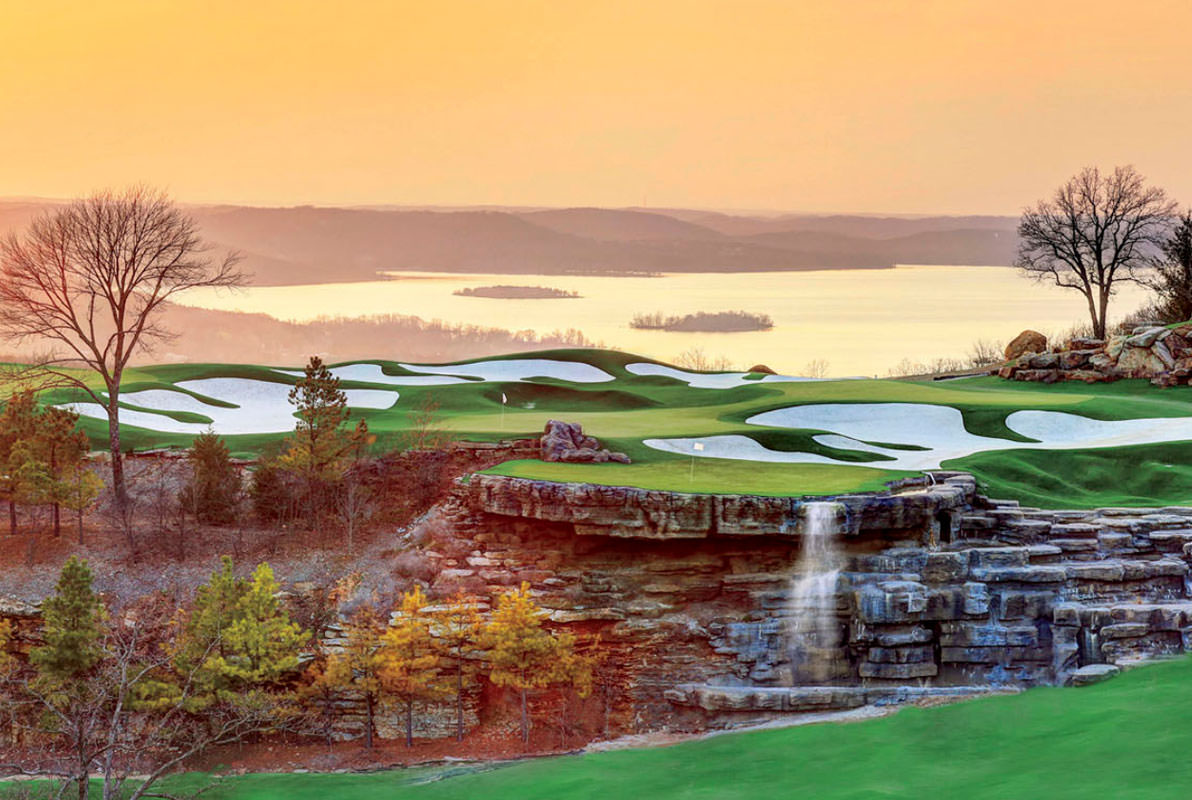 Luxurious Dining And Entertainment
Add to the mix a ton of great dining options, on-site entertainment with more just down the road in Branson, and a selection of championship golf courses designed by the likes of Nicklaus, Fazio, Player, and soon to open tracks from Coore and Crenshaw, as well as from Tiger Woods, and you've got the perfect recipe for a memorable golf getaway.  
The Lodge offers guests a selection from a collection of 260 spacious and private rooms spread across lodges, cottages, and log cabins. All accommodations are full of great amenities including wireless Internet access, bathrooms with luxury tub and shower, TV's, DVD players, electric or wood-burning fireplaces, private balconies, refrigerators, kitchens, and gas grills.
Dining will certainly be a treat on this trip as the resort offers a bunch of delicious restaurant options serving just about anything you have a craving for. From the fine dining experience at the Osage Restaurant featuring stunning views and dishes including rack of lamb, pan-seared halibut, braised short ribs, and mushroom risotto to a taste of Mexico at Arnie's Barn – created from a 150-year-old barn relocated from Arnold Palmer's hometown of Latrobe, Pa. – to pizza, pub fare, beers, and live music at Buzzard Bar, Big Cedar has got you covered.
Jack, Tiger, And Player
The Golf
Top of the Rock: Jack Nicklaus created a truly unique golf experience with Top of the Rock, a par-3 course with holes ranging from 114 to 202 yards. Meticulously cared for and located above Table Rock Lake, the course features waterfalls, bass-filled ponds, and creeks. The course has received such high praise that the PGA Tour decided to host an event there with the Legends of Golf each spring – the first time a par-3 course has been included as a sanctioned event.
Buffalo Ridge Springs: The par-71, 7,036-yard Tom Fazio-designed Buffalo Ridge offers a true natural golf experience featuring native grasses and even roaming herds of roaming buffalo who live in nearby Dogwood Canyon Nature Park. Tricky approach shots, water hazards, and strategic bunkers are the hallmark of Buffalo Ridge.
Mountain Top: Another unique experience, this walking only, a 13-hole masterpiece was created by Gary Player and Johnny Morris. The course, which features multiple tee-box locations creating a variety of different approach shots and angles, also offers some of the most incredible views you will find anywhere. Even the walk between holes is impressive as golfers are taken over bridges and through passageways.
Two additional courses are set to open within the next year, including Ozarks National (Coore and Crenshaw, Fall 2018); and Payne's Valley (Tiger Woods, 2019).
Not surprisingly, Big Cedar offers several great golf packages, including the Buddies Golf Getaway which features a one-night stay, 9 holes at Top of the Rock, 13 holes at Mountain Top, 18 holes at Buffalo Ridge Springs, range balls, rental clubs, a Lost Canyon Cave and Nature Trail, and a $100 voucher for the End of the Trail All American Wine Cellar at Top of the Rock. Prices start at $1000 a night based upon double occupancy.
Buddy Trip Cost:
$2500-5000
Travel (by car):
15 minutes from Branson, one hour from Springfield, 3 hours from Tulsa
Accommodations
Top of the Rock Lodge (Opening Soon)
Entertainment
 Dining
Scorecards
Design:
Top of the Rock: Jack Nicklaus (1996)
Mountain Top: Gary Player (2017)
Buffalo Ridge Springs: Tom Fazio (1999)
Ozarks National: Bill Coore, Ben Crenshaw (Opening Fall 2018)
Payne's Valley: Tiger Woods (Opening 2019)