There are places in the United States that are an absolute must-go for a golf trip. Blackwolf Run in Kohler, Wisconsin is one of those must-go places. With four championship golf courses, elegant accommodations and more than 10 restaurants, the American Club Resort in Kohler, Wisc., has become a mainstay on any buddy trip hotlist.
The Kohler-family owned and operated American Club, located just an hour from Milwaukee,  offers some incredible golf via Blackwolf Run and it's younger, but greatly heralded sibling, Whistling Straights.
Blackwolf Run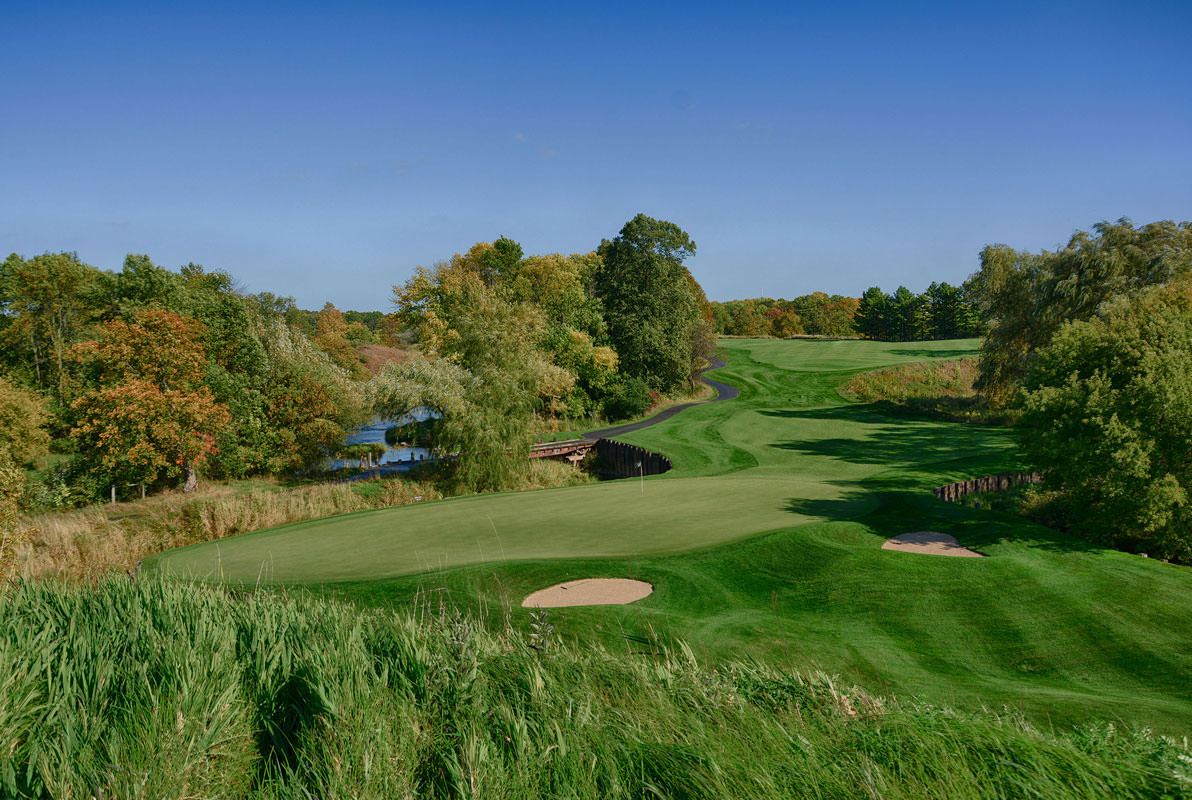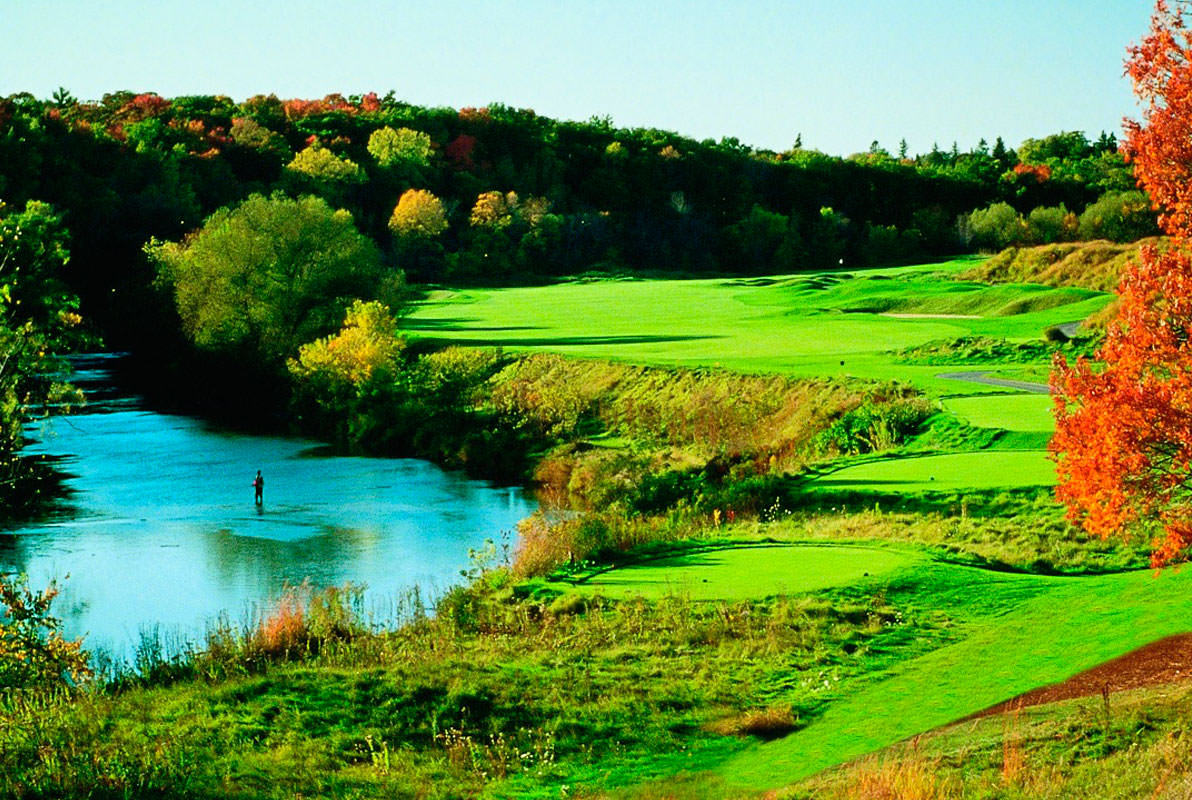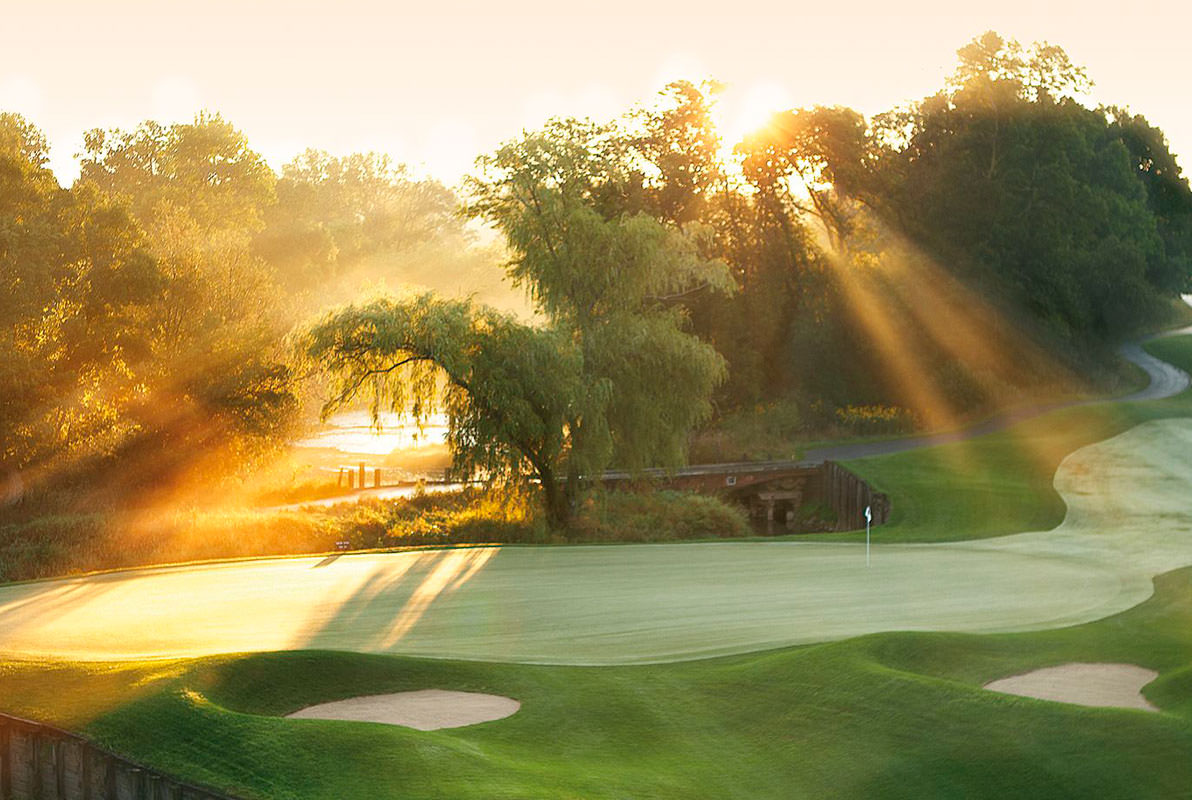 Challenging And Rewarding Golf
Routed by Pete Dye throughout the Sheboygan River Valley, formed by glacial runoffs thousands of years ago, Blackwolf Run and its two tracks – the River and the Meadow Valleys – is sure to offer a challenging yet rewarding test for any golfer.
The resort offers some solid golf package options, including the Dye-Abolical which includes:
Three nights at The American Club or Inn on Woodlake or Sandhill
Four, 18-hole rounds of golf per person. One round on each of the following courses: The Straits and Irish at Whistling Straits, The River and Meadow Valleys at Blackwolf Run.
A 30-minute golf lesson at Blackwolf Run, Whistling Straits or the Kohler Swing Studio with a Kohler Golf Academy instructor.
Fishing, Boating And Brews
If you love being outdoors, Kohler is the right place for you. Fancy yourself a fisherman? Plan on spending a few hours casting away in the Sheboygan River, which offers some of the best salmon and trout fishing around. Not into fishing? No problem. Grab a canoe or kayak and enjoy a couple of hours paddling downstream.
If you are more in the mood to chill and enjoy some great microbrews, take the short ride down WI-23 E and settle in for a visit to 3 Sheeps Brewing in Sheboygan. With nearly 20 beers on tap and an ever-changing selection that includes mainstays like First Kiss IPA, Rebel Kent Amber Ale, and Cashmere Hammer Micro Stout, there will be something to please everyone.
Destination Kohler is a truly unique location providing a world-class experience on and off the course. Playing the championship courses at Blackwolf Run is a must.
So what are you waiting for?
Buddy Trip Cost
 $1,000-$2,000 pp
Travel (by car)
 One hour from Milwaukee or Green Bay, two and a half hours from Chicago. 
Nearby Courses
Accommodations 
Entertainment
Dining
Scorecards
Design
River (Pete Dye, 1990)
Meadow Valleys (Pete Dye, 1988)