Just a short walk from historic downtown Southern Pines and a few miles from Pinehurst you will find the Pine Needles Lodge and Mid Pines Inn. Both properties not only offer incredible Donald Ross golf courses, but relaxation, history, and southern charm. It all adds up to a recipe for a great golf trip.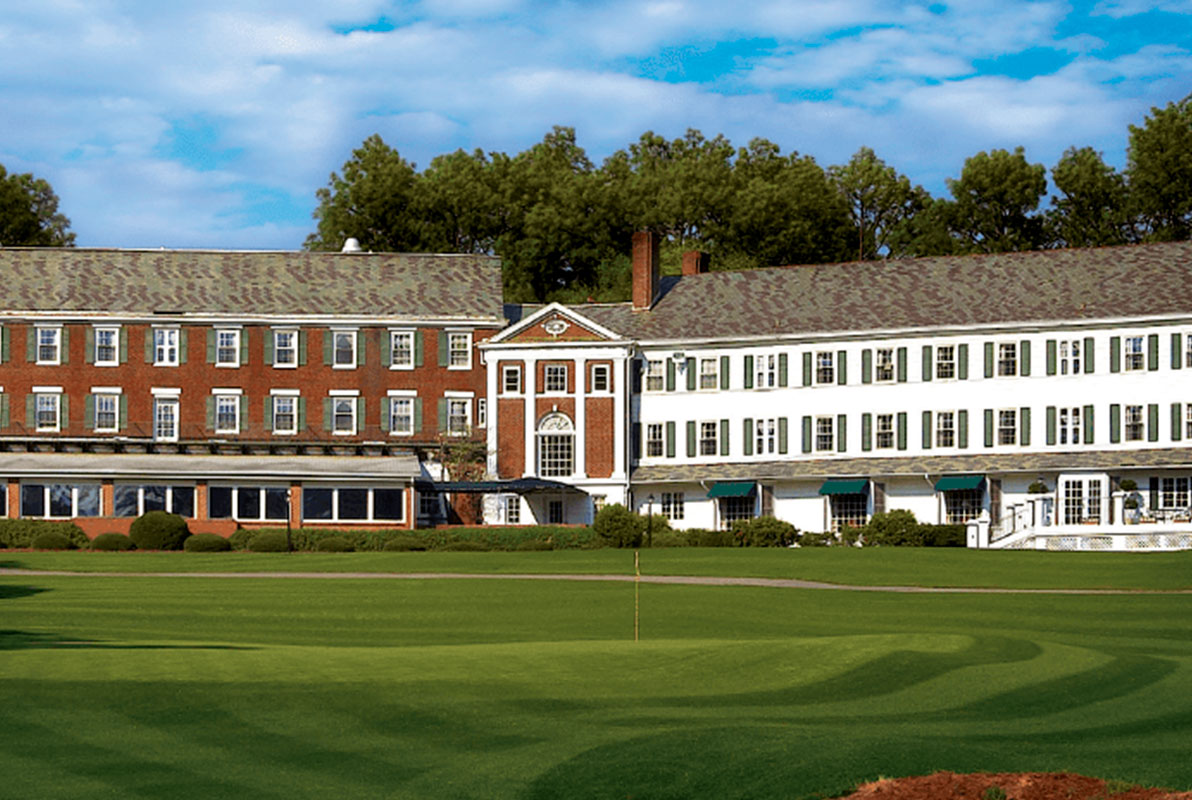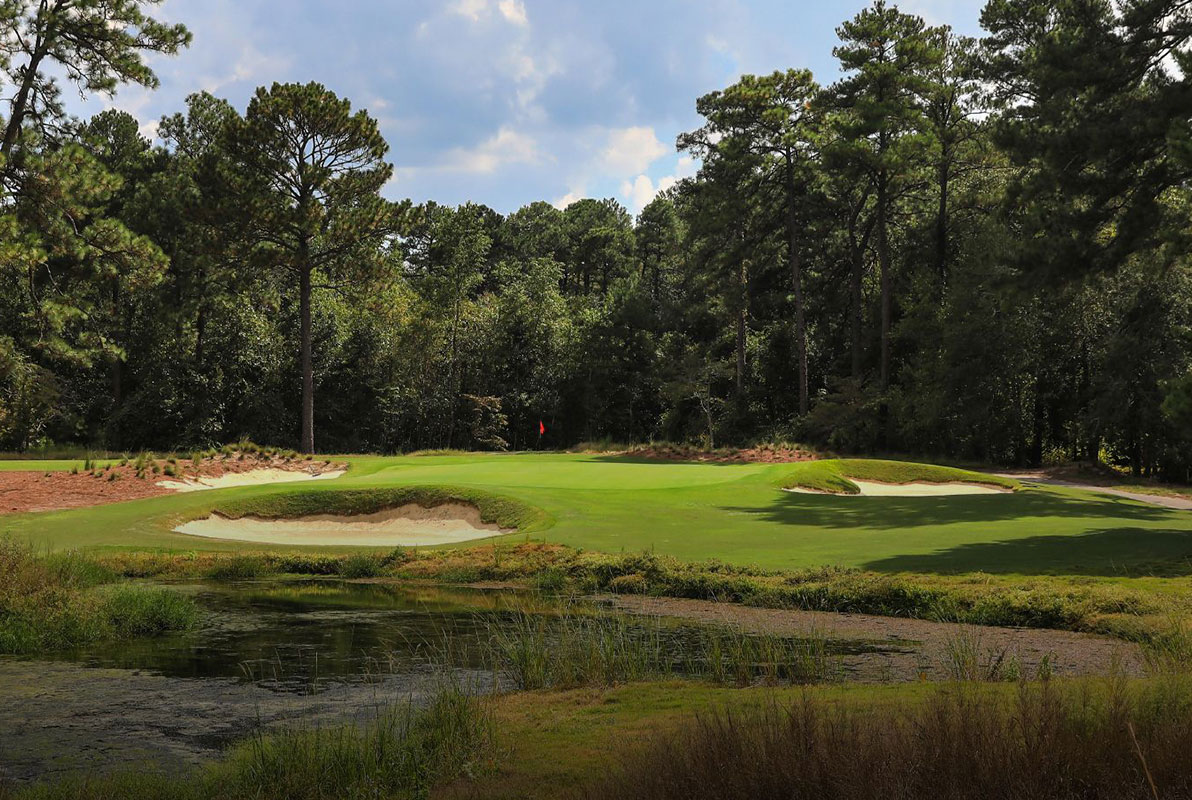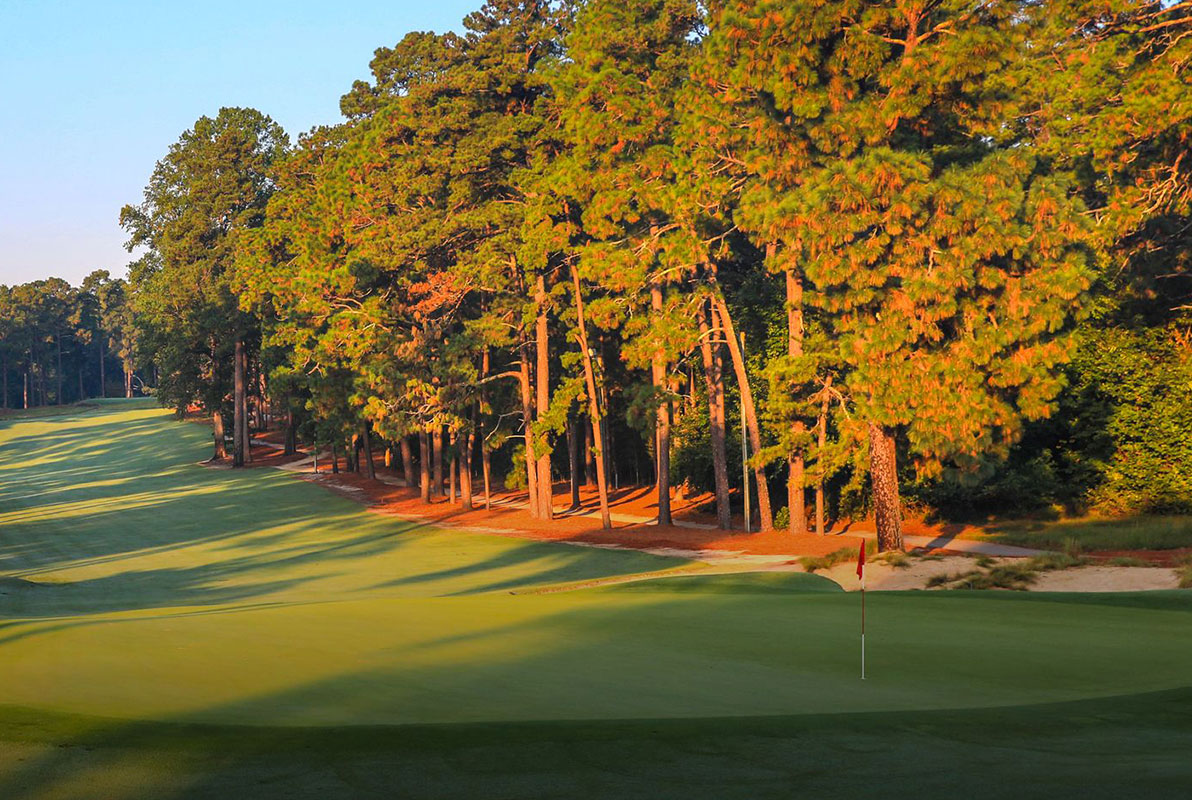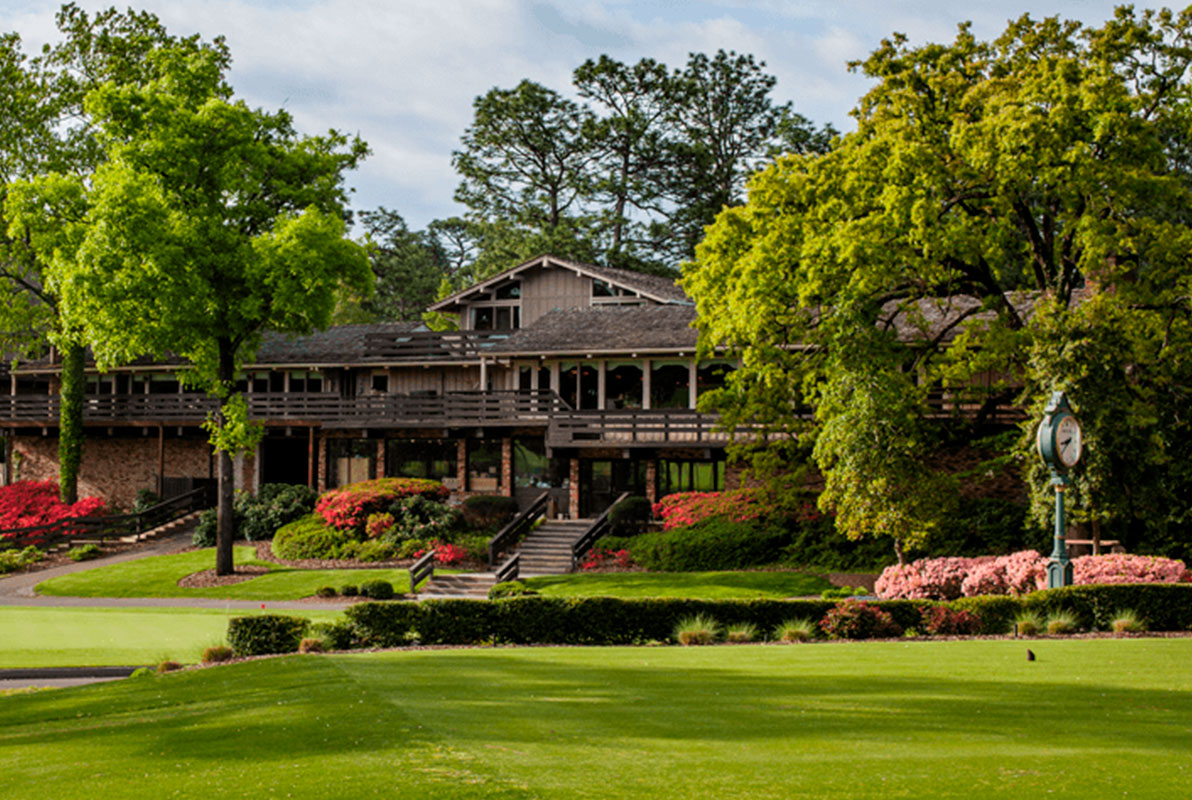 Pine Needles Lodge & Golf Club
Established by LPGA founding member Peggy Kirk Bell and her husband, the 74-room Pine Needles Lodge welcomes guests with a restaurant, a Donald Ross championship golf course, restaurants, free in-room WiFi, two meeting rooms, free parking, a conference center, and 24-hour front desk service.
NO BUDDY LEFT BEHIND
In addition to rooms in the main lodge, larger groups can select from chalet-style lodges that comfortably fit up to 20 guests. Rooms are air-conditioned with refrigerators, safes, cable TV, and free toiletries.
The natural, wooded setting creates a feeling of quiet seclusion and relaxation at the property. Other on-site amenities include an outdoor swimming pool, grass tennis court, and a full fitness center.
The Crest Dining Room provides an ever-changing menu that includes dishes such as linguini and meatballs, lobster ravioli, shrimp and grits, and spicy fried chicken breast and waffles. Guests can also enjoy a meal by the fire at the Crest Courtyard or more traditional pub fare at the In-The-Rough Lounge. Pine Needles also offers boxed meals upon request, so you can take something on the go as you explore the area.
FAMOUS FOR A REASON
The Pine Needles Golf Course is certainly no stranger to golf fans. The par-71, 7,015-yard course has hosted three U.S. Women's Open Championships and will host its fourth in 2022. The course is both challenging and rewarding for golfers of all levels.
Pine Needles just emerged from a complete restoration with rebuilt greens and revamped bunkers with new sand. Using vintage photos of the course, green complexes were restored to their original Donald Ross form. The course was also lengthened to more than 7,000 yards to create more challenging shot selections particularly from the tee as the strategically placed fairway bunkers come more into play.
Mid Pines Inn and Golf Course
Located just across the street from Pine Needles, the Mid Pines Inn provides guests with 59 uniquely decorated rooms that include microwaves, coffee makers, free newspapers, cable TV, and free WiFi. In addition to the inn, Mid Pines offers private villas with kitchenettes overlooking the 10th fairway. 
Mid Pines features a Donald Ross designed championship golf course, outdoor pool, fitness center, free parking, tennis courts, a conference center, and 24-7 front desk service.
The Terrace and Dining Room not only offers daily breakfast and lunch buffets, but a full and wide-ranging dinner menu offering everything from burgers to steaks to bacon-wrapped meatloaf to shrimp and Cajun pasta.
Pop's Lounge is open daily offering burgers, wraps, sandwiches, and Po'Boys.
NEARLY 100 AND STILL LOOKING GOOD
The old adage, "If it ain't broke, don't fix it," is all too appropriate for the par-72, 6,723-yard Mid Pines Golf Course. Since its unveiling in 1921, little has changed with the course. There is no reason to, with most seeing it as perfect the way it is. During a 2013 renovation by Kyle Franz, vintage aerial images were used to ensure the course layout remained exactly as Ross has intended. To that end, most of the renovation was more facelift than all out plastic surgery.
Mid Pines, which has played host to many national competitions including the 2002 USGA Senior Women's Amateur Championship, is a fun course with few forced carries or sinister holes. It naturally flows through the surrounding landscape and pines offering a great experience for golfers of all skill levels. Pine Needles and Mid Pines both offer several great stay and play packages that include accommodations, unlimited golf, breakfast and/or dinner, and golf cart use.
Buddy Trip Cost
$1500-2000  
Travel (by car)
1 hour from Fayetteville and Raleigh, 2 hours and 15 minutes from Charlotte, 3 1/2 hours from Richmond   
Accommodations
Entertainment
Dining
Scorecard
Design
Pine Needles Golf Course: Donald Ross (1927)
Mid Pines Golf Course: Donald Ross (1921)