How many times has it happened: you're in the middle of your round when your tee shot on 12, uh, "leaks" right and into the adjacent fairway? You have a line on it, but you're not 100 percent sure where your Titleist touched down. Unfortunately for you, the "gentleman" in jeans playing that hole isn't quite sure where his ball is, either, and as far as he's concerned, the first one he finds is his.
Related Link: Amazing Slo-mo Footage of Driver Impacting Titleist Ball
"Titleist 2 with three red dots?" you ask, only to be rebuffed with, "Yeah, me too."
Sure, bud. Sure. If only there were a way to make absolutely sure that not even the most seasoned ball hawk could claim to be playing the same ball as you.
Next year, you can put an end to these shenanigans by asking for your own, personalized golf balls this holiday season from Titleist, the #1 ball in golf.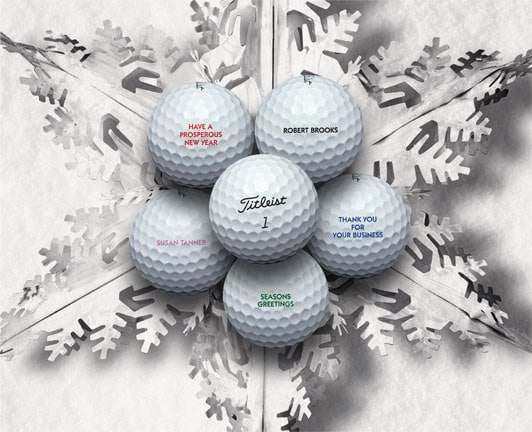 The popular promotion from Titleist is back, offering every golfer the chance to personalize their golf balls. And we're not just talking three-character monograms; you can put any two-digit number you'd like and up to three lines of text (17 characters per line) imprinted on each golf ball in black, blue, green, red or pink. Personalization is available on all golf ball models produced by Titleist (though a few restrictions apply) and Christmas delivery is guaranteed on orders placed by Dec. 10.
Take this free opportunity to make sure that next golf season, the Titleist you play is always marked with your lucky number or that motivational quote that keeps you going — and most importantly, stays out of the other guy's pocket. No one can argue with you when you yell, "Titleist 71 with the Billy Martin quote on the side," right?
The offer runs from now until Dec. 31 and there are a couple restrictions that apply; for more information visit Titleist.com and click on the "holiday personalization" banner on the home page.
Related Links: Designing the Nike TW'14 with Tiger | Titleist AP2 714 Irons
Other Hot Links:
– Gearing Up: TaylorMade SLDR Woods
– Gearing Up: Titleist 913 Driver
– Gearing Up: Nike VR_S Covert Driver Review
– Gearing Up: Bushnell Neo X GPS Watch