Your SwingU Handicap is calculated automatically by the app as you play golf.  The app will not use rounds played on courses that are par-3 courses, Executive courses or courses with a par less than 69.  
Your SwingU Handicap will be displayed on your app home screen upon logging in and is able to be adjusted for you and your playing partners in the Start Round screen for the round and course you will be playing.
Your Adjusted handicap will take into account the course rating & slope from the selected tees, while the Unadjusted handicap will use your SwingU Handicap without taking into account course difficulty. Should you opt to play without allotted handicap strokes, you can select Off from the Handicap entry screen.
How is my SwingU Handicap calculated?
Your SwingU Handicap is calculated as an average of the SwingU Handicap Differentials of the rounds you have entered. When less than 20 scores are in your scoring record, a fewer number of scores are used to calculate your SwingU Handicap.
SwingU Handicap Differentials measures the performance of a round in relation to the relative difficulty of the course that was played by using a course's rating & slope. It is calculated using the following formula: 

(113 / Slope Rating) x (Gross Score – Course Rating)
If you haven't recorded 20 rounds in the SwingU app, we use the most commonly-accepted practice to calculate a handicap based on the number of rounds you've entered. Here's how we calculate a handicap up until 20 rounds have been entered: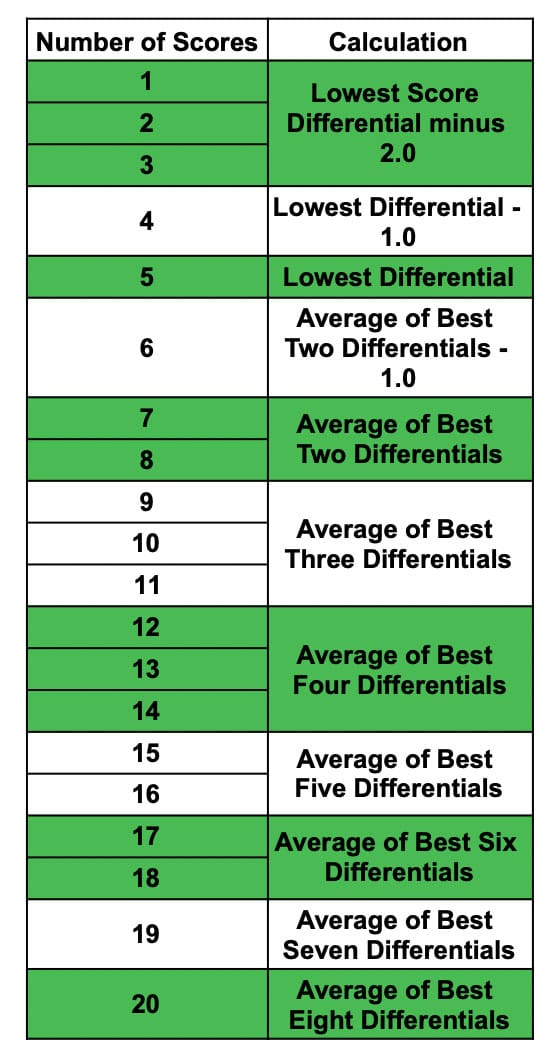 To see the rounds that are being used to calculate your handicap:
Log into the app
Under the section labeled "Stats," click "Rounds & Handicap"

This page will show your handicap at the top of the page
Then scroll down and you will see a list of all the rounds that you have played.  The rounds that are highlighted in green are the rounds that are being used to calculate your handicap.  
---
If you have further questions about your SwingU Handicap, please email support@swingu.com.