The golf world is alive and well on Twitter, sharing some insight into the lives of the best players on the planet — on and off the course. Here are our favorite tweets from the week that was.
1) Hey Bro, Remember Me?
@RickieFowlerPGA any chance of some conversation or company on this flight!?! pic.twitter.com/6THbRqzSCH

— Rory Mcilroy (@McIlroyRory) March 31, 2014
2) SURFBOARD
Surf it in. @lukedonald @evanfire35 #stickthelanding http://t.co/DLGK4PDrar

— Keegan Bradley (@Keegan_Bradley) March 31, 2014
3) Good To Be Back! 
It is here and what a place to come back to. Can't wait to step out onto the course tomorrow….#everygolfersdream pic.twitter.com/hwpTbndySX

— Branden Grace (@BrandenGrace) April 5, 2014
We are finally here! #MastersWeek pic.twitter.com/vLmcsJfkOs

— Gonzalo Fdez-Castaño (@gfcgolf) April 6, 2014
Never gets old #MagnoliaLane http://t.co/2QXSXaP98G

— Luke Donald (@LukeDonald) March 30, 2014
4) Price Louie Means Business 
Louie Dufner eats card tricks for lunch. #honeybadger @JasonDufner pic.twitter.com/bfhhBtxUay

— Jamie Burnett (@jmeburnett) March 31, 2014
5) Poulter's Pressed Pantalones 
It's that time to get things pressed for the day. @IJPDesign www.ijpdesign love ironing my strides. pic.twitter.com/TVToVB8W0Z

— Ian Poulter (@IanJamesPoulter) April 2, 2014
6) World's Smallest Caddies, World's Biggest Fans
Guess who's excited about next week?! #TheMasters #Augusta pic.twitter.com/dbyCCvzgXd

— Carminita Immelman (@carminita78) April 3, 2014
Dash is displeased with this. 6 days til par three. 7 days til go time.pic.twitter.com/q9Yv0NtFWV

— Ellie Day (@ellielaneday) April 3, 2014
My little girls outfit has arrived just in time for next week #augusta #masters pic.twitter.com/MpsaslEfAG

— david lynn (@DaveLynndawg) March 31, 2014
7) Bag Swag
My new @CallawayGolf bag this week 🙂 #pink #KNCGolf http://t.co/3UUWgHhoQ2

— Sandra Gal (@TheSandraGal) April 3, 2014
Thank you so much for the new bags at putter cover at @KNCGolf@CallawayGolf@ @odysseygolf #Feeling special pic.twitter.com/bsq7tFsQkX

— Yani Tseng (@YaniTseng) March 31, 2014
Mr. Palmer's #Masters2014 bag from @CallawayGolf arrived today. These pictures don't do it justice. Nice work guys. pic.twitter.com/lb6Yw8nca8

— Cori Britt (@coribritt) March 31, 2014
8) Job On the Side 
Should have seen me in Gladiator! @scouserbrian: @LukeDonald @IanJamesPoulter I didn't know H Stenson was in Topgun pic.twitter.com/IM5o94eRxa""

— Henrik Stenson (@henrikstenson) April 3, 2014
9) Remembering Masters History
Pretty cool huh…. @CGHF display of Mike Weir's Masters winning ScottyCameron putter/head cover & image pic.twitter.com/SYxMAOrQT2

— Rick Young (@RickSCOREGolf) April 1, 2014
10) Lil' Jon Gets Loud 
Check out @LilJon in his @LoudMouthGolf 'Shiver me Timber' pants with @GARRETLAUER #ultra #UltraMusicFestival #UMF pic.twitter.com/MTz11cv31E

— Loudmouth Golf (@LoudMouthGolf) March 31, 2014
11) Headcover Love For the Ladies 
Thanks @odysseygolf @Barrylpga for the sweet @KNCGolf themed putter cover!! pic.twitter.com/gUvDWvHgU0

— Amelia Lewis LPGA (@AmeliaLewisLPGA) April 3, 2014
RT @Odyssey_Koske: Check out the headcovers we made for the @lpga ladies at their 1st major this week. #DinahShore pic.twitter.com/b9DYEIvEef

— Odyssey Golf (@odysseygolf) April 1, 2014
12) Can't Let Snow Slow Down the Movement 
Meghan Zambruno wasn't about to let the last snow of the season get in the way of her practice for #DriveChipandPutt! pic.twitter.com/STguD5KILZ

— Drive Chip and Putt (@DriveChipPutt) April 1, 2014
13) Blair Behind the Scenes 
Sneak Peak #behindtheScenes #MagazineCoverShoot http://t.co/DZd93dD99z

— Blair O'Neal (@BLAIRONEAL) April 1, 2014
14) Bilingual Excitement! 
My new putter: great touch from TaylorMade to put my logo on it! Nice surprise! Mi nuevo putt: bonita sorpresa de TM! pic.twitter.com/7OYBTULZLe

— Sergio Garcia (@TheSergioGarcia) April 1, 2014
15) I'm On a Boat!
My new Fishing Machine sittin' pretty at the Jupiter Sandbar. Edgewater Boats 24is http://t.co/JMNqIvy7VC

— Will Mackenzie (@mavandnash) April 1, 2014 
16) Swinging For the Face
My first caricature! Thx Volvik #VolvikUSA pic.twitter.com/UTURFWC4fx

— Petro (@SwinginBucket) April 1, 2014
17) Back9 Player Ambassadors On the Move 
My main man Chris chelios. Much respect ! pic.twitter.com/YQzZETxTvo

— Ahmad Rashad (@NBATVAhmad) April 3, 2014
Thank you @pp_golf_labs for the support this year. It truly means a lot to have you guys on my team!!… http://t.co/Aeiokh51QV

— Willy Pumarol (@willypumarol) April 2, 2014
Chasing. #Road2LPGA pic.twitter.com/SVN4G2FFIb

— Cheyenne Woods (@Cheyenne_Woods) March 31, 2014
Closest to the pin gets their name on Joe Nemechek's car for next weeks race! #Natsters @NatHardwick pic.twitter.com/vMDIxMzKQC

— Kyle Thompson (@KyleThompsonPGA) April 4, 2014
18) Here You Go, Just Don't Breathe! 
Gave my shoes aways after the final round at the lpgakiaclassic to Bridget! She watched me a few days… http://t.co/bX9PU7n9eM

— Lexi Thompson (@Lexi) April 1, 2014
19) Graeme Gets Ready To Kill It!
.@lwftchief2 getting my @SrixonGolf equipment Masters ready! Drivers, some fresh wedges and little 3 wood work #major http://t.co/6KLmAL8j39

— Graeme McDowell (@Graeme_McDowell) April 2, 2014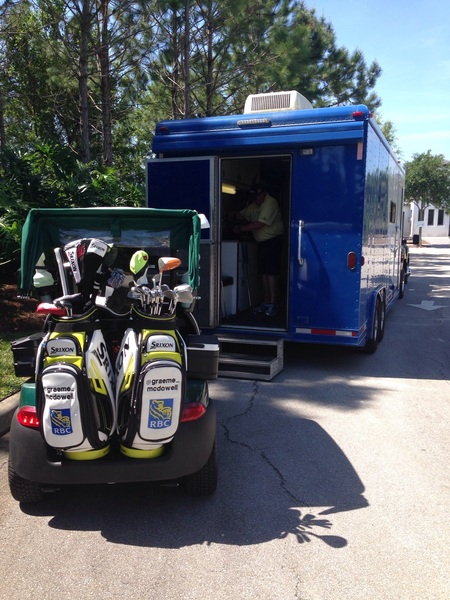 20) They Need To Get "Ball Hogs" To Texas!
Welcome to the @ShellHouOpen. I can report that the lake is stocked with fish (and probably stocked w golf balls) pic.twitter.com/reO6VrlB8F

— Ben Crane (@bencranegolf) April 1, 2014
21) Perfecting His Short Game 
"@peterknight6: Great day for Adventure Golf @yarrabendgolf pic.twitter.com/ywgtr5dZRT" can't wait to try for a 59 on this one

— Stuart Appleby (@StuartAppleby) April 2, 2014
22) Presents From the Mrs. 
Wife did it right with my 37th birthday gift. So lucky to have a great woman in my life! pic.twitter.com/tTlVnR2gGH

— Jason Dufner (@JasonDufner) April 2, 2014
23) Callaway Makes Time For Play
24) Rickie Hits the Racetrack 
With two legends @jeffgordonweb and @CRtwotwo #SXonFOX @ Reliant Stadium pic.twitter.com/Iq57SjQEip

— Rickie Fowler (@RickieFowlerPGA) April 6, 2014
#SupercrossSelfie with the one and only kdub_14 http://t.co/52rtrfdsYH

— Rickie Fowler (@RickieFowlerPGA) April 6, 2014
25) Wishful Thinkers 
Sorry Mav it ain't happenin' bud! We'll stick with the F-150 for now. http://t.co/bpLLJaQwfQ

— Will Mackenzie (@mavandnash) April 6, 2014
26) Lucky To Be In the Midst Of Legends  
Guess I got lucky in the pro-am today.. Two legends and role models of mine @ClayWalker @EmmittSmith22 pic.twitter.com/UALXtGhVeh

— Jordan Spieth (@JordanSpieth) April 2, 2014
27) Ben Crane…Never Ceases To Amaze Us 
Chipping contest w my housemates. Hopefully turning the living room into a short game area is included in our lease http://t.co/WzsWVJHDej

— Ben Crane (@bencranegolf) April 2, 2014
Good one @bencranegolf RT @rbrownn04: Quality photo bomb from @bencranegolf !! @RickieFowlerPGA pic.twitter.com/bQ1bWUDpeP

— Rickie Fowler (@RickieFowlerPGA) April 3, 2014
28) Derek Jeter Steps Into the World of Golf 
.@Johnson_Wagner and @Lucas_Glover_ helped presented Derek Jeter with something every retiree needs: New clubs. pic.twitter.com/7oclvJzx5w

— PGA TOUR (@PGATOUR) April 3, 2014
29) All Black Everything 
What do you think? RT @BlackKnightIntl: Breaking: What @GaryPlayer will be wearing next week at @The_Masters pic.twitter.com/KCZzCeCKvR

— Gary Player (@garyplayer) April 3, 2014
30) Paula Poses With Her Posse 
Thanks for making the trip to come watch me!!!!!! #bestfans http://t.co/HjhHncyDRr

— Paula Creamer (@ThePCreamer) April 4, 2014
Other Hot Links: 
– 7 Most Dramatic Chip-Ins In Golf History
– Jimmy Fallon Birdies From The Bunker
– The Masters: Insiders Guide
– Top 9 Jordan Brand Athletes
– Ticket Masters: Tiger's Withdrawal Could Cost $50 Million