You may not have heard of On Course Foundation, but you should.
The organization has somewhat flown under the radar since its inception in the U.K. in 2010 and U.S. expansion four years later. Building an infrastructure was job No. 1 and it's succeeded aglow.
On Course Foundation serves wounded, injured and sick military men and women through the game and business of golf as a rehabilitation mechanism. Programs in 15 markets across America help its "members" develop golf playing and career skills. They're subsequently placed in jobs with major companies like Callaway and Invited (formerly ClubCorp) as well as at golf courses, country clubs and resorts.
Get a load of this: More than 2,000 wounded veterans (retired and active) have benefitted from On Course Foundation in the U.S. and Europe.
Here are stories you need to know.
Leaping Forward
Introduced to golf at the age of eight by his father, a Navy veteran and FBI agent, Jason Leap fell in love with the game. He hit scratch and played on the McNeese State University and Portland State University golf teams.
Following in dad's military footsteps, Leap became a U.S. Air Force Security Forces airman with deployments to Saudi Arabia, Kuwait, Turkey, Korea, Uzbekistan and ultimate dangers in Afghanistan and Pakistan.
Ten years of focus on securing transport supplies, our troops and enemy combatants (dead and alive) took its toll on Leap's physical and mental well-being. A neck and spinal fusion led to an honorable discharge in 2005.
Immediately thereafter, life became a train wreck. Colossal anxieties led to drug and alcohol addiction. His dad died of cancer. He and his wife were homeless. Leap had to pawn his coveted golf clubs. Holding down jobs was arduous. Death from destruction was near.
Miraculously, with family helping to push his recovery, Leap got back on track.On Course Foundation played a critical role, too.
The organization got him loving golf again and sobriety kicked in. Leap's attitude, as well as sense of purpose, responsibility and faith returned to rare form. A productive, active life was in store. 
Leap's game massively improved. He also gained the confidence to start a career in the golf business. With On Course Foundation's support, Leap, now 48, landed a position as a security manager at Callaway Golf's 830,000 square-foot distribution center in Fort Worth, Texas.
"On Course Foundation changed my life," Leap said. "And working with Callaway is a dream job I don't take for granted. What more could I ask for?"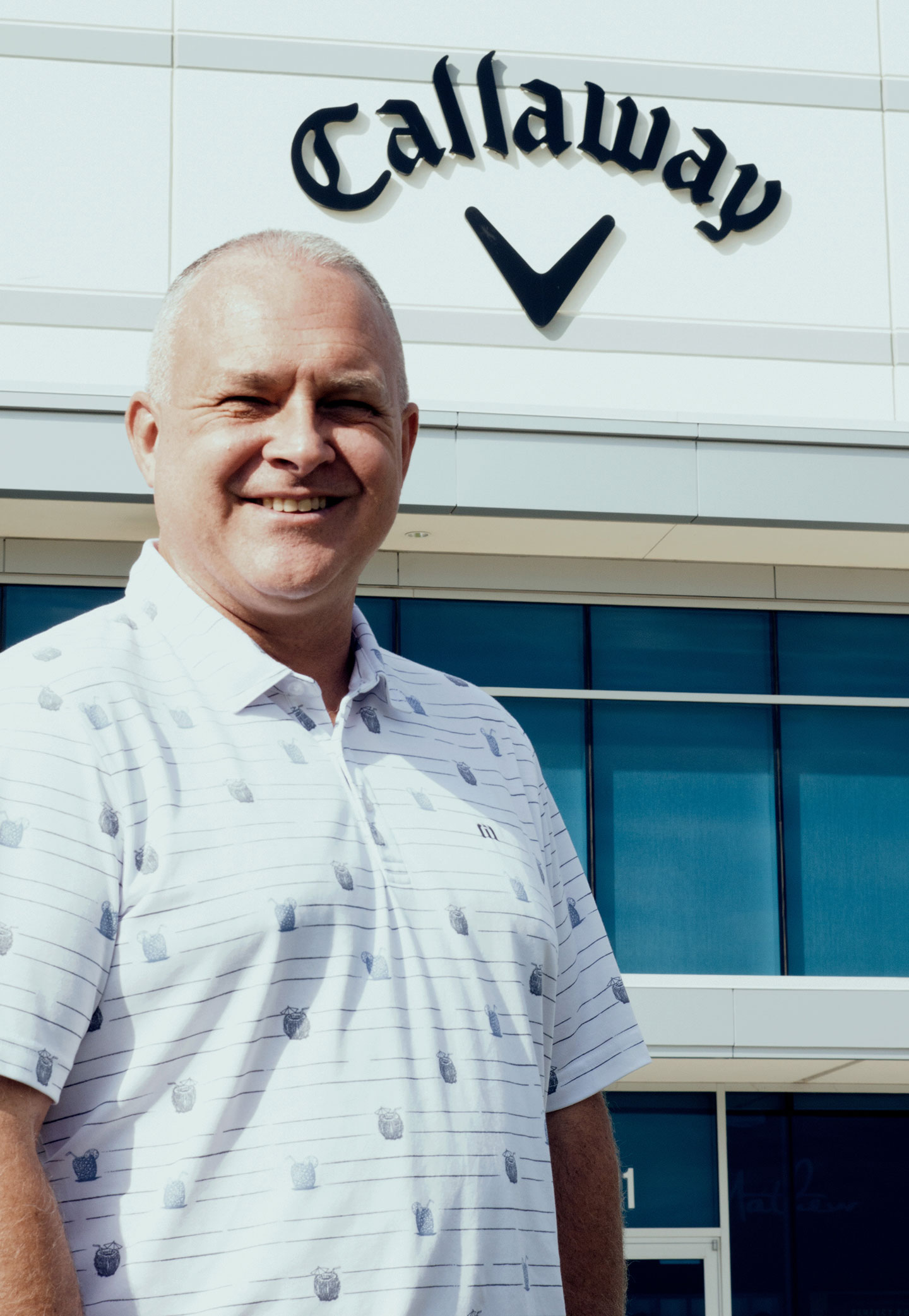 Missing Limbs
Growing up in a small town in central Washington, Nick Kimmel took to golf early and shined from tee to green. Joining the military, however, and protecting our national interests took precedent.
Kimmel, now 32, became a member of the United States Marine Corps in 2008 as a combat engineer. The specialty would take him to Okinawa, Japan and then tension-laden Pakistan following the death of Osama bin Laden.
Casualties and tragedies were common, and Kimmel was no exception. In late December 2011, while building a patrol base for the Georgian Army, he stepped on a 40-pound IED. Kimmel survived but lost both legs above the knee and his left arm above the elbow.
"Not only was I in terrible pain, but I thought I'd never be able to play golf again," he says. "How could a triple amputee be even remotely good? I all but gave up."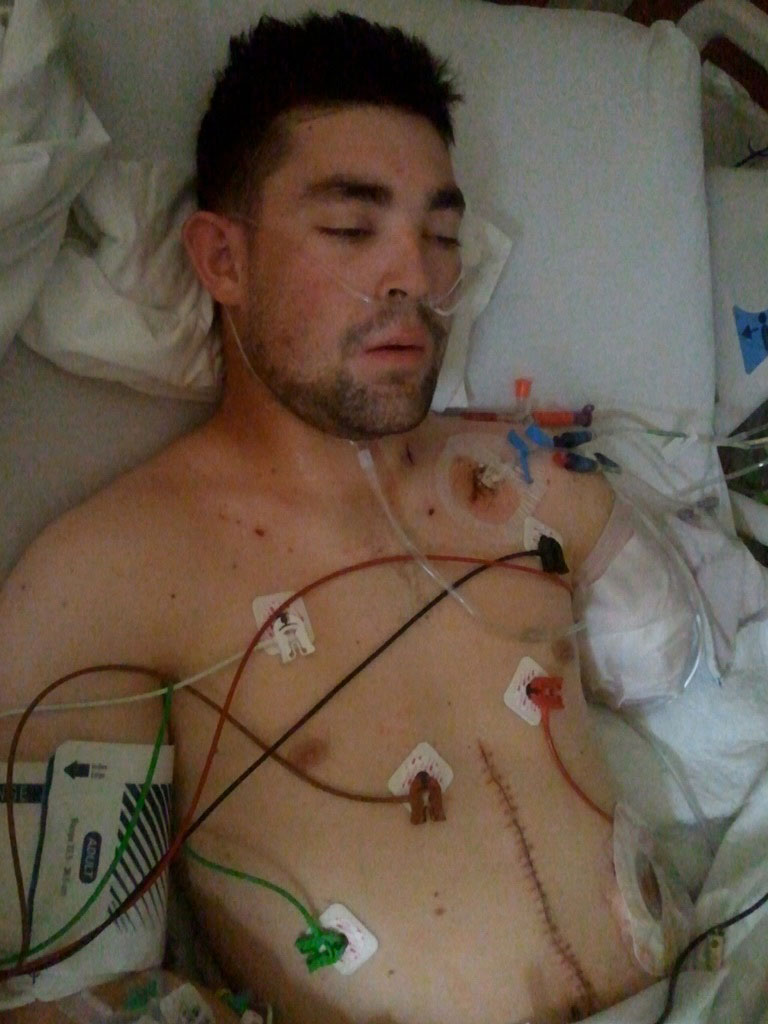 Several years later, positivity set in and feeling sorry for himself was cast aside. Kimmel started learning how to swing and putt with only one natural, working limb. He played casually and struggled mightily – how does a guy hit a ball with a lie below his feet?
As serendipity would have it, in 2018, Kimmel was introduced to On Course Foundation by a fellow Marine. It was time to get serious again about golf.
Kimmel earnestly set his goal. He practiced religiously to qualify for the U.S. team at the Simpson Cup, On Course Foundation's pinnacle event that pits America's wounded veterans against those from the U.K. in Ryder Cup-style matches. 
Replete with opening and closing ceremonies a la the Ryder Cup and Olympics, the 2022 edition is August 28-31 at the celebrated Baltusrol Golf Club in New Jersey.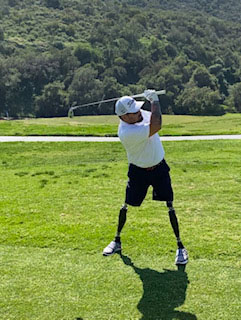 "I so much wanted to make the team and compete against my fellow veterans. The camaraderie is extraordinary, and we all feel deep military bonds with new friends and old when we're together at Simpson Cups and between each event," Kimmel says in speeches to fellow veterans, giving them hope with not a dry eye in the audience. "Score matters, but the similarities of service members involved with On Course Foundation help us relate to society and improve our personal, family, professional attitudes and lives."
Kimmel qualified for the 2021 Simpson Cup and hopes to again this year. The accomplishment was aided by a bone implant in the femur that provides a decidedly better feel on the course. His amazing 12.8 handicap is bound to improve.
Now Kimmel is considering a professional career in the golf business. The place for him to turn – On Course Foundation, naturally.
---
For more information about On Course Foundation, visit their website.