For the first time ever, Fox Network will televise major championship golf through 2026 thanks to a new multi-year contract signed with the United States Golf Association (USGA).
While becoming one of the best sports networks on television, Fox has also established a long line of memorable sport commentators and mascots, including funnyman Frank Caliendo, broadcast and football legend John Madden and "Cleatus", the NFL Sunday animated robot.
The possibilities created by this new agreement are endless. We can't help but wonder what Fox's take on professional golf coverage will be considering the networks flare for snark and comedy.
Here are a few ideas the network might want to consider:
Let Rob Riggle pick The Open winners: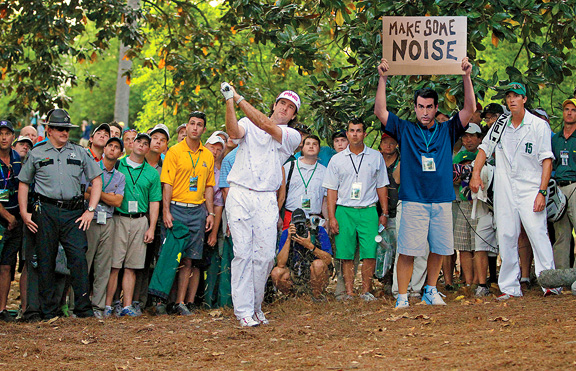 Since comedian Rob Riggle already picks the winners each week for the NFL, let's keep him in the hot seat and require him to choose the winner for the U.S. Open each year. The only caveat is that Riggle, a golf fan himself,  has to dress as a character stereotypical of the tournament's host city, much like he did with this Philadelphia Eagles spot from last year:
Give us as much Cleatus as possible:
The animated NFL football player might be annoying on Sundays before the early football game, but if you throw a pair of knickers and a golf shirt on Cleatus, you've got comedy gold. I can already picture him spiking a golf ball through the 18th green at Pebble Beach.
Put John Daly and Steve Elkington in the announcers booth:
Throw in a pack of cigarettes and a set of drawing pencils and watch the magic unfold with these two knuckleheads. We would just have to make sure a fist fight wouldn't break out between Daly and his microphone.
Incorporate Homer Simpson's trademark "DOH!" whenever a player makes a bogey:
Actually, use any sound effect from The Simpsons as often as possible. Nelson's trademark "Ha Ha!" whenever Billy Horschel's octopus pants are on the screen would make me smile for years.
Implement a new glowing TigerTrax while on the course:
Remember the awesome glowing FoxTrax the network used for NHL hockey games? While the feature was met with mixed reviews by hockey purists (aka "Canadians"), it was definitely innovative for its time and for the sport.  Fox should use similar technology for Tiger when playing tournaments so it would be easier to see him on course flyovers. Heck, Tiger could start to glow red as his intensity increased and profanity ensued.  How is this not a good idea?
Use GolfTrax on every player's shot during the Open:
As another hat-tip to the previously mentioned FoxTrax, it would actually be pretty cool to illuminate the golf ball during television coverage, complete with red streamers and lines when in the air. It might be a far stride away from traditional golf viewing on TV, but it might be time to spice things up a bit.
New Camera angles for every USGA event:
Fox is known for its innovative camera placements such as CatcherCam and DiamondCam.  Just think about it: TigerCam (camera on the brim of Tiger's hat), BunkerCam (camera buried in a bunker), PinCam (camera on the flagstick) or even CaddyCam (camera on Bones' hat). The possibilities to bring new visuals to golf telecasts are endless.  Maybe they could get together with the crazy folks at GoPro:
Let John Madden use his Telestrator all over Jim Furyk's golf swing:
I don't think there's any need for clarification on this one. There would be yellow-line-spaghetti all over the screen. Glorious.
Related Links: Buzzkill: PGA Tour Cancels Caddie Races
Other Hot Links:
– Jason Dufner Chats With Howard Stern
– Howard Stern Is Good For Golf
– No Butts About It, Jason Dufner Has His Hands Full