Hallo-weekend is here. The fates (and COVID protocols) have aligned to permit grown-ups not one, but two nights of kid-free partying before Sunday's main event. So … what are you wearing? It's late in the game to be scouring the shelves of those pricey pop-up costume emporiums.

But not to worry. You're a golfer. You've got a leg-up on the competition because you play dress-up every weekend. And even if the answer isn't readily available in your secondary wardrobe, you need only your imagination and a trip to the local thrift shop to create the perfect do-it-yourself, golf-themed Halloween get-up.
Below are five ideas to get your creative juices flowing. Your friends will be ready to crown yours the champion costume of the year.
Bird Man
Remember this guy? Webb Simpson surely does. With his red-and-blue, Union Jack-inspired jacket and funky hat, the Bird Man stole some of Simpson's thunder when he crashed the 2012 U.S. Open trophy presentation.
We already know the photobombing potential is off the charts. But this isn't just a costume; like a pro wrestling character, it's a gimmick you can make your own. See a small group of revelers peacefully conversing in their own corner of the room? Step in front and start squawking. You'll be the life of the party. At least until you're asked to leave.
Naughty Wesley Bryan
How's this for a Halloween party twist: a scantily clad…dude? Once you see Wesley Bryan strip down to his skivvies — and turn his shirt into an instant crop top — to hit a muddy recovery shot in the second round of the 2021 Honda Classic, you can't unsee it. But the PG-13-rated footage is below if you need a refresher. 
"That's a Daisy Duke shirt," quipped NBC's David Feherty on the broadcast.
This one's easy to recreate. Simply dress as you would for a late-spring round on your favorite course, minus pants and shoes. Then tie off your shirt, exposing your midriff. You'll be the odds-on favorite to win the apple-bobbing contest. Nobody will be more unencumbered and uninhibited — or more equipped for aquatic competition. 
Dead Tom Morris
Anybody can dress up like Old Tom Morris, St. Andrews' hirsute greenskeeper of yore and the winner of four Open Championships in the 1860s. This is the zombie version. (h/t to the Muppets for originating the Old Tom/Dead Tom joke.) 
It's important to remember that golfers from Morris' era were outfitted like the Amish. See if you can't find a reasonably priced (and minimally itchy) wool suit. Grab a pair of scissors and get it good and tattered. Smearing on some mud — and/or fake blood — would be a nice touch too. The last step is to pick up a fake white beard and one of those facial wound kits and make your mug as mean and zombie-like as possible. The more gruesome, the better. Think of yourself as a ravenous Scotsman with a particular taste for slow players.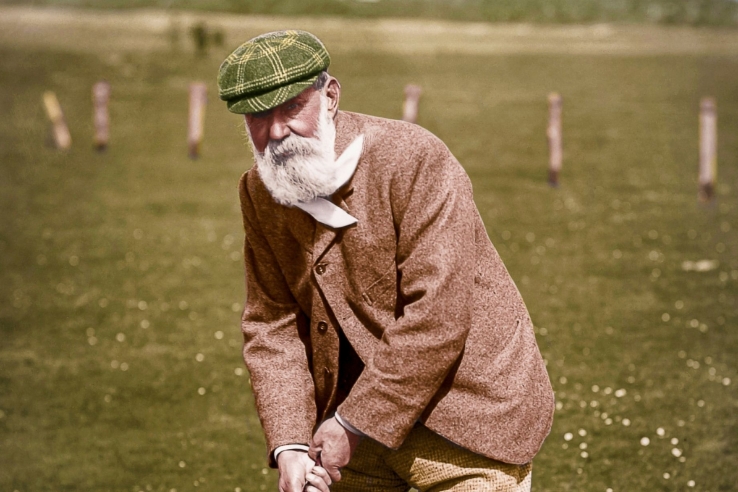 Ron Swanson
Behold, the ultimate closer. The classic combo of blood-red polo and jet-black slacks has become synonymous with getting the job done. While traditionally worn on Sundays, the ensemble evokes fear and respect every day of the week, bending onlookers to the wearer's will.
OK, OK. We know this attire was popularized by somebody else. But we all have that one friend who's tried to step into those shoes for a weekend match and fallen on their face. It's far too much pressure to put on oneself. Plus, if you model your Halloween costume after "Parks and Recreation" character Ron Swanson, you get to accessorize with a bushy mustache and all the available bacon they have at the party. You read that right. All. The. Bacon.
Shooter McGavin
Without paying direct homage to Adam Sandler, we had to give a nod in some way to the homemade Halloween costume OG by recognizing one of his classic films. Now, of course, it's hard to pare down the list of "Happy Gilmore" costume possibilities to just one. But, in keeping with other entries on this list, we think Shooter garb gives you the best opportunity to slip into an insufferable character for the night.
Just throw on your preppiest golf clothes (bonus points for pleated pants and garish 90s prints), tie a cable-knit sweater around your neck and turn on the smarm. Just don't act too surprised when your fifth or sixth attempt at getting your martini glass refilled with "Oh, and miss — diet?" falls on deaf ears.