Lisa O'Hurley is at it again.    
Just when you thought her ladies' golf-lifestyle apparel designs couldn't get any better, they did.
O'Hurley's LOHLA SPORT brand debuted in January 2021 with the first two collections raising bars for discerning golfers to dress super confidently, comfortably and attractively on and off the course.
The first "Streets of Los Angeles" collection featured capsules depicting myriad neighborhood vibes – Rodeo Drive, Ocean Avenue, Sunset Boulevard, Hollywood Boulevard and Melrose Place.
The second "Winter Wonderlands" collection was fashioned after famous four-seasons resorts Aspen, Lake Tahoe, Park City, Vail and Stowe.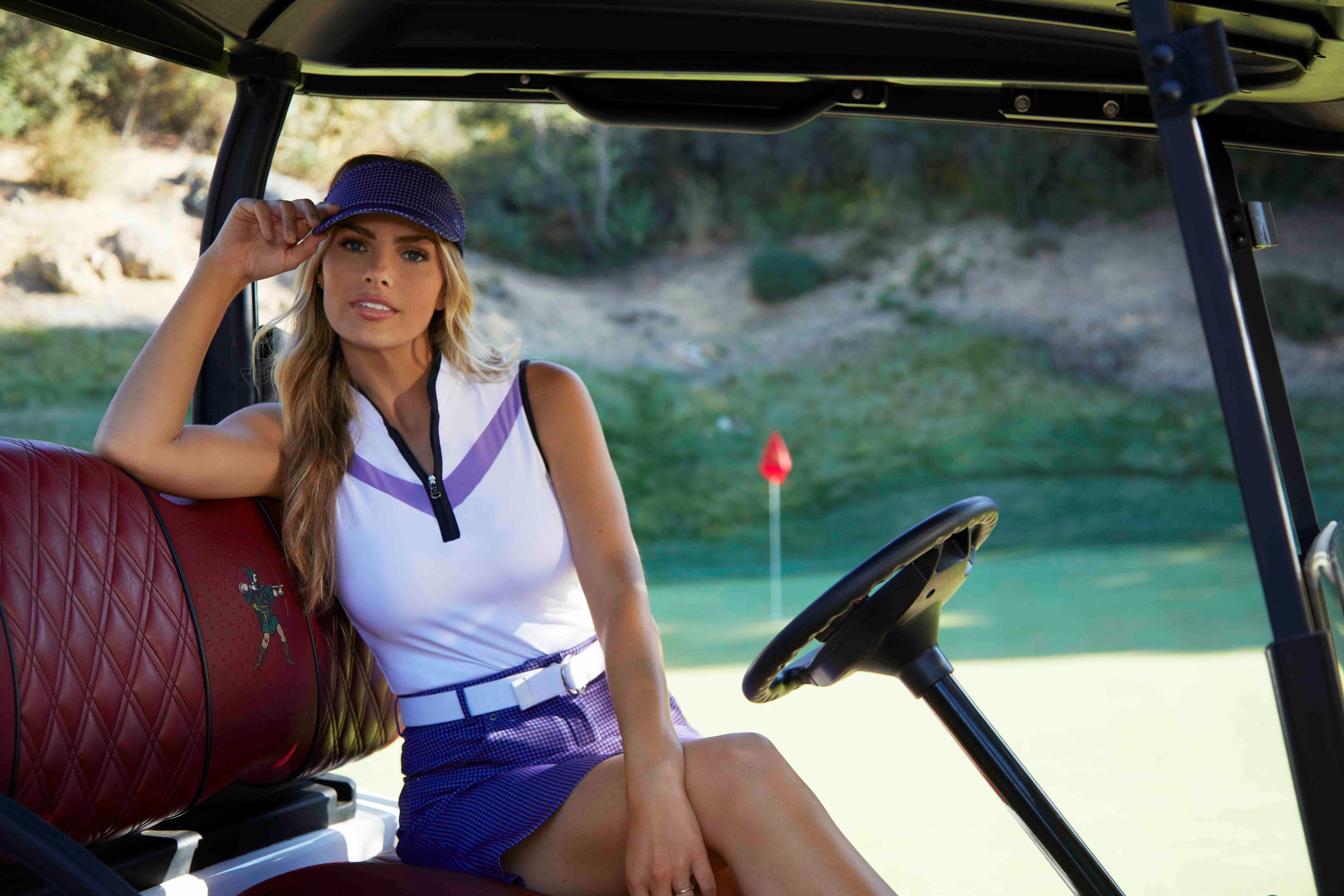 Coordinated tops, bottoms, skorts outerwear and accessories sold like hotcakes at golf shops and online.
Now, as O'Hurley's stroke of genius would have it, the just-released "Lavish Summer Locales" spring-summer collection is, by many accounts, LOHLA SPORT's most amazing group yet.  Groupings are named after high-class, tropical destinations known for converging swanky fashion and active lifestyles:  
Ibiza – Inspired by golf legend Annika Sorenstam with part proceeds benefitting The ANNIKA Foundation, dramatic lemon, black and white designs are elegantly adorned with stars, stripes and solids
Amalfi – Features lilac, the fashion color of the season, alongside white and navy with styles accentuated by tasteful leopard and houndstooth prints
St. Tropez – This bright collection group highlights blueberry, appletini green and sunset orange, including a wavy print, emitting a beach feel while on the golf course
Monaco – All-American look with a pinch of French beret in navy, white, red and blueberry that's spot on for Memorial Day, Independence Day and Bastille Day
"Spring and summer soothe our senses," says O'Hurley, whose husband, John, is of "Seinfeld" fame with hundreds of acting credits to his name.  "Our fashionable, stylish, playful and classy outfits make ladies feel even happier and healthier by looking wonderful on and off the golf course."
A bonus and ode to Barry Manilow, the legendary crooner of soft, summertime ballads, O'Hurley added a "Her Name was LOHLA, She was a Showgirl" T-shirt and hoodie to bring back memories of fun, let-loose times.
The sporty looks of Lavish Summer Locales pieces are perfect for fun that comes with warm weather.  Rooted in colorful, on-trend European designs with feminine Los Angeles flair, pieces come XXS to XXL with flattering yet not overly sexy cuts.  Made of fine-quality fabrics sourced worldwide, each style is constructed to optimize athletic movements.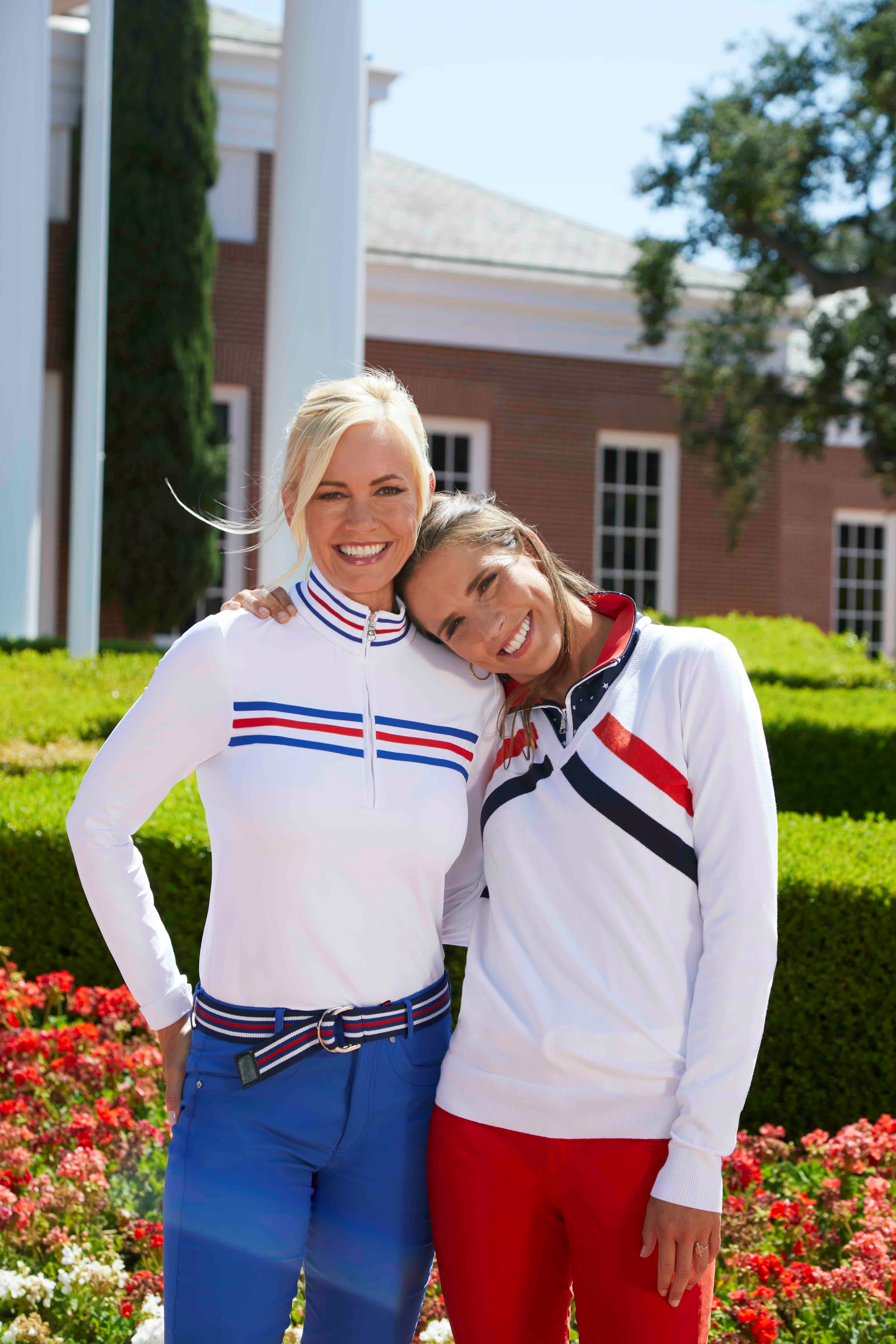 Let's not overlook LOHLA SPORT's omnipresent staples which made the brand renowned from Day One:  The Golf Fitness Pull-On Pant and The Very Pant.  Their comfortable-chic, made-for-play, "Golfleisure" aesthetic is creating a movement of its very own akin Lululemon's "Athleisure" craze.
To top it off, designers O'Hurley and London-based Paul Rees, formerly of Burberry and Aquascutum fame, created looks that Annika Sorenstam loves wearing as LOHLA SPORT's global ambassador.
Merchandisers and hoarders of LOHLA SPORT clothes are constantly asking: "What's next up O'Hurley's sleeve?"  While tight lipped, rest assured she knows what women golfers want to wear and it will be uber-popular.