The times, they are a-changin', as Bob Dylan famously wrote, and for golf courses in America, that's finally a good thing.
According to the National Golf Foundation, the number of golf course closures in 2021 is down 53% from its peak two years ago, prior to the pandemic. What's more, the number of municipal courses around the U.S. has risen by 4% over the last decade and for the first time since 2007, the private course total increased in 2021.
The NGF measures the openings and closings of golf courses on the basis of 18-hole equivalents.
The NGF reports that 130.5 courses still closed in 2021, a market correction that is still recovering from the 4,000 courses that were built between 1986 and 2006
How is 130.5 courses closing a good thing?
It's important to understand just how many golf courses are in the United States. Here are two statistics that may jar you:
If you combined all the courses in Australia, Canada, England, France, Germany, Ireland, Japan, New Zealand, Scotland, South Africa, South Korea, Sweden and Thailand, the U.S. still has over 400 more.
The 16,035 golf courses across 14,033 facilities nationwide are more than there are Starbucks or McDonald's stores in the U.S.
With an average footprint of 150 acres, it's understandable how golf courses can be of particular interest for developers, but it's a testimonial to the health of the game coming out of the pandemic that 2021 saw less than a 1% decline in the overall U.S. supply.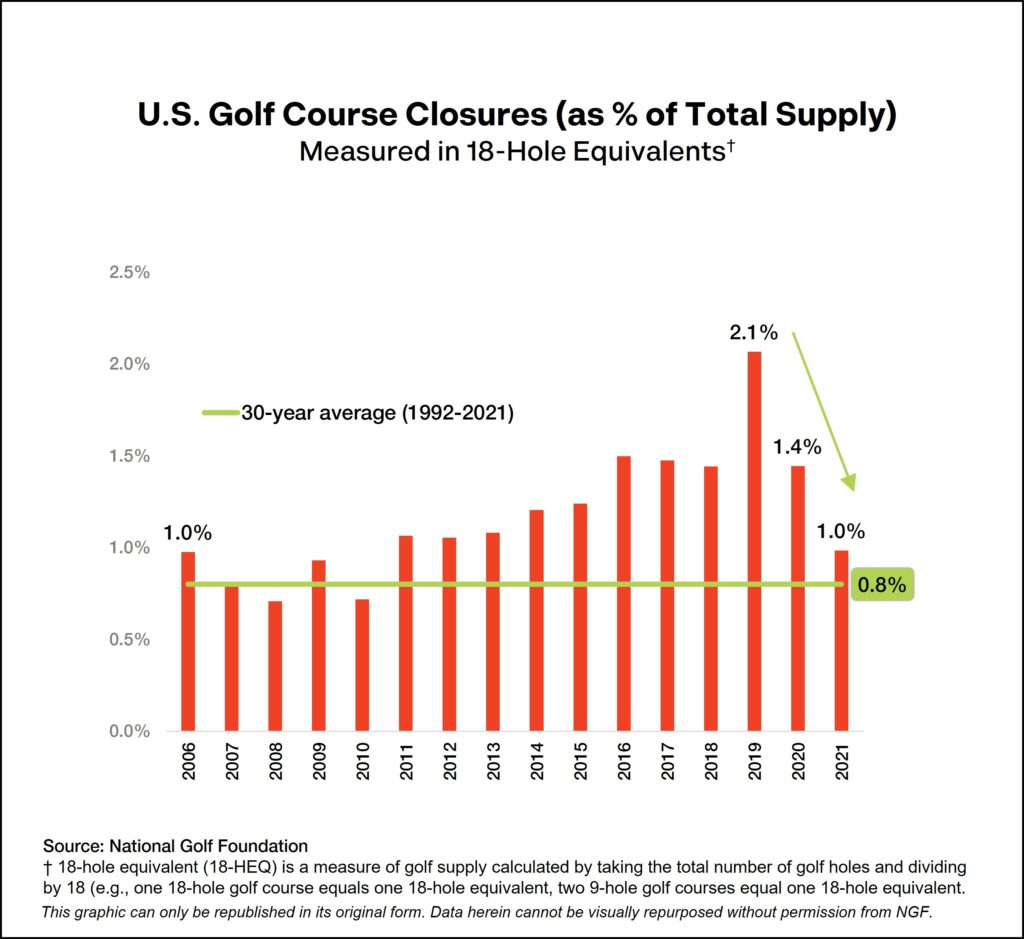 As for the increases in both munis and private clubs, the continued correction is the culprit for a somewhat beneficial outcome. The 4% increase in munis over the past 10 years can be traced primarily to "municipalities acquiring financially-challenged daily fee or private clubs."
Albeit less for the "greater good," the increase in private clubs for the first time in 15 years is a harbinger of the supply and demand of golf getting closer to equilibrium. In 2021, a net increase of 12 private courses opened. While it's not a jaw-dropping number, it's a step in the right direction for the golf industry at large.