There are countless "best-of" lists attached to golf course architects.  Unfortunately, it's seldom anyone polls the Herculean work of golf course builders a.k.a. the folks who construct courses we love.
Moving dirt, shaping bunkers, contouring fairways, undulating greens and installing irrigation is considered dirty labor by many.  Not so much, though, as bringing courses to life from the ground up is as intellectual, strategic and precise as it comes – scientifically, artistically and fiscally.
Landscapes Unlimited is recognized as the undisputed leader in the golf course development and construction space.  Its builds over 45 years are in the thousands in more than 30 countries.  Several courses are names we know while others are more of the high-quality, neighborhood variety.  The company's portfolio includes golf courses, country clubs, resorts and communities of myriad budgets, shapes and sizes.
To give golf course builders deserved respect, we put to task the naming of marquee Landscapes Unlimited new construction and renovation / re-build projects.  In Part I, we highlighted Sutton Bay, Dunbarnie Links, Torrey Pines, Turning Stone and PGA National Resort & Spa.
Here are five with more Landscapes Unlimited gems:
Sandy Lane (Holetown, Barbados) – Barbados' top golf resort, Sandy Lane, presents three golf courses with three distinct flavors.

 

There's the Old Nine, a super-fun track with small greens and narrow fairways.

 

The Country Club Course boasts a modern design rife with lakes.

 

The knockout punch is the uber-exclusive, Tom Fazio-designed Green Monkey Course in a limestone quarry setting.

 

This whopper of a par 72, 7,343-yard layout wows golfers with exposed rock faces forming dramatic contrasts to the lush, rolling green of the fairways amidst elevation changes and stunning coastline views.

 

You may be familiar with Sandy Lane from its 2004 hosting of the Tiger Woods- Elin Nordegren wedding with Oprah Winfrey, Michael Jordan and Charles Barkley (oh, that swing!) lavishly in attendance.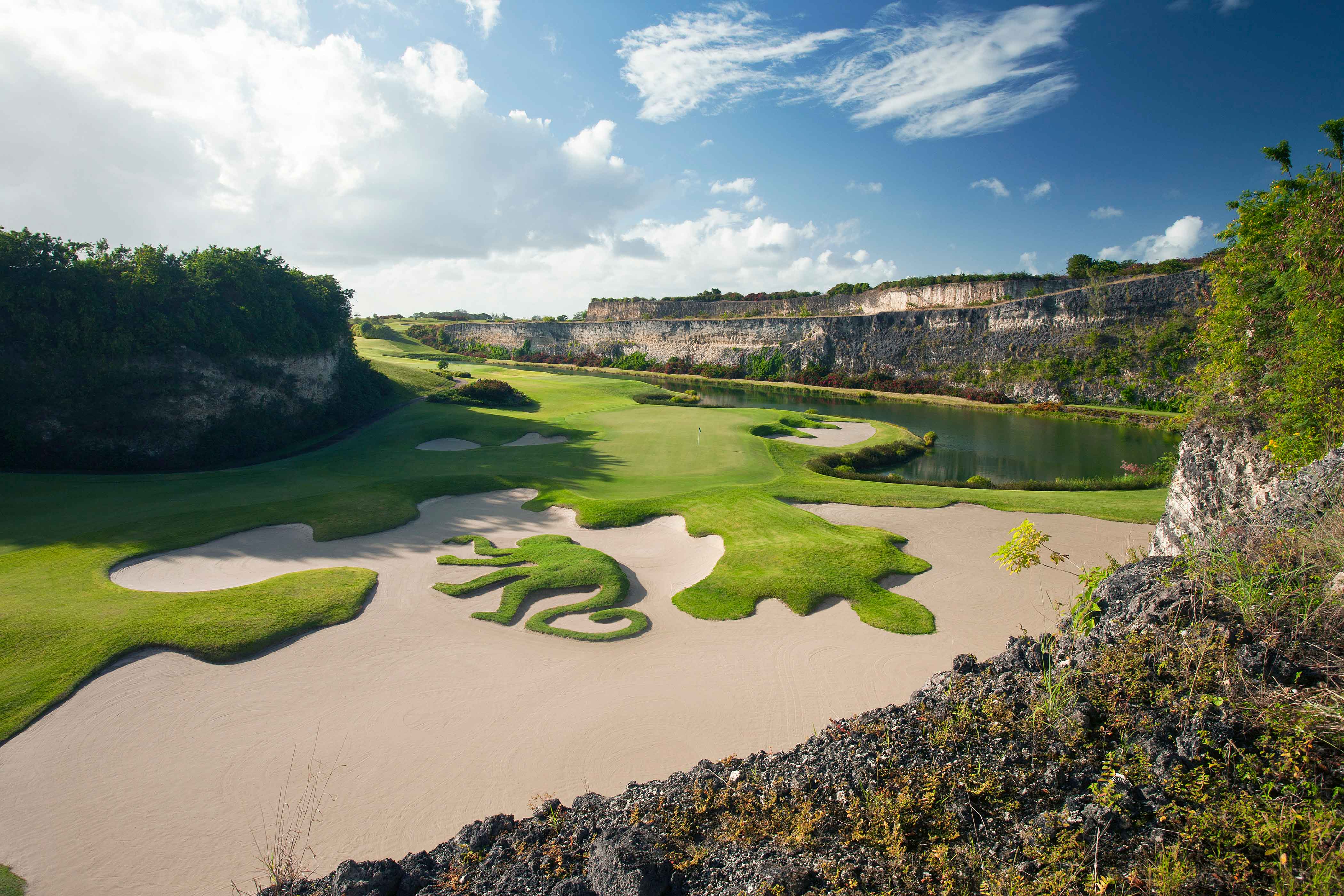 Soldier Hollow (Midway, Utah) – Don't let the municipal label fool you.

 

A tad southeast of Salt Lake City lies a 36-hole complex you don't want to miss.

 

Built on a mountainside and part of Wasatch Mountain State Park, Soldier Hollow is Utah's only course to host a major USGA championship (2012 Publinks).

 

The championship, 7,598-yard, par 72 (gulp!) Gold Course occupies Soldier Hollow's the highest elevation with views to, well, die for.

 

Don't be surprised if you hop on holes which severely test your optics, swing mechanics and course management mettle due to sudden drops in latitude.

 

The Silver Course is the easier of the duo due to its open, parkland construct with wide fairways.

 

It, too, is well worth the price of admission – panoramas of Mount Timpanogos are breathtaking to say the least.

 

Course architect Gene Bates hit a grand slam here.
Erin Hills (Erin, Wisc.) – Perhaps no other course ever burst on the scene with the flag waving of this 18-hole treasure northwest of Milwaukee.

 

Erin Hills opened in 2006 to rave reviews and is a must play a la its badger state neighbor Whistling Straits.

 

It hosted the 2011 U.S. Amateur and the 2017 U.S. Open (won by Brooks Koepka) followed.

 

The layout often plays noticeably shorter than its 7,731 yards, but it's the contouring and links styling which leave lasting impressions. After all, Erin Hills was routed over the kettle moraine areas left by glaciers, surrounded by wetlands and a river.

 

The 18th hole is one of America's best finishers – 622 yards from the middle tee with 25 bunkers and a green that demands an extremely accurate approach shot.

 

Truth be told, all shots must thread the needle or bigtime trouble awaits.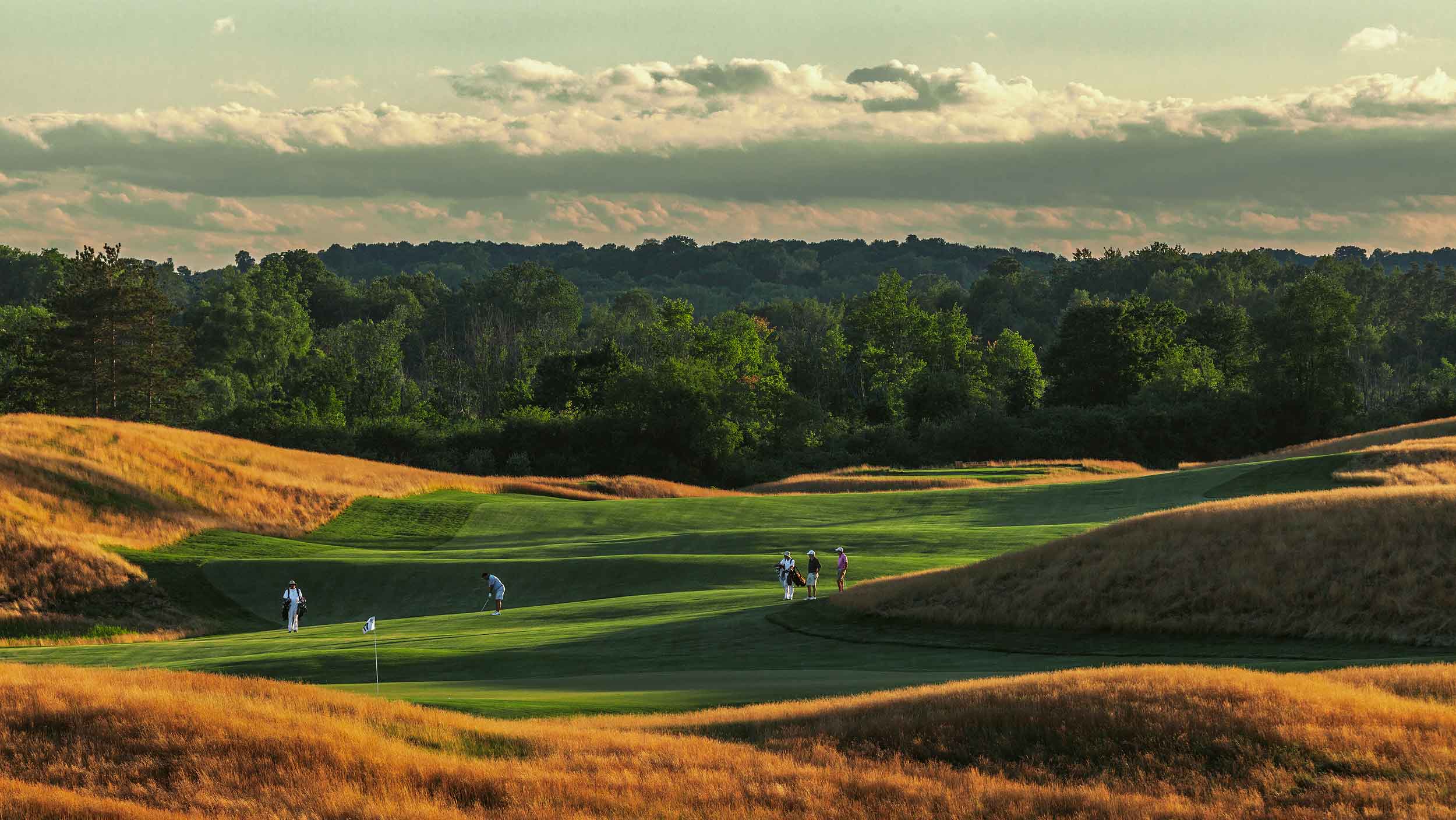 Goat Hill Park (Oceanside, Calif.) – Golf at its purest is exactly the way John Ashworth wants it.

 

Greens fees under $30, no dress code, music playing and gazillion-dollar, Pacific Ocean views and fresh breeze in North San Diego County.

 

Since 2014-15, the golf apparel entrepreneur (Ashworth and now Linksoul) heads a group that proudly leases Goat Hill.

 

They, along with pals Bill Murray, Mark Wahlberg and community activists, saved the old Center City Golf Course from redevelopment and spearheaded its renovation.

 

It's all about an authentic, come-as-you-please vibe and is perhaps America's most sterling example of an inclusive gathering place – all comers are welcome, including dogs and other pets, with zero pretentiousness.

 

No apologies for its 4,454-yard footprint, no clubhouse and a pro shop the size of a postage stamp.

 

Juniors love it and often T-shirts are donned by most hackers and better players alike.

 

Be yourself at Goat Hill.
TPC Scottsdale (Scottsdale, Ariz.) – There's a bevy of stellar golf courses in the Phoenix area, but only one hosts the rowdiest golf tournament alive.

 

And you, too, can play TPC's Stadium Course – designed by Tom Weiskopf and Jay Morrish – where PGA TOUR pros crush monstrous drives at the annual Waste Management Open.

 

Picture yourself with 20,000 cheering and jeering fans on the par-3, No. 16.

 

To top it off, No. 18, a doozy of a 438-yard, par 4, presents a large lake running the entire left side of the hole with bunkers lining each side of the fairway.

 

Your tee shot is the key.

 

Play it safe or go for the win with the risk of beach time and a watery grave?

 

The sister Champions Course is the poster child for desert golf – natural, rugged terrain and ravines which traverse through Kodak-moment foothills.

 

Each hole can be played different ways – that's why it's a golfer favorite time and again.