When most people think of golf video games the series that comes to mind is probably the Tiger Woods PGA Tour series from EA Sports, which ended in 2015 after changing titles and passing the torch to Rory McIlroy. However, since 2014, the company HB Studios has taken up the task of providing realistic golf games under the mantle of The Golf Club.
Since then, they have released three games in that series with The Golf Club 2019 being the first to incorporate real-world courses and featuring the branding of the PGA Tour. This year with the help of 2K Sports, the company that published The Golf Club 2019, the series takes on a new name, PGA Tour 2K21, and with it comes an updated roster of courses that bring the action of the PGA Tour and the FedEx Cup right into your living room.
The game features 15 TPC courses including TPC Scottsdale, TPC Sawgrass, and the site of this weekend's The Northern Trust, TPC Boston. The licensed courses are padded out with 20+ other courses created specifically for the series that have all been crafted with care to not feel like anything other than top-tier quality PGA-Tour-level courses.
At no time while playing do these extra courses stand out as being anything but well-designed layouts, featuring many of the features you would expect to see on the tour each year. Playing the PGA courses is always going to be the highlight of a game like this though as most of us will never get to play the same courses the pros do, so having a great video game proxy will have to do.
That is not just a concession either as the recreation of these courses is incredibly well done, and when you are staring down the island green on 17 at TPC Sawgrass it is every bit as impressive as the real thing.
It's go time! @PGATOUR2K is now on sale. See you on the green: https://t.co/BE60NLGtJa #spon pic.twitter.com/EOpzWRacIN

— Justin Thomas (@JustinThomas34) August 21, 2020
Before you can get to play any of these courses, though, you need to learn how to play. The game starts you off and takes you through the basics of hitting the ball, one stick controls the direction of your shot, the other stick is for power and control. The layout is similar to other past golf games so nothing here is a reinvention of the wheel, and if you have played any golf games in the past 10 years it will feel very familiar. That is not a detriment in any way though as it can be frustrating to pick up a new sports game and have it feel unfamiliar or unintuitive.
So while this uses a similar formula, it also makes the game easy to pick up and easy to handle. There are deeper levels to the club swing so you can manipulate how and where you strike the ball, allowing you to shape your shot to your liking to give you a solid level of control when deciding how to approach each shot, something that I'm sure we all wish we could have in our own golf skillset.
The interface also gives you enough detail to help know where the ball has the potential to go, with a shot tracer like arc when addressing the ball, wind direction indicators, lines on the green that show direction and speed, and the overly helpful putting line. The latter being the most clutch feature as that really helps you understand how the speed and directions on the green will react within the game which helps to really nail down putting.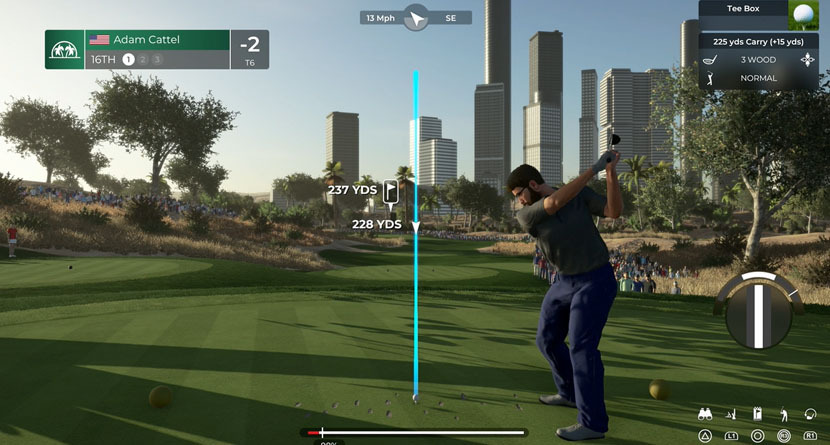 Once you've learned how to play, the game then has you create the player that you will be using for the entirety of your time with PGA Tour 2K21, because while FedEx Cup Points leader Justin Thomas graces the cover, he, along with the 11 other tour pros that appear in this game are not playable. The game instead focuses on its MyPlayer feature, which is a staple of modern sports games and allows you to create your own player and try and take them from Q-School, to the Korn Ferry Tour, to the PGA Tour and the race for the FedEx Cup.
The focus on the MyPlayer feature of the game actually makes sense from the perspective of wanting players to immerse themselves in the game and feel as though they are on the PGA Tour, but the lack of playable pros is an odd omission for a sports game, especially one that is touting having put these pros in the game. It would be understandable to not allow you to play as these players in the career progression, but not making them playable characters in the game at all is a misstep, especially when it comes to playing this game with friends or online as everybody has their favorites and playing as your favorite player is a standard feature that an officially licensed sports game should have.
When it comes to character creation there is a fair bit customization that you can do, so if you are going for the best representation of yourself you can really nail down specifics when it comes to the facial features of your character. There are presets available so you can jump right into playing if you do not want to take the time to create your perfect golfer, but if even you do select one of those presets you can always go back and modify everything to your liking at any time.
Once you have the basics of the character created, you get a ton of clothing and accessories options that range from generic to brand names like Adidas, Bridgestone Golf, Polo, and many others, to create your own unique look. The game also allows you to eventually create specific looks for specific rounds of a tournament so you can have your own version of Tiger's "Sunday Red" if you feel at all superstitious. Most of the options are either locked or cost money, something that the game does not give you any of at the start, so you really only have a few options to choose from in the beginning. Hopefully, you don't want your player to wear glasses, as there are not any available in the free options.
The game does allow you to create both male and female golfers, however, there is no LPGA tour option, so all of the other players you will go up against will not change regardless of the gender of your character. This is another big miss as there should be a female equivalent tour in the game, even if they could not get likenesses for tour pros, having it simply missing as a feature will immediately break the immersion for anybody who creates a female golfer.
Once you have your player you then get into the bulk of what this game offers, which is the Tour career mode. You need to finish in the top 50 at Q School, then win 3 events or finish in the top 25 in points on the Korn Ferry Tour before you get to be promoted to the PGA Tour. You can control how many rounds are played in each tournament so if you want to fly through you can select only one round, or keep it authentic and stick to four.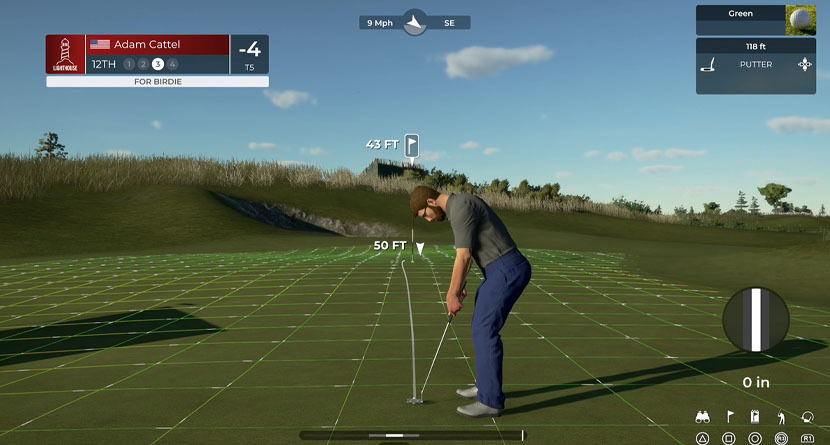 The career mode works just like the real tour as you earn points depending on your placement in each tournament, with the standings determining who gets to make the Playoffs at the end of the 30-event regular season. Along the way you can also get sponsorship contracts that give various criteria, you have to attain which rewards you with additional in-game currency and unlockables.
Playing on the tour is also one of the only places you get to see the tour pros featured in the game. Since you are on the PGA Tour you have to compete against the likes of Bryson DeChambeau, Ian Poulter, Jim Furyk, Sergio Garcia, and others, all of whom can show up as rivalries when competing, though the rivalries don't amount to much other than providing some in-game currency and unlockables for besting them in-round. The pros also will show up in random highlights much like if you were watching the tournament on TV.
The television presentation of the game is quite good, as the three-man commentary team provides play by play of your round, as well as insights into the other players, cutaway highlights to the other goings-on around the course both "live" and previous plays that showcase particularly good shots. All of this feels very familiar if you have watched any televised golf, so from a presentation standpoint, the game provides a good interpretation of those long weekend days spent glued to round by round coverage.
The game also will provide you with your own replays for any particularly good shots you make, and you can save the highlights with the press of a button. It can get a bit repetitive at times, as the commentary track is limited so you will find yourself hearing the same praise and criticism, and the highlights of other players typically only show 2 golfers per round, plus your rival if you have one at the time.
This can take away from the feel of things, but overall it's not distracting enough to bog the game down significantly. The graphics also help maintain that TV feel as the lighting gives it a real-world feel and things look realistic enough. The player models range from quite good for the pros to a little wonky on the MyPlayer, and the fans that line the course do look a bit dated, but the focus is usually on the course itself and the various meters and swing mechanics anyway.
Beyond the career mode, which again is the base mode of PGA Tour 2K21, you can tee it up with friends in local matches, where you have your choice of rules and play styles, including match play, skins, Stableford, or take your skills online and compete against others. The game also offers its own online leagues called Societies, which lets you create your own groups and compete in your own mini-tours.
I was not able to delve too much into this or other online features prior to launch, but for those of you who have friends with the game, this looks to be a feature-rich mode that should provide plenty of friendly competition. The game also features a pretty robust course designer that lets you create your own courses that can be used in your game, but also uploaded and shared with others.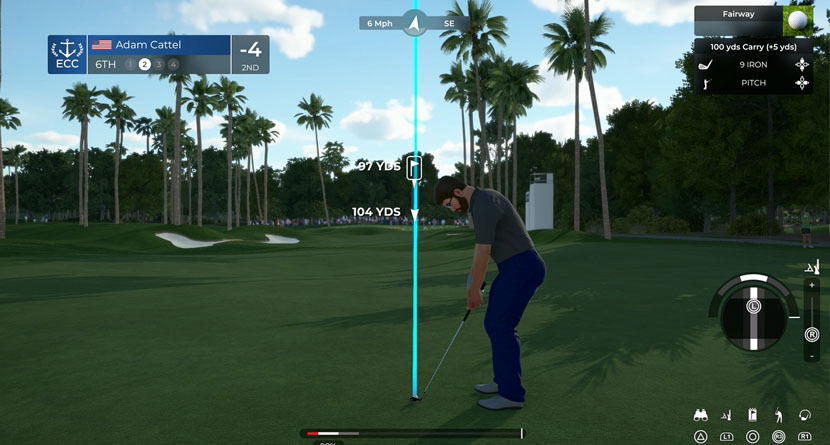 The tools for designing a course are fairly deep, which should allow for some amazing creations for those that wish to spend the time crafting and tweaking things to their liking, but not everybody is going to find this beneficial and may not use it at all.
What PGA Tour 2K21 does well is provide a quality golf game with simple to learn intuitive controls, top real courses, and top quality custom courses, an above-average character customizer, and a career mode that keeps you engaged and always looking to play just one more tournament. While there are missteps along the way, and the feature set does leave something to be desired, the game is incredibly fun, which is what anybody should hope for when picking up a sports game.
In playing 2K21, I found myself feeling the excitement of sinking a long putt or chipping in from the bunker to save par while also getting frustrated if I missed an easy gimme or shanked my drive off the tee. It is in these moments that PGA Tour 2K21 feels every bit like I am playing on the PGA Tour, and with local and online multiplayer, as well as the online societies, I think that this game does enough to give players a fun gaming experience and provides a good building block for future installments of this series. It shouldn't blow anybody away, but I ultimately enjoyed every minute I spent with this game.
This review was played on a PlayStation 4 with a copy of the game provided by 2K Sports and HB Studios. The game is available now on PS4, Xbox One, PC, Google Stadia and Nintendo Switch.