In many senses, what you bring to the golf course, the clothes you wear and the equipment you play tells people about a lot about your personality before you even shake hands fist bump on the first tee. The type of vibe you put off with your golf accessories is your true first impression, so it's important that you're sending the right kinds of signals. 
One of the biggest indicators is your golf bag. If you show up with your name stitched onto your bag, you better be able to play. If you show up with Sunday Golf's Loma Bag, your playing partners know that you're there for a good time with good company.
A fresh take on the stovepipe golf bags you've seen in old golf videos, the Loma takes the Sunday bag into the 21st century, and as I found out putting it through its paces over the last week, it's a piece of equipment that's as versatile as any golf bag you'll ever own.
First Impressions
When the Loma bag got delivered, it was jarring just how small the box was. Looking on the Sunday Golf website, sure the bag looks a little skinnier than a typical 14-club bag, but nothing more than that. When it arrived, if the box didn't say "Sunday Golf" on it, you would never think there was a golf bag in there. In fact, I wondered for a minute if I missed something and the bag somehow folded up.
After staring at the box for an inordinate amount of time, cutting the packing tape and opening the box revealed what turns out to be just a smaller golf bag – about 31 inches tall and weighing less than 2lbs. The bag features one divider rail, two good-sized side pockets (one of which is a Velour-lined valuables pocket), a tee holder, small ball pocket and a sizable "Frosty Pocket," which is insulated to keep your beverages nice and cold.
The Loma features one shoulder strap and a carry handle that makes this stovepipe bag easy to carry down the fairway or simply move it around the green. It also features a dualflex stand system, so it is the best of both worlds — a Sunday/stovepipe bag with carry/stand bag legs.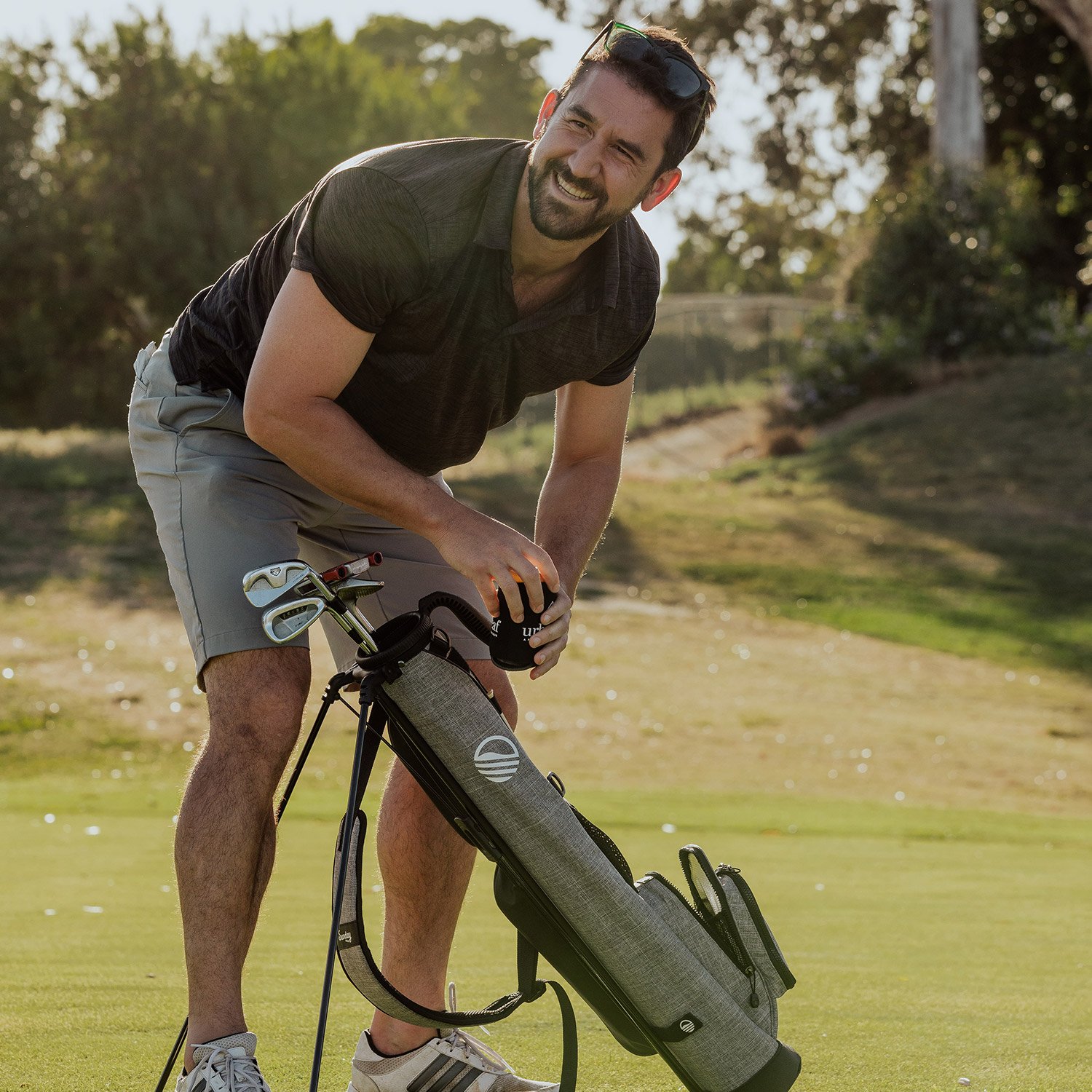 The Loma is really well made and does everything it's designed to, and then some. Its lack of size and abundance of storage space makes keeping it in the trunk of the car an easy decision, ready to get out onto the course in a moment's notice.
Performance
The Loma Bag is not designed to be your full-time golf bag, although if you want it to be, it certainly could. The bag holds 6-8 clubs pretty comfortably, so if you're a half-bag kind of golfer who doesn't feel the need to carry 14 clubs, this could work.
For me, it's a perfect companion golf bag. In the summer, it's a perfect practice option whether at the range, the short game area or both. It's also a perfect "dad bag," for when I'm out playing golf with my kids. I don't need to grind over a score with every club in the bag when I'm more worried about the 5-year-old wandering into a landing zone. Coincidentally, I can see the Loma being a perfect beginner golfer's bag.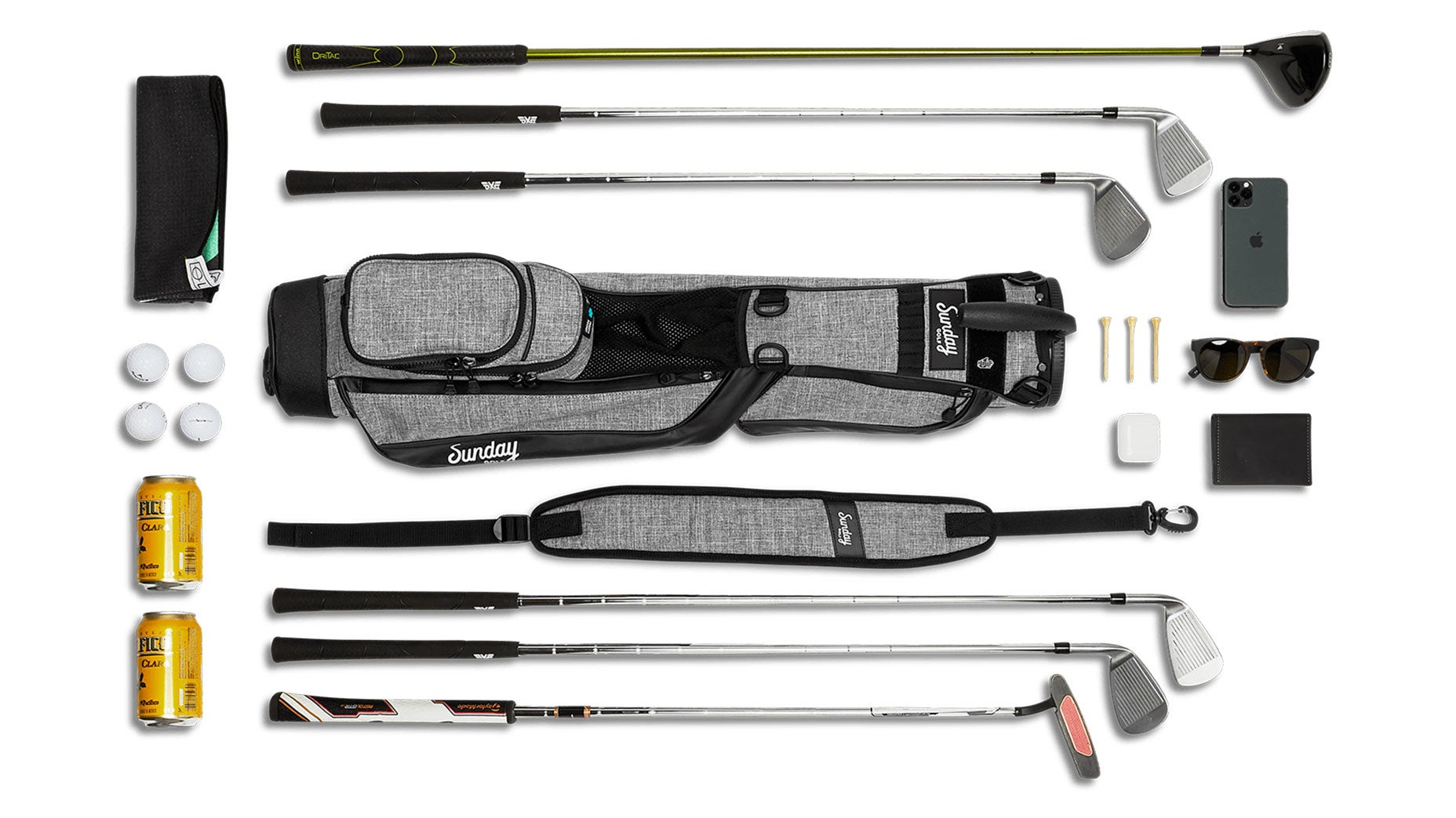 In keeping the bag with me during a recent mild Midwest December day, I found an alternate use for the bag — a cart-path only companion. Playing in the shoulder season, getting warm enough temperatures to brave the conditions is enough to get me out on a golf course that has been thoroughly saturated by all sorts of rain and snow.
In a happy accident, I brought the Loma out with me on one such day and used it as a greens bag. The Loma's carry handle slides nicely into my regular-sized bag, and when I found myself on the wrong side of the fairway or inside 100 yards with no need to go back and forth the to cart path, throwing a few wedges, a putter and a towel into the Loma made for easy — and fast — use while keeping the clubs dry.
Perhaps most importantly, throughout all the testing, the Frosty Pocket did exactly as it was designed to do: kept that nice beverage easily available and cold.
The Conclusion
The Loma Bag from Sunday Golf is a great addition to any avid golfer's arsenal or a nice piece for the casual short course player. With its ample storage space, compact design and multiple carrying options, the Loma is the next evolution of golf at its simplistic best.
The Loma Bag comes in three colorways: heather gray, cobalt blue or matte black (due to demand, Sunday Golf only has the cobalt blue available currently) and is priced at $99.99. It's perfect for range and practice sessions, a twilight round with the kids or a fun change of pace from the grind-it-out 14-club usual. 
Learn more about the Loma Bag and Sunday Golf on their website.
 

 

View this post on Instagram