SwingU, the golf technology and media company, announced today the seven divisional winners of the SwingU College Player of the Month Award for September 2023 in partnership with the Golf Coaches Association of America.
Christo Lamprecht of Georgia Tech (Division I), Sangha Park of UT Permian Basin (Division II), Micah Stangebye of Kentucky State (HBCU), Jackson Klutznick of Emory (Division III), Jack Whaley of Dalton State (NAIA), Oscar Holm Bredkjaer of Midland (NJCAA Division I), and Lucas Park of Parkland (NJCAA Division II) are the September 2023 SwingU College Player of the Month recipients as announced in partnership by SwingU and the Golf Coaches Association of America.
Lamprecht recorded 14 birdies and rounds of 65 and 66 (131, -9) to grab his second career collegiate victory wire-to-wire at the Olympia Fields/Fighting Illini Invitational September 15-16. The team field included 12 top-25 ranked teams via the preseason Bushnell/Golfweek Coaches Poll and the win helped vault the senior from George, South Africa to the top spot in the World Amateur Golf Rankings (WAGR) on September 20.
(Sangha) Park began the month with six birdies, an eagle, and a T3 finish (71-70, -1) at the Folds of Honor Challenge September 10-11. The senior from Cheongju, South Korea then went 70-69-67 (206, -10) with a tournament-best 16 birdies and one eagle en route to winning the RJGA South Central Shootout by four strokes September 25-26. With the victory, Park earned Lone Star Conference Golfer of the Week honors for the fourth time in his UT Permian Basin career.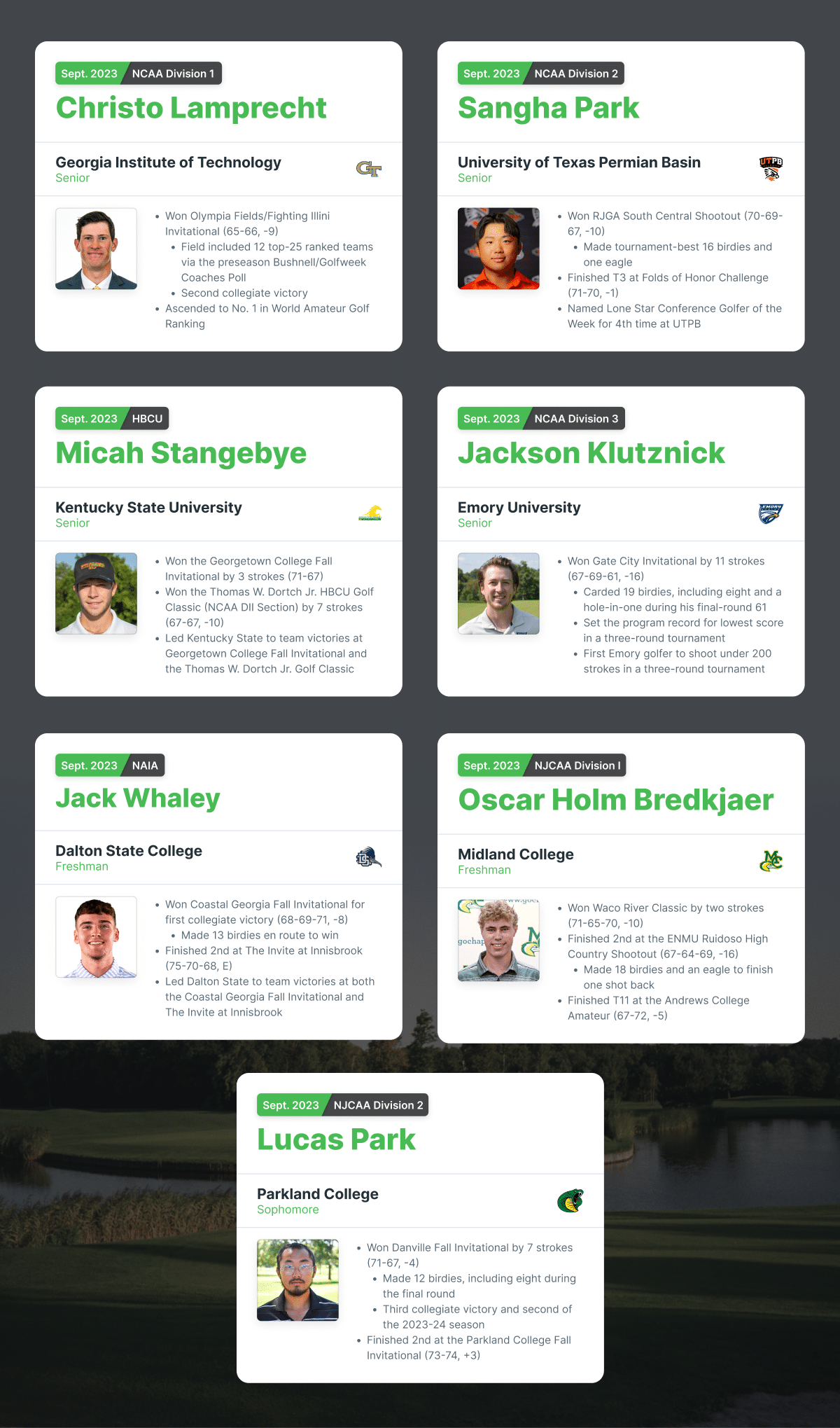 Stangebye led Kentucky State to two team wins in September with individual victories in both. The Montrose, Colo., native began his senior season by going 71-67 (138) to win the Georgetown College Fall Invitational by three strokes September 18-19 and ended the month with 14 birdies and a seven-stroke victory (67-67, -10) at the Thomas W. Dortch Jr. (NCAA DII Section) hosted by the National Black College Alumni Hall of Fame September 25-26.
Klutznick broke multiple program records with his 11-stroke victory at the Gate City Invitational September 18-19 in a field entirely filled with teams either ranked or receiving votes in the preseason Bushnell/Golfweek Coaches Poll. The senior from Denver, Colo., carded 19 birdies, including eight and a hole-in-one (161-yard, Par 3 10th at Starmount Country Club) during his final-round 61 (-10), which broke his own school record by three strokes. Klutznick's 197 (67-69-61, -16) set the program record for lowest individual score in a three-round tournament, beating the previous record he held by nine strokes, and was the first time in school history an Emory golfer carded under 200 strokes in a three-round tournament.
Whaley, a freshman from Doncaster, England, began his collegiate career with 13 birdies and a one-stroke victory at the Coastal Georgia Fall Invitational (68-69-71, -8) September 11-12. He followed with four birdies in his final-round 68 (-3) en route to finishing one stroke back and second place (75-70-68, E) at The Invite at Innisbrook September 25-26. Those performances led Dalton State to nine-stroke and four-stroke wins, respectively.
Holm Bredkjaer went 67-72 (139, -5) with nine birdies and an eagle for a T11 finish at the Andrews College Amateur September 9-10 in his first collegiate tournament. The freshman from Frederiksberg, Denmark then used a 71-65-70 (206, -10) to grab his first victory by two strokes at the Waco River Classic September 18-19. His month concluded by going 67-64-69 (200, -16) with 18 birdies and an eagle for a second-place, one-stroke back finish at the ENMU Ruidoso High Country Shootout September 24-25.
(Lucas) Park started his September with a second-place finish at the Parkland College Fall Invitational on September 11 by recording a 73-74 (147, +3). The sophomore from São Paulo, Brazil native then went 71-67 (138, -4) with 12 birdies, including eight during his final round, to win the Danville Fall Invitational by seven strokes on September 25 for his third career collegiate victory and second of 2023-24.
The SwingU College Player of the Month is awarded to players from seven divisions – NCAA Division I, NCAA Division II, HBCU, NCAA Division III, NAIA, NJCAA Division I, and NJCAA Division II – based on a voting committee made up of coaches from their respective divisions. For more information on the award, please visit www.swingu.com/potm.
PREVIOUS RECIPIENTS
April 2023
NCAA Division I: Caleb Surratt, Tennessee
NCAA Division II: Charles DeLong, Grand Valley State
HBCU: Patrick Mwendapole, Arkansas-Pine Bluff
NCAA Division III: J.F. Aber, Wittenberg
NAIA: Jakob Stavang Stubhaug, Keiser
NJCAA Division I: Gaspar Glaudas, Indian Hills
NJCAA Division II: Kolby Shackelford, Kirkwood
March 2023
NCAA Division I: Ben Carr, Georgia Southern
NCAA Division II: Beck Burnette, Lee
HBCU: Caden Hodges, Fayetteville State
NCAA Division III: Alex Price, Christopher Newport
NAIA: Kade Cannon, St. Thomas (FL)
NJCAA Division I: Matthis Lefèvre, New Mexico JC
NJCAA Division II: Chase Kaiser, Mississippi Gulf Coast
February 2023
NCAA Division I: Gordon Sargent, Vanderbilt
NCAA Division II: Reece Coleman, Anderson (SC)
HBCU: Gregory Odom Jr., Howard
NCAA Division III: Vikram Chatterjee, Claremont-Mudd-Scripps
NAIA: Isac Wallin, Keiser
NJCAA Division I: Matthis Lefèvre, New Mexico JC
NJCAA Division II: Chase Kaiser, Mississippi Gulf Coast
About SwingU
Headquartered in Hartford, Connecticut, SwingU is a sports technology and media company focused on golf game improvement. The company owns and operates the top-rated golf game-improvement app across GPS, scorecard, statistics and instruction. SwingU Clubhouse publishes an email newsletter reaching hundreds of thousands of golfers daily. Lastly, SwingU Coach offers the ultimate coaching & statistics platform for both golf teams and academies. For more company information, please visit www.swingu.com.
About Golf Coaches Association of America
Established in 1958, the Golf Coaches Association of America (GCAA) is the professional organization of men's collegiate golf coaches. The GCAA's mission is to support its member coaches from six divisions, including the NCAA, NAIA and NJCAA, by creating educational opportunities, providing resources, and promoting its members with the purpose of enhancing their overall performance as coaches, mentors, and teachers. The GCAA also recognizes the excellence and achievements of its members and their student-athletes in academic, athletic and civic endeavors.