SwingU, the sports technology and media company, would like to congratulate SwingU Versus Tour Ambassador Austin Hitt on his three-shot victory at the West Florida Golf Tour's Summer Tour Championship.
Hitt, a first-year pro out of the University of North Carolina who started using SwingU Versus in June to track his stats and guide his practice sessions, shot 13-under par with rounds of 66-65 (131) at Esplanade at Azario to secure his biggest victory as a SwingU Ambassador.
"I came into the week with no expectations," Hitt said. "I felt like I was hitting the ball really well. I kind of got on a roll where I felt like my approach play was really strong and I was giving myself a lot of good looks for birdie. Then I started making some putts.
"On the second day, I got off to a good start — I was 4-under through 6 — but by the end, we had three guys tied with three holes to go, so I was definitely feeling some nerves, especially at this mini-Tour level where it's pretty much a winner-take-all scenario.
"I was able to hit some really good shots on the last three; there was a lot of water, and I was able to pull off some really good tee shots while the other guys faltered. I really leaned on my ball striking, had some really good looks, and was able to win by three."
Hitt's ball-striking led the way to victory as he picked up +5.3 Strokes Gained: Driving and +3.4 Strokes Gained: Approach vs. par, as quantified by SwingU's integrated strokes gained platform. 
On the greens, Hitt was exceptional as well, picking up +5.0 strokes vs. par.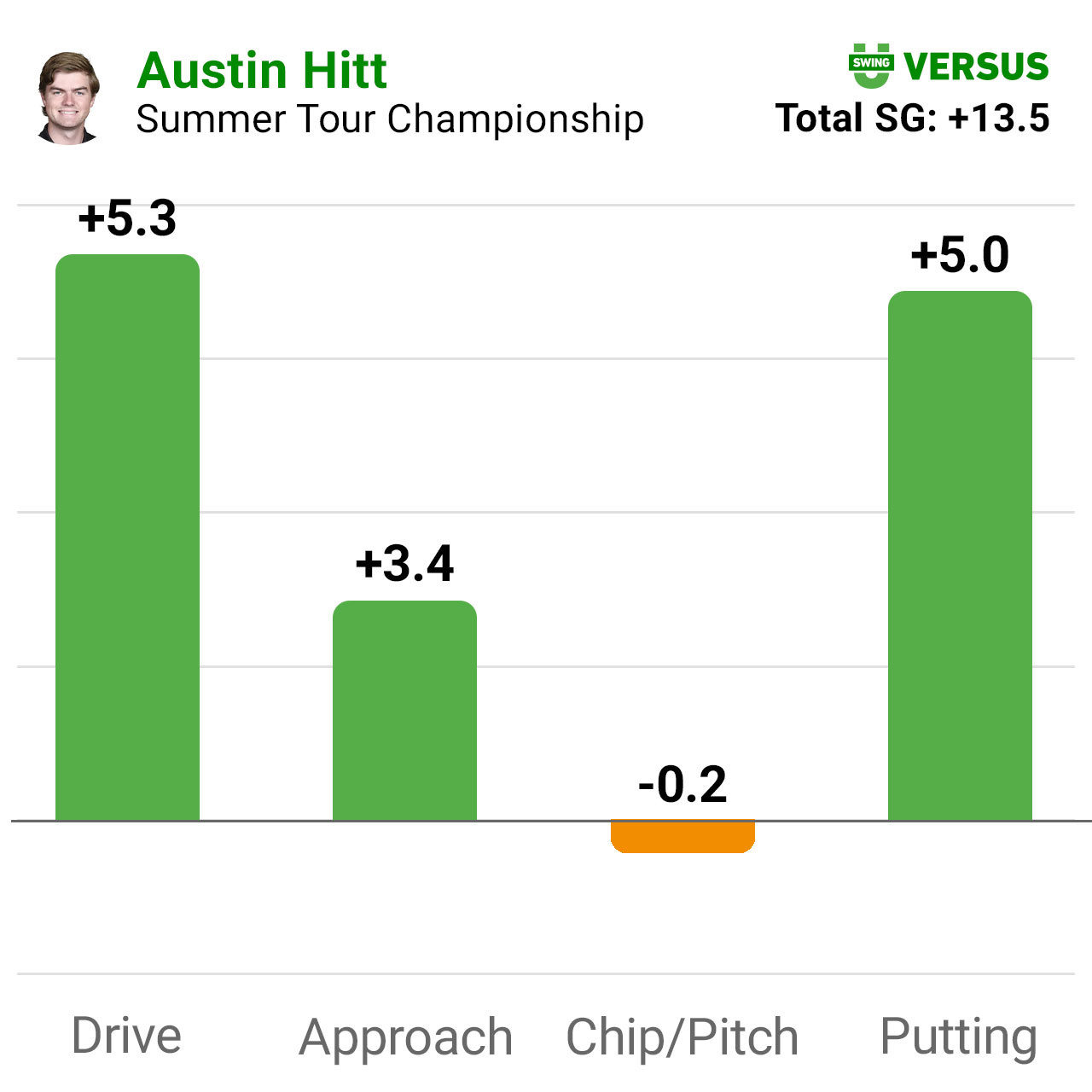 Hitt credited SwingU Versus with helping to correctly identify the strengths and weaknesses in his game over the past few months. 
"Versus has really helped me to realize what I need to work on," he said. "Over time you're able to see trends. When I first started using the app, I was able to see what I did when I played my best, which I thought was the best feature of it. 
"One thing I kept thinking was that I wasn't hitting the ball close enough with my irons, but my Strokes Gained: Approach was one of my best aspects, and actually, I was losing strokes off the tee more so. 
"I've always been a pretty good putter, and I was thinking I wasn't making enough putts, and I thought the stem of it was from my approach play.
"(Versus) helped me realized that if I could put the ball in play more, that will correlate to a little better approach play, and also give me a lot better (opportunity to make more) putts."
Hitt, who played on the Forme Tour in 2021, has won multiple times as a pro, mostly on the Moonlight Tour, but he called his victory at the Summer Tour Championship the biggest win of his professional career.
Next up, Hitt will tee it up in mini-Tour events in the Orlando area as he prepares for PGA Tour Latinoamerica Qualifying School in November. 
Hitt's victory was the third win for SwingU Versus Ambassadors this fall. Arizona State's Cameron Sisk won the Maridoe Collegiate Invitational in September and UConn's Caleb Manuel won the UConn Invitational the first week of October.
Over the 2021 season, more than 100 active tour and top-tier collegiate golfers are using the platform to track their strokes gained and game-improvement data. 
About SwingU
Headquartered in Hartford, Connecticut, SwingU is a sports technology and media company focused on golf game improvement. The company owns and operates the top-rated golf game-improvement app across GPS, scorecard, statistics and instruction. SwingU Clubhouse publishes an email newsletter reaching hundreds of thousands of golfers daily. Lastly, SwingU Academies develops personalized, branded instruction & training apps and media for clubs, teachers and academies. For more company information, please visit www.swingu.com.
Media Contact
Chris Chaney
chris@swingu.com