SwingU, the sports technology and media company, would like to congratulate SwingU Versus Collegiate Ambassador, Caleb Manuel of the University of Connecticut, on his runaway victory at the UConn Invitational at GreatHorse this week.
Manuel, a sophomore who started using SwingU Versus this offseason to track his stats and guide his practice sessions, shot 11-under par with rounds of 70-68-67 (205). Earning his best-ever collegiate tournament score, Caleb won the individual title by six strokes and helped the Huskies finish second overall as a team.
The win was Manuel's first of his collegiate career.
"I started using SwingU in mid-August," Manuel said. "It was so cool to see that feedback. Fairways you hit, greens you missed — it just factors in so many different things when it compiles the data. We've used stats in the past and they give you a sense of what you need to work on. But SwingU goes further, with drills built-in.
"Most of the golfers at a higher level have drills they rely on, but it's really cool how SwingU provides that feature. Also, you might think you're doing something well — I thought I was driving it well — but when I first got SwingU, it told me that I was actually losing shots off the tee. I definitely worked on that for a while and now it's changed. I won a golf tournament, so that means it's helping."
Over the course of 54 holes, the 2021 Big East Freshman of the Year displayed an impressive all-around game led by his play off the tee. He played +9.1 strokes better off the tee over three rounds vs. par as quantified by SwingU's integrated strokes gained platform and outperformed par by +6.4 strokes approaching the green.
Manuel's short game stood up to the pressure as well, accounting for +6.1 strokes vs. par, +4.0 of which came on the putting surface.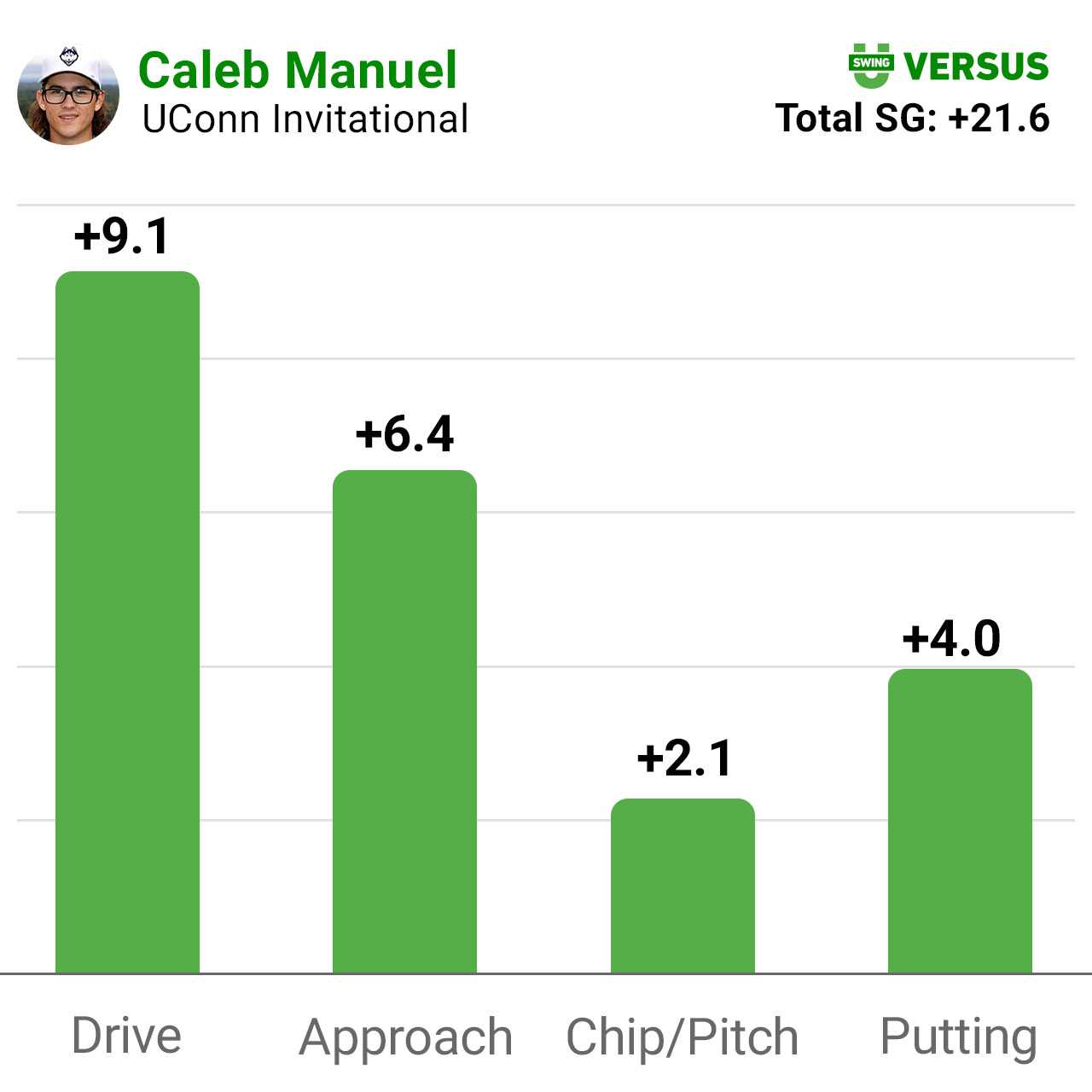 "I like to look at the past five rounds and then I know what to work on. I could definitely tell I was gaining a lot of strokes putting this week," Manuel added. "When I hit it close, I was making a lot of putts. And I was able to get up and down a lot too. And I also had success off the tee.
"My ball-striking was a little bit down from where it's been; it was still positive. But when you're making a lot of putts, it doesn't really matter."
Manuel made a tournament-best 16 birdies over 54 holes. He also led the tourney in scoring on the Par 4 holes (-6) and was second in the tourney in scoring on Par 5 holes (-5).
Aside from being his first victory, it was the sixth Top-10 and ninth Top-20 finish of Manuel's career (11 events), the eighth and ninth sub-70 rounds of his career, upping his total of par-or-better rounds to 18.
This marks the second collegiate win for a SwingU Versus Ambassador through three weeks of the Fall 2021 season. Arizona State's Cameron Sisk won the Maridoe Collegiate Invitational in September.
Over the 2021 season, more than 100 active tour and top-tier collegiate golfers are using the platform to track their strokes gained and game-improvement data.
If you're not subscribed to Premium, then you don't have access to Versus, so check out what Versus has to offer below this article. Otherwise, click here on how to use Versus if you haven't tried it yet.
About SwingU
Headquartered in Hartford, Connecticut, SwingU is a sports technology and media company focused on golf game improvement. The company owns and operates the top-rated golf game-improvement app across GPS, scorecard, statistics and instruction. SwingU Clubhouse publishes an email newsletter reaching hundreds of thousands of golfers daily. Lastly, SwingU Academies develops personalized, branded instruction & training apps and media for clubs, teachers and academies. For more company information, please visit www.swingu.com.
Media Contact
Chris Chaney
chris@swingu.com