Looking to take your golf game to the next level? Investing in quality training aids can provide an affordable and effective way to accelerate your improvement. The right training tools supply objective feedback, fundamentals drilling, and focused practice to ingrain proper mechanics faster.
The best golf training aids build muscle memory and skills incrementally through deliberate, results-oriented practice. We've compiled the top aids of 2023 that will shave strokes off your game by honing your short game, dialing in your driver, improving balance and more.
These picks have been tested and approved by golf professionals and thousands of amateurs for their ability to ingrain fundamentals and produce lasting improvement. 
We independently research, test, and recommend the best products to help improve your golf game. When you purchase through our links, we may earn a small commission which allows us to continue providing valuable content to help all golfers play their best.
The Orange Whip (Best Swing Trainer)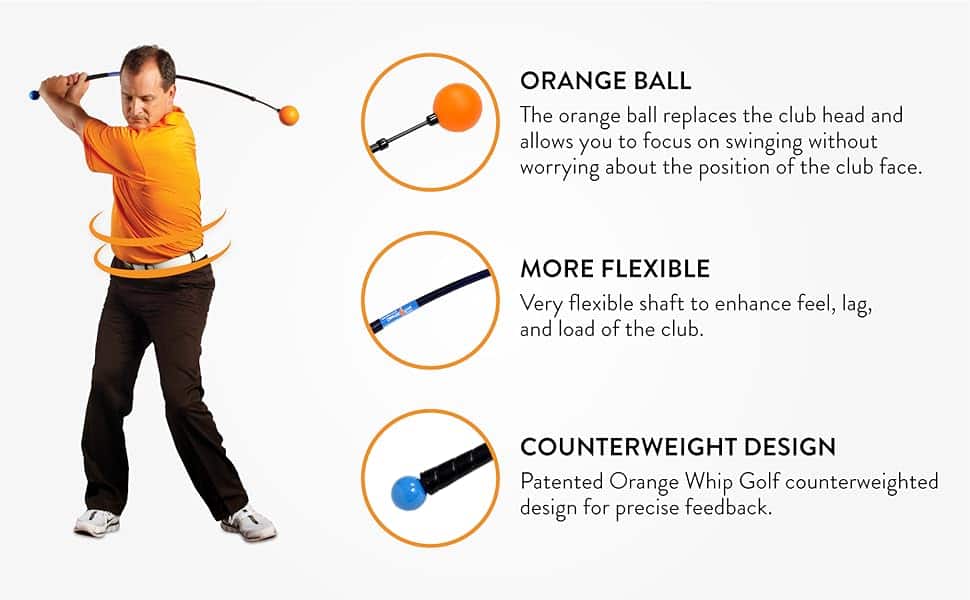 In Brief
Voted #1 swing trainer by pros for its patented flexible shaft that keeps your swing on plane
Provides instant feedback to correct slices, hooks and develop a powerful, consistent swing
Overview
Struggling to find consistency in your golf swing? Look no further than the Orange Whip Swing Trainer – voted the #1 teaching and training aid by PGA and LPGA pros.
This patented, one-of-a-kind swing trainer utilizes a counterbalanced, flexible shaft that works with your natural motion to keep your swing on plane. As you swing the Orange Whip, you'll feel instant feedback and can self-correct slices, hooks, and other swing flaws. It coordinates your upper and lower body, developing core strength and rhythm that leads to power and accuracy.
Regular use before and after play, as well as during the off-season, will have you making consistent, solid impact in no time. With hundreds of touring pros trusting the Orange Whip to take their game to the next level, you can be confident it will improve your swing.
Don't just take our word for it – try it yourself and feel the difference today. Your best, most consistent golf is just a swing away with the Orange Whip.
BUY NOW
WellPutt Stroke Master (Best Putting Mat – Over $100)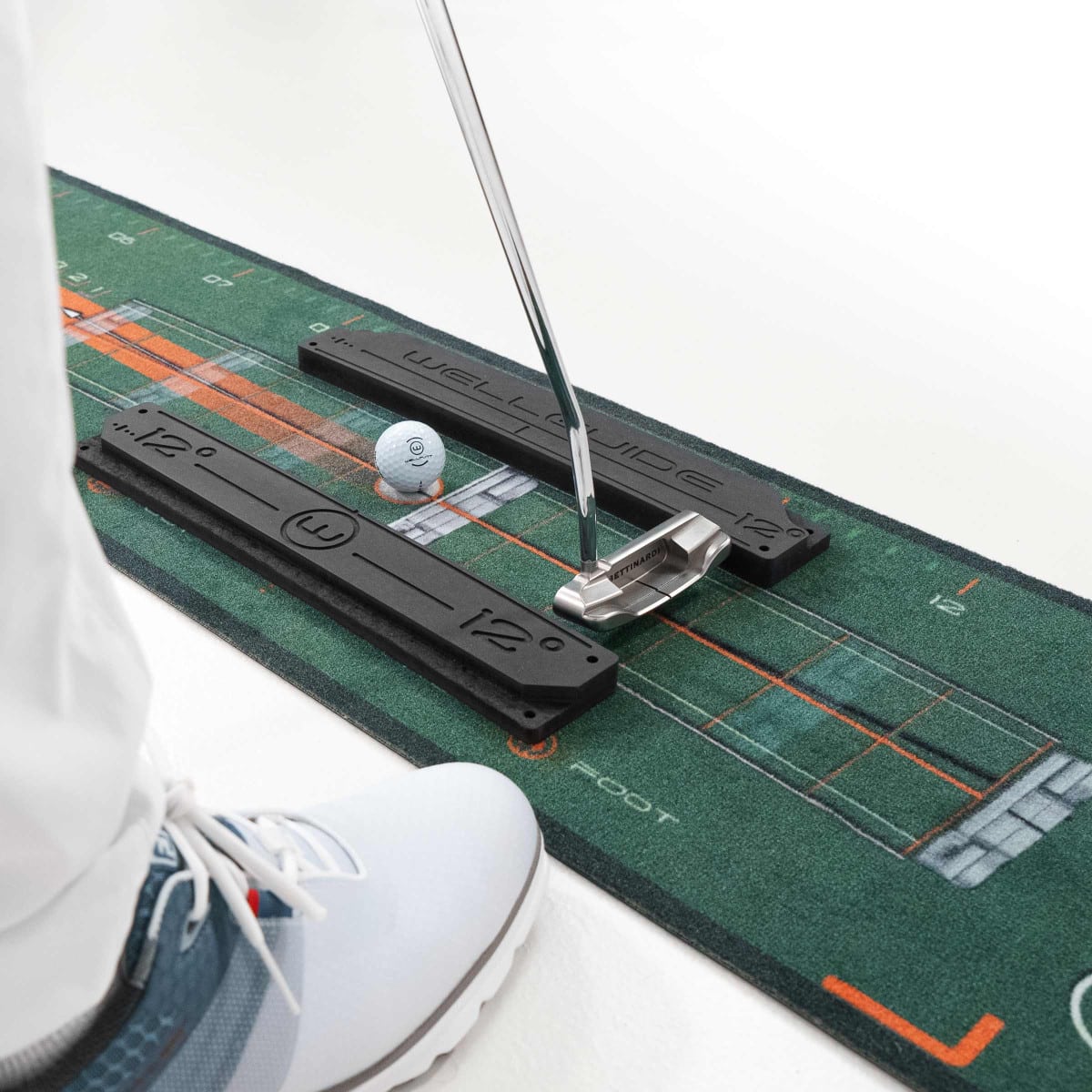 In Brief
All-in-one putting system with guides and drills to master aim, stroke path, roll, and green feel
Ball return ramp enables repetition as you develop ideal putting technique for consistency
Overview
Want to sink more putts and lower your scores? The revolutionary Stroke Master has everything you need to perfect your putting stroke. Approved by renowned golf coach Cameron McCormick, this all-in-one training system helps you master aim, start-line control, ideal putter path, and getting the true roll feel of greens.
The convenient ball return ramp enables repetition of proper technique. The Wellstroke motion guide develops your ideal putting arc. The Wellguide trains your path for accuracy. And the Wellhole gives you the sensation of a perfectly struck putt. You'll experience the speed and feel of real greens. Plus, the included training book and app provide 15 drills and 4 games to ingrain muscle memory.
With the Stroke Master's feedback and guides, you'll gain consistency in pace and line. Your stroke will become second nature. Any miss will be a surprise. Take your putting to the next level and watch your scores drop with the Stroke Master – the most comprehensive putting training package ever created.
BUY NOW
The Putting Dial (Best Putting Trainer – Under $100)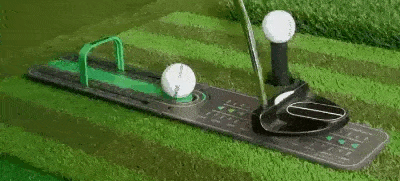 In Brief
Realistic putting aid for mastering distance control and accuracy 
Comprehensive training aid builds mechanics, technique and confidence to drain more putts
Overview
Tired of lacking confidence over critical putts? The revolutionary Putting Dial is your shortcut to sinking more putts and avoiding embarrassing three-putts. This top-of-the-line training aid goes beyond traditional tools by accurately simulating real putting scenarios from 1-15 feet.
Uphill, downhill, breaking putts – The Putting Dial has you covered. Its comprehensive range of precise distances builds muscle memory and feel to master speed control for any putt. Make those knee-knocking 3-footers with certainty. Develop touch on tricky downhills. And commit to long bombs thanks to enhanced distance calibration. The specialized levels and angles establish proper posture, mechanics and technique for unmatched practice.
From beginners seeking a solid foundation to seasoned golfers chasing perfection, The Putting Dial is the ultimate secret weapon. Experience ultra-realistic practice to step onto the course brimming with confidence. Watch your putting handicap drop as you drain bid after bid. Achieve putting greatness with the most innovative training aid that builds true mastery of distance and line. The Putting Dial is your shortcut to conquering every putt and carding lower scores.
BUY NOW
Rukket Pathfinder 2-in-1 Golf Training Mat (Best Swing Path Trainer)

In Brief
Combination impact and swing path mat provides instant feedback to improve clubface alignment, ball-striking, and swing plane
Works for all clubs and shots to help correct slices, hooks, and make solid impact
Overview
Struggling with your golf game? Tired of hooks, slices, and poor contact with the ball? It's time to get serious about improving your swing with the Rukket Pathfinder Training Aid.
Designed with input from touring pros and top instructors, this versatile training mat helps golfers identify and correct swing faults in a way that mirrors real on-course play. The impact mat ensures clean contact and correct clubface alignment, while the removable foam pylons let you practice draws, fades, and keeping your swing on plane.
In minutes, you'll get instant feedback to fix your swing – leading to increased distance and accuracy. Take your game to the next level with the Pathfinder. It's the most advanced and effective golf mat that provides feedback for every type of shot, helping you shave strokes off your score. 
BUY NOW
The Connector (Best Short Game Trainer)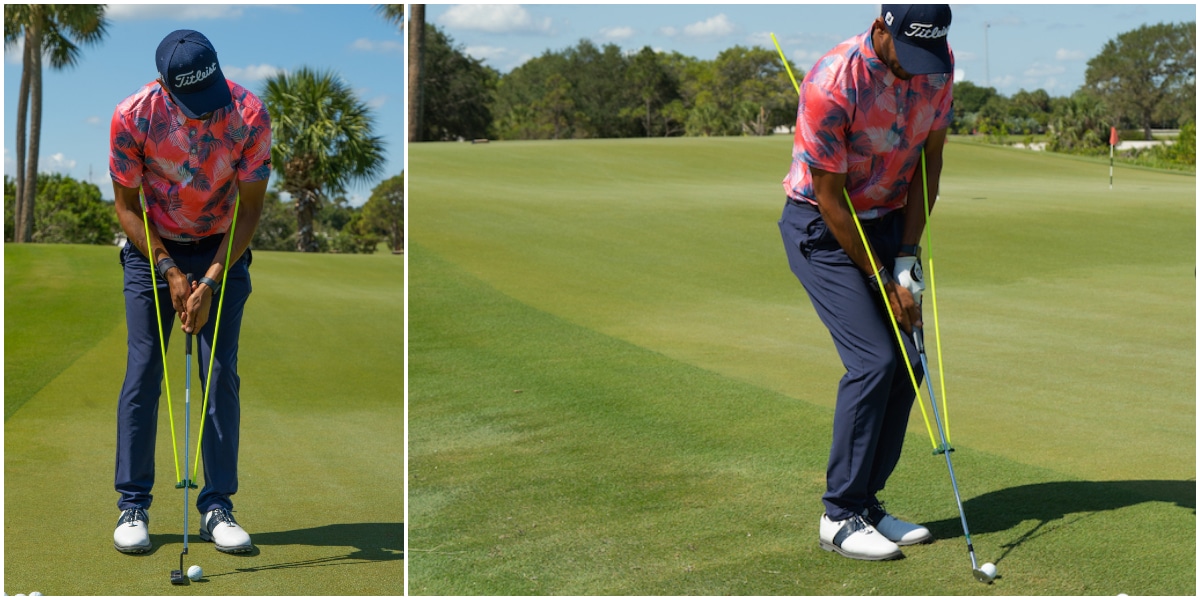 In Brief
Creates ideal motion and feel for putting, chipping, pitching to improve touch, consistency
Develops muscle memory for tour-caliber connection, rotation and precision inside 100 yards
Overview
Struggling with your short game confidence? The Connector is the ultimate training aid to transform your touch and consistency inside 100 yards.
Master a tour-level putting stroke that rolls true every time. Eliminate flubbed chips by ingraining proper motion with no wristiness. Hone repeatable pitching for pinpoint precision. The Connector builds the ideal connection and rotation for finesse shots the pros make look easy.
On the greens, it locks in the path, start line, and speed to drain more putts. Chips and pitches land soft and stop near the pin. Explosive sand shots fly precisely to the target. Backed by top coaches, The Connector develops muscle memory so your short game becomes automatic.
Bring out your inner short game wizard and lower scores with the most versatile training aid. The Connector builds confidence through feedback and mechanics that produce results. Believe you'll pull off every clutch shot. Convert more up-and-downs. Make 5 footers with certainty. Stop getting cute and start getting deadly consistent. With The Connector, your scoring clubs will become trusty weapons instead of sources of frustration.
BUY NOW
WhyGolf Pressure Plate (Best Balance Trainer)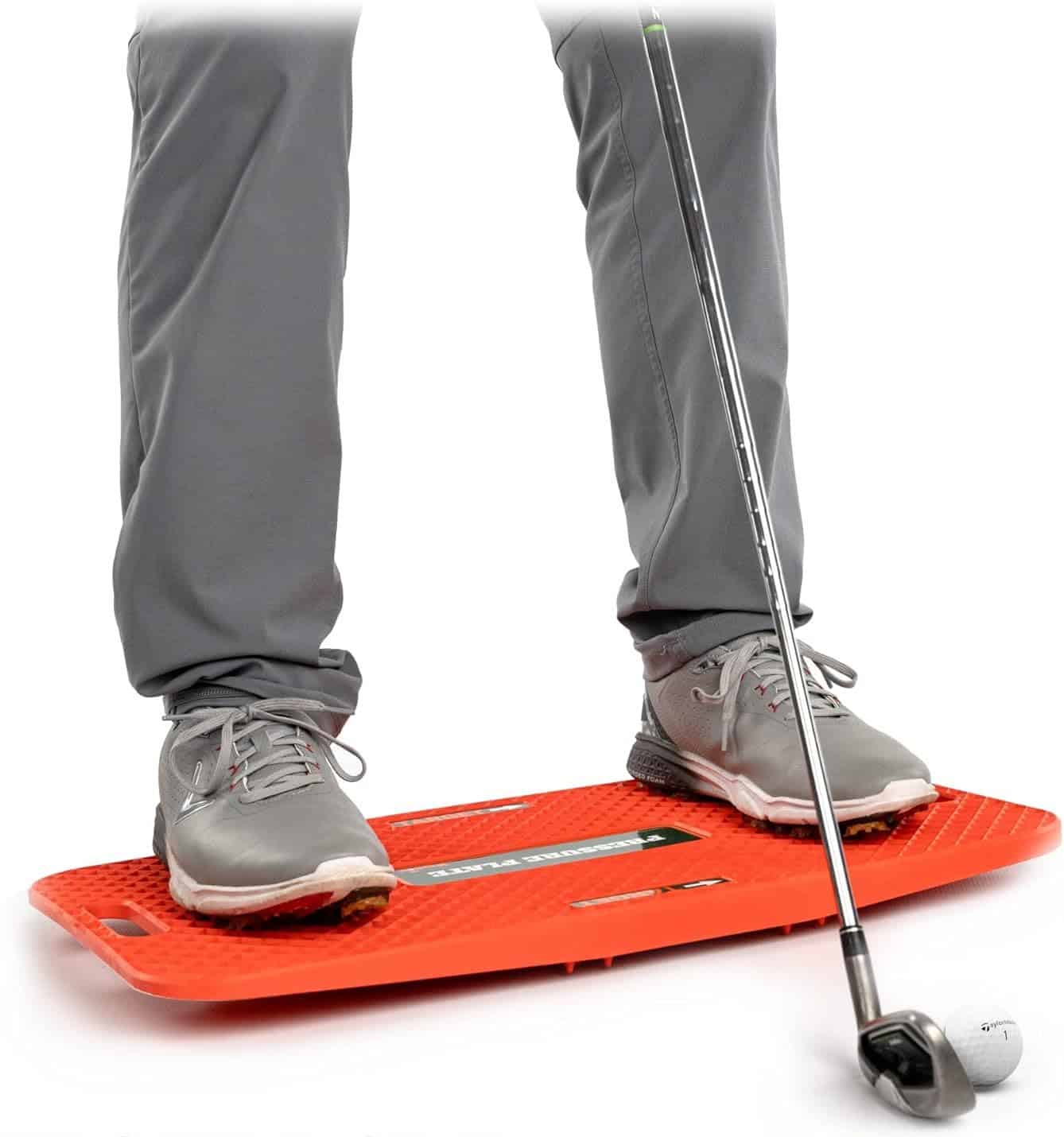 In Brief
Portable pressure plate swing trainer provides real-time feedback on weight transfer
Identifies swing flaws and builds consistent, powerful mechanics through balance drills
Overview
Want to unlock your full golf potential and hit longer, more accurate shots? WhyGolf's revolutionary Pressure Plate provides instant feedback to perfect your swing technique, weight transfer, and balance.
This versatile training aid combines dynamic pressure plate technology with a balance board for unparalleled insights into your swing mechanics. The real-time pressure readout identifies flaws in your weight distribution so you can correct inconsistencies and release more power.
Use the Pressure Plate indoors or outdoors to elevate your game year-round. The portable design is ideal for golfers of all abilities – from beginners building a solid foundation to seasoned players chasing refinement.
Plus, our easy-to-follow video training academy teaches you how to maximize your training. Learn directly from PGA winner Brian Henninger as he guides you through drills to ingrain proper mechanics for consistent, powerful ball-striking.
Stop guessing and start knowing. WhyGolf's Pressure Plate provides the feedback for optimal swing technique. See and feel a more controlled, balanced motion that unleashes your golf potential.
BUY NOW
SuperSpeed Golf Speed Training System (Best Speed Trainer)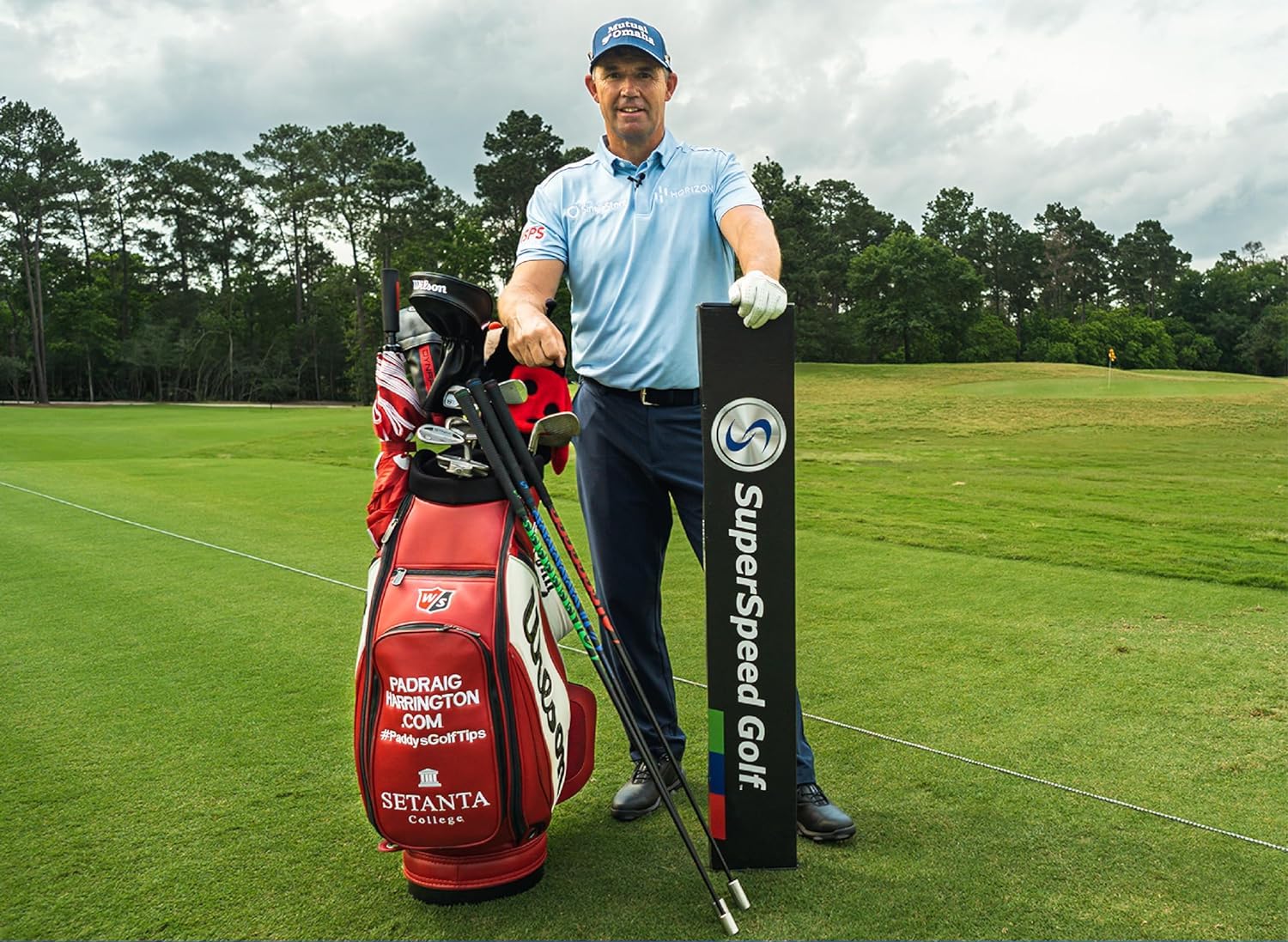 In Brief
Scientifically designed weighted clubs & drills increase clubhead speed by 5-8% for added distance
Trusted by over 1,000 tour pros and 300,000 amateurs to improve driving power
Overview
Want to add serious yardage to your drives? Superspeed Golf's Swing Training System is proven by tour pros and amateurs alike to increase clubhead speed and distance.
Developed with over 20 years of golf expertise, Superspeed's weighted clubs and online video instruction follow a scientifically validated overspeed training methodology. By progressing from light to heavy clubs, you'll blow past your current swing speed limit to gain up to 15 extra yards.
Superspeed is trusted by over 1,000 tour pros, including 3-time major champion Padraig Harrington who credits the system for reaching 118mph clubhead speed on the Champions Tour. With 300,000+ amateur users also seeing 5-8% increases validated by studies, Superspeed is golf's #1 choice for added swing speed.
Stop leaving yards on the table. Superspeed's customized sets for men, women, seniors, and juniors unlock every golfer's potential for faster speed and maximum distance. Follow the proven training plan for longer, more accurate drives that cut strokes off your score. Don't just swing faster – swing Superspeed.
BUY NOW
PRGR Pocket Launch Monitor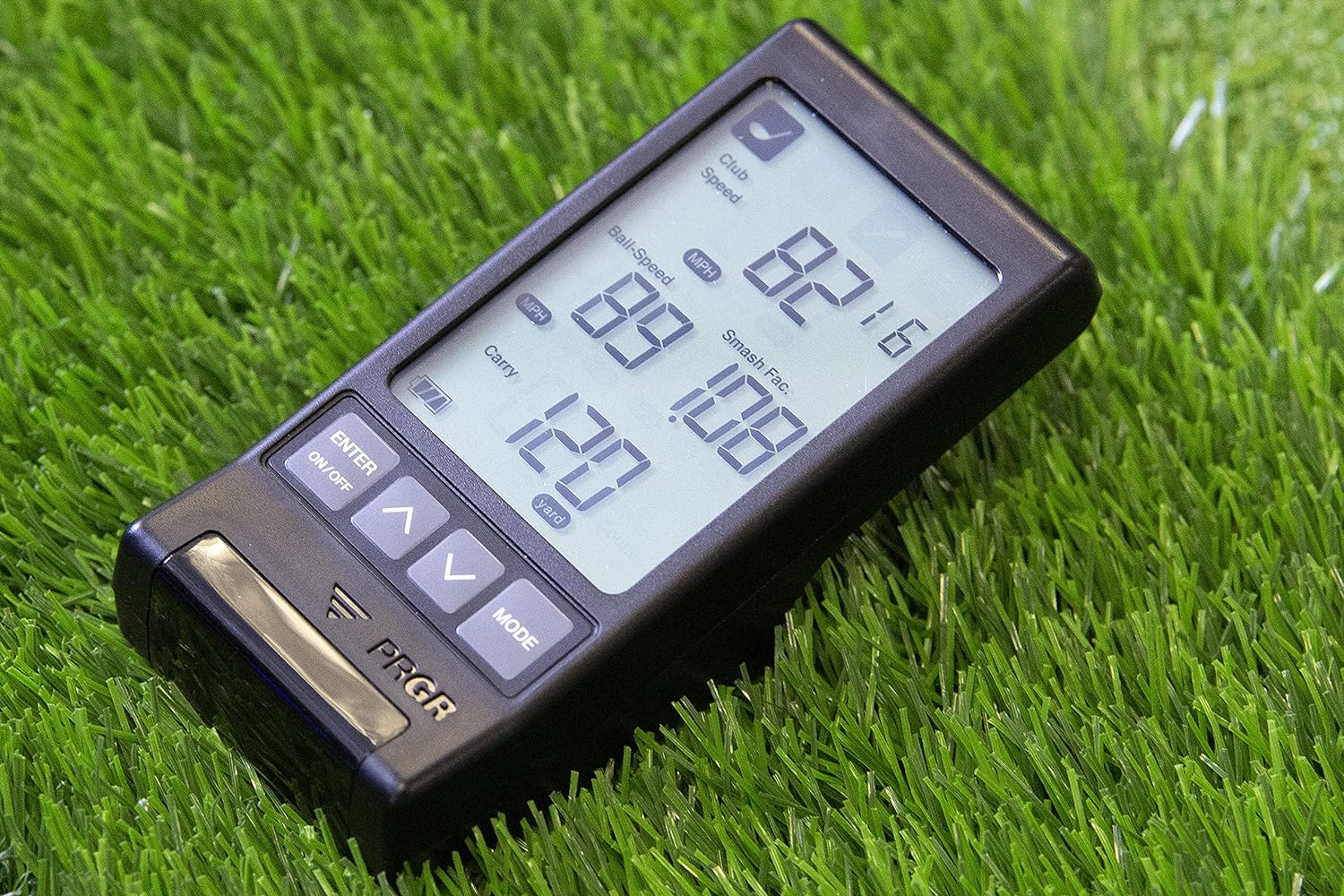 In Brief
Accurate doppler radar measures club speed, ball speed, carry, total distance, smash factor
Simple to use with any club – no apps, downloads or complex setup required
Overview
Want to know the real distances you're hitting each club? The PRGR Launch Monitor uses superior doppler radar technology to precisely measure your swing speed, ball speed, carry distance, total distance, and smash factor.
Simply place the compact device on the ground, take your stance, and swing – it captures nearly 100% of shots without fiddly positioning. No apps, downloads or WiFi needed – PRGR is the easiest launch monitor to use. Plus it works for golf, baseball, tennis and more.
With 40 years of tour-level golf equipment expertise, PRGR is brought to you by the respected Yokohama tire company. You can trust the accuracy and durability. The 2021 model boasts an upgraded sensor and yards/meters toggle.
Take the guesswork out of your game. Know your true distances and dial in your clubs with the PRGR Launch Monitor. Backed by a 30-day money-back guarantee and 1-year warranty, your purchase is risk-free. Stop wondering and start knowing – improve your golf game with PRGR.
BUY NOW