What You Need To Know
Golf Pride's new CPX grips are the company's softest grip to date
Features an EXO Diamond-Quilted pattern modeled after BMX bike handles that promotes more contact points
Released April 1 in gray/blue colorway – more potential colorways to come down the line
Retails for $9.49 to $10.49 per grip. Comes in Undersize, Standard, Midsize and Jumbo.
---
When you think of golf grips, you think of Golf Pride. If Titleist, Callaway and TaylorMade were rolled into one, that's the stature Golf Pride holds in the world of grips; the rest of the industry is fighting for scraps.
However, while their stranglehold on the grip space has been omnipresent for 70+ years, one thing has been missing from their line-up of products: a softer grip. That's allowed a competitor like Winn to find its honey jar with its Dri-Tac line. And that's why Golf Pride has set out to reclaim its share of the market with its new CPX grips.
First Impressions
Being marketed under the slogan "A Soft Grip For A Hard Game," the CPX grips immediately feel different in your hands than any other Golf Pride grip you've ever touched. There's definitely some give in the newly-developed rubber compound, but it's not squishy like Winn's softer offerings.
The EXO Diamond-Quilted pattern stands out the most when initially grabbing the club, and the "maximizing of hand-to-grip contact" marketing speak rings true. 
"There are a lot of comfort grips on the market today, but there have to be performance-based characteristics built in or it's just going to feel mushy. It'll twist in your hands," Eric Gibson, Golf Pride's Global Marketing Director, told MyGolfSpy. "This is a significant departure from what you've historically seen from Golf Pride."
As a golfer who is regularly cognizant of "strangling" the club, the CPX doesn't require or encourage the type of hang-on that other softer grips do. The diamond pattern on the sides of the grip increase that connection while the centerline inverted grip reminds of a more conventional Tour Velvet-like feel.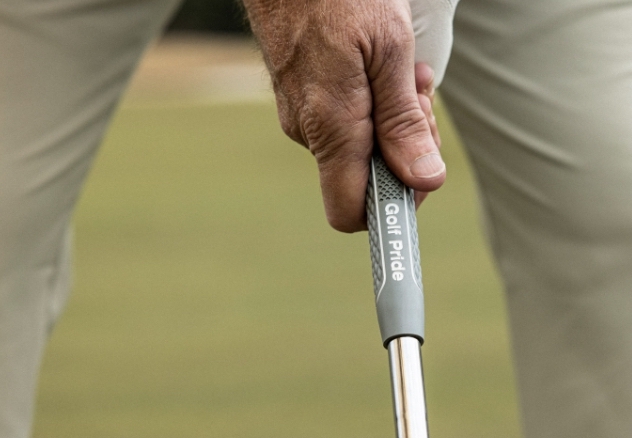 How The CPX Grips Stack Up
As a bit of a grip snob, there are few things better than swinging a club with a fresh grip on it. In my opinion, it's a much more economical way to get that new-club feel without the new-club price tag. Yet having said that, putting new grips on my clubs has occasionally become like a band-aid fix for a poorly performing golf swing.
Maybe if I change my grips, my swing will get back on track.
That's all to say, I have clubs lying around with a variety of different grips on them. I've most recently been gaming Golf Pride's ZGRIP CORDs for nearly a year now, but before that, I loved the MCCs and prior to those, I was playing Winn's Dri-Tac. 
 

 

View this post on Instagram

 
Getting all four of them out into the simulator, I think I fell in love. I started with my ZGRIPs to get my baseline feel for what I'm looking for in a grip: feedback. I want to know how I struck a ball at impact, and the ZGRIP delivers the cold, hard truth. The MCC was very similar, albeit slightly less offensive on mishits.
The Dri-Tac offered a different feel. That squishy sensation described above mutes the feeling of the ball on the clubface too much for my liking. I don't particularly need to be fooled by my grip; I'd prefer to be informed by it. So where the Dri-Tac delivers a nice feel at address, it loses much of its utility for me at impact.
But that's where the CPX excels. As you prepare to hit the ball, you get the comfy soft feel as you waggle and prepare to address the ball, but there's no faking it at impact. You get the rush of satisfaction for a well-struck shot, and conversely, there's no wondering how the ball will react after an off-center hit; you can feel it immediately. The best of both worlds, in my opinion.
The Takeaway
Simply put, I spent Masters week re-gripping my clubs with the new Golf Pride CPX grips. As someone who has played with every type of grip from Winn Dri-Tac to Golf Pride ZGRIP CORDs, the CPX offers the most comfort without sacrificing feedback that I've come across.
---
The Golf Pride CPX grips are available for purchase as of April 1, 2022. They retail between $9.49 to $10.49 per grip, and come in Undersize, Standard, Midsize and Jumbo sizes. Find out more about the CPX grips on the Golf Pride website.