Ask any coach and they will tell you, the key to success is building on a solid foundation of fundamentals.
After rebranding as PGA Tour 2K, and launching a well-received offering in 2020, developer HB Studios continued its path to being one of the best, albeit only PGA Tour-licensed games around today. What 2K21 did well was to put you into the action of being on the tour, and surround you with an easy to pick up, yet surprisingly deep golf experience.
It didn't reinvent the wheel, but with a lack of available official PGA tour games at the time, it filled the void left by the previous gaming generation's powerhouses, and built upon the success they had generated with "The Golf Club" series of games. With this year's follow-up, PGA Tour 2K23, the studio looks to continue building on what they have done before, while improving on some of the criticisms of the previous entry in the hopes of putting out the definitive PGA Tour experience.
Thankfully, PGA Tour 2K23 mostly succeeds in that endeavor, as the newest entry in the series continues to feature realistic golf action, on real courses, with real players, and officially licensed brands for apparel, clubs, and balls.
While being the only real video game golf option at the moment could have resulted in a game that feels exactly like its previous iteration, 2K23 adds new features, and looks to respond to criticism of the last game to be better than before. While PGA Tour 2K23 has taken steps to improve on its predecessor, it does feel as though it is a two-steps-forward, one-step-back amount of progression
If you played 2K21, or even any golf games in recent years, you will once again find yourself right at home within this game. The basics are the same as they have been for quite some time: pick a golfer, pick a course, pull down the right stick for your backswing, and push forward for your downswing.
Modern golf game controls have not changed much over the years, and really had no reason to, as the swing stick method of control gives you a realistic feel for controlling the club like you would if you were standing out there yourself. Stick controls are something other sports games have tried to introduce in their annual offerings as well, because it is the most immersive way to play without holding a motion controller in your hands.
While the controls for 2K21 were what you would come to expect, and weren't mentioned as a criticism, 2K23 introduces another way to play, one that also feels familiar, while being something that may take time to get used to. When you first start the game you are presented with the option of how you want to play, either stick controls with the left or right stick, or the new system, the 3-click swing, which may sound a lot like the bar meter from golf games of old, but introduces some minor tweaks to still give you some deeper level of control.
The old meter had you pressing the swing button to start the meter, tapping again to set power, and tapping it a third time for accuracy, with segments to tell you the ideal time to press for the best shot. 2K23 changes this by adding more precision control, and more timing meters. To use the 3-click option, you instead have to hold the swing button down and release it when the power circle fills to the correct amount.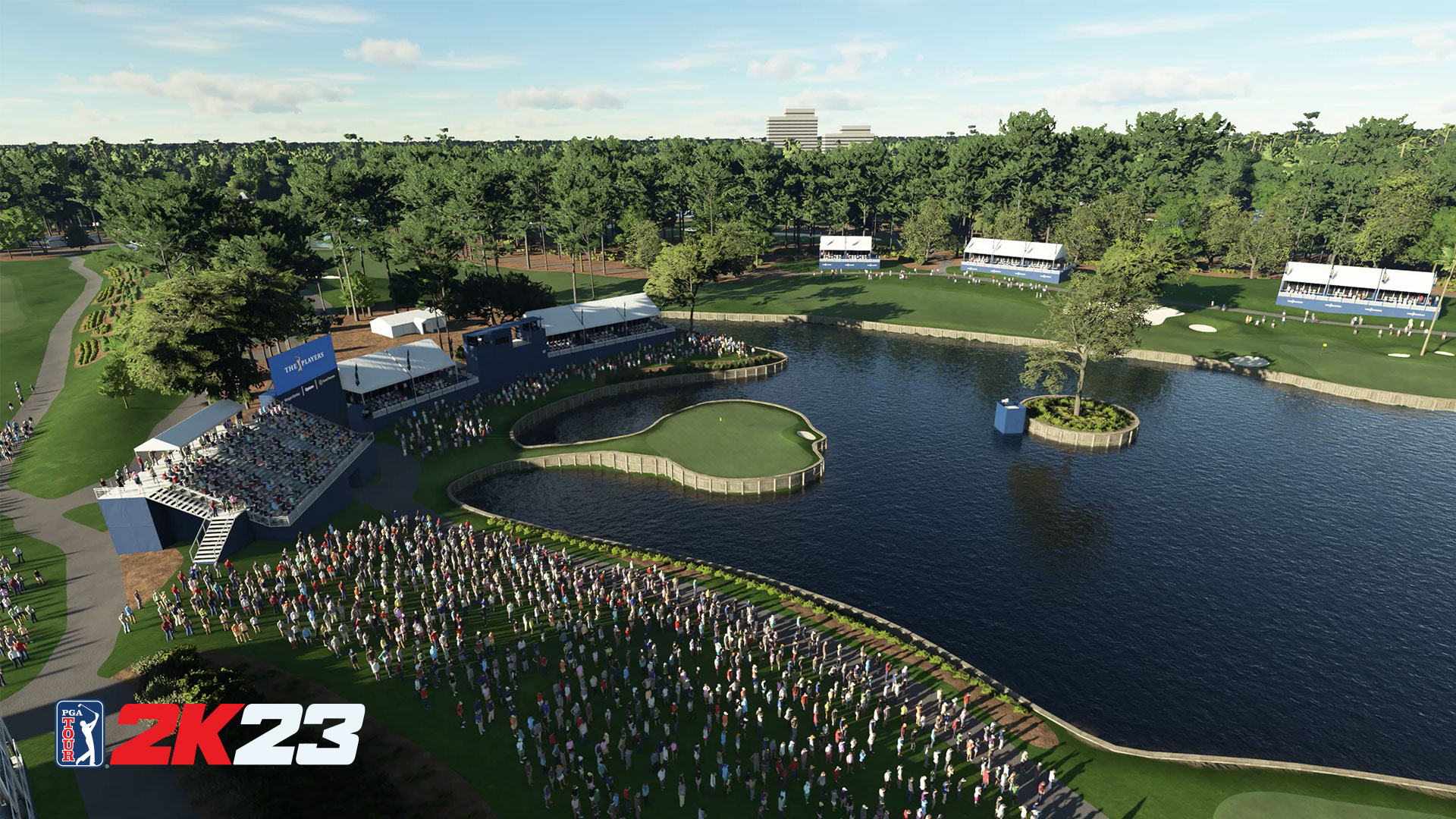 You are then presented with two additional meters, one for the swing path, and one for the club face angle. These move around the center circle like hands on a clock, and you need to stop each meter in the appropriate area in order to achieve the best. The 3-click option should feel easy to understand, and after taking a few swings with it you really get the hang of things and can start ripping with the best of them.
While this new control option was easier and certainly more forgiving than the previous stick controls, the trade off is that it is less immersive. Swinging with the stick can be frustrating at times, as the speed in which your push forward for your downswing greatly impacts the direction your ball will fly. Doing so too fast or too slow will raise your chances of a hole-killing duff, something that almost never happened when using the 3-click option, but it is also the most realistic way to play, as you control the golfer, not a meter.
That being said, the new control option was an enjoyable one, and the one that was used most often while playing, as it provided the more fun experience given the higher likelihood of success on each swing. Both have their advantages and disadvantages, so the choice is up to you, but giving players options in how they choose to play was an unexpected surprise. The game also lets each player in multiplayer choose how they want to swing, so even if you are playing with one shared controller, each player can set their preferred swing style.
Giving players a new way to play seems to be at the core of the changes made for this year, as not only was a new control scheme added, but the game no longer locks you into playing as your create-a-golfer. One of the things that 2K21 lacked was the option to play as tour pros, and that is rectified here.
While not everybody was looking to play as somebody other than themselves, giving players options and choices is a good thing, and it shows that HB Studios took feedback on the previous games to heart. This year, in addition to being able to play as your "My Player" across the various modes you can also play as one of 14 professional players, and 2 really famous amateurs in the casual round single and multiplayer modes.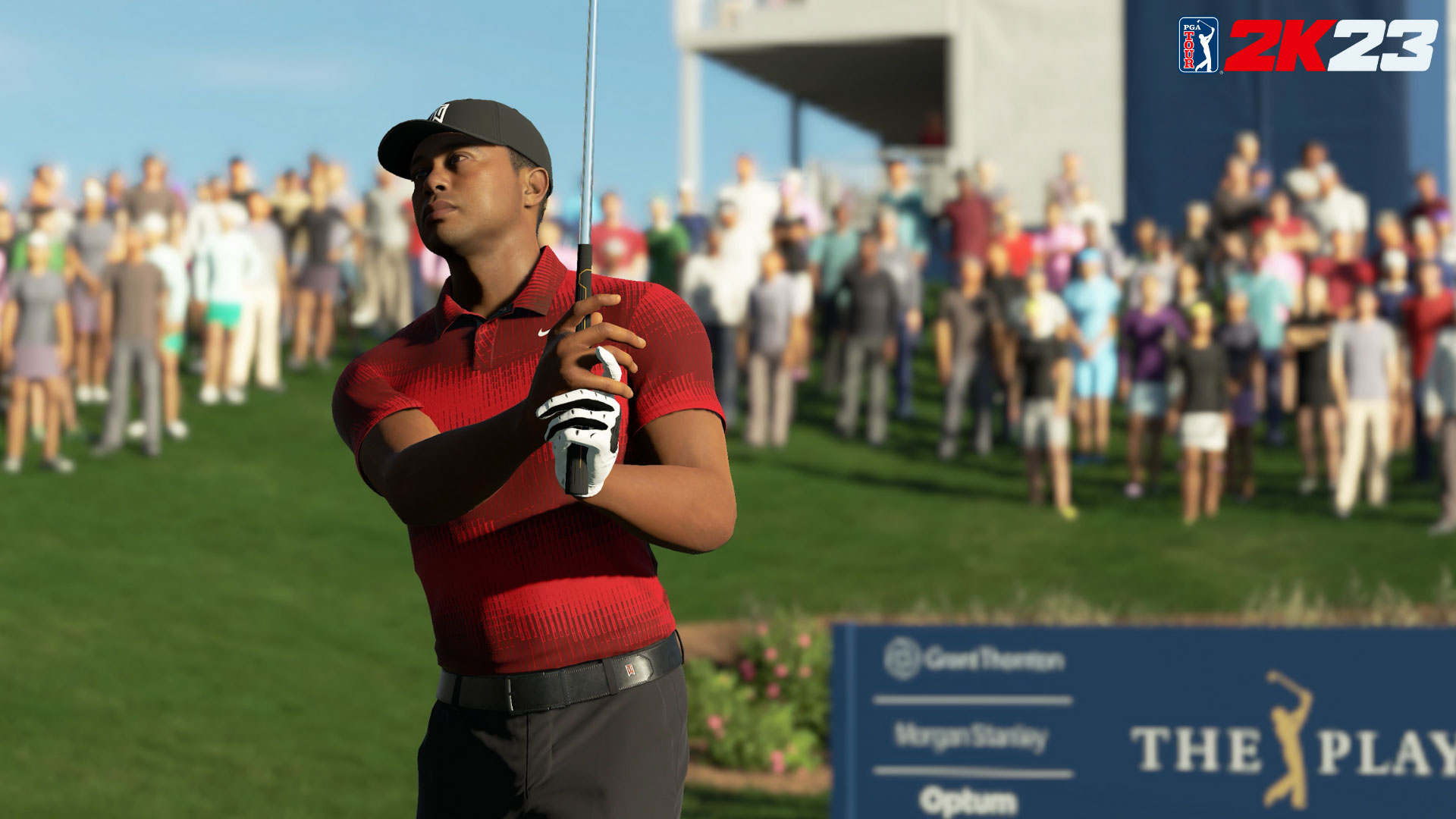 The list of available players is headlined by Tiger Woods, the name synonymous with golf video games, as the series that bore his name is the most famous golf franchise and dates back to 1998. Love him or hate him, having a player like Tiger in the game is a great addition and being able to play alongside him with your My Player will be a joy for players, as you can strive to beat a living legend of the game.
Joining him are familiar names like Justin Thomas, Tony Finau, Collin Morikawa, Bubba Watson, and Rickie Fowler among others. The game also introduces a few female golfers, Lydia Ko, Brooke Henderson, and Lexi Thompson, though still lack the LPGA tour branding, and events, so playing with and against these women is still limited to casual mode.
Your MyPlayer character won't be the only amateur playable in this game, as noted golf enthusiasts and world champion basketball players Steph Curry, and Michael Jordan join the roster. Both are fun additions to the game that should help bring in a different audience than the standard golf fan, and hopefully mean that more celebrity players join the game post-launch. The prospect of creating your own Pro-Am with players from across sports and popular culture is something that previous golf games have not included, and could help make this game stand apart.
While the addition of pros and celebrities to the game's playable offering is a welcome one, the game never showcases their names while using them in a round, opting to instead display the username of the player on the scorecard. Even worse, when playing multiplayer, the game displays the username of player one, along with the word guest and the corresponding number.
This makes things extra confusing when you play with your friends on the couch, as the order of players is never the same shot to shot, so you have to remember who is Guest1, Guest2, or Guest 3, instead of remembering who is John Rahm, who is Justin Rose, and who is playing as Xander Schauffele as you may not be able to tell by looking at the player models who is who since you see them first from the side or the back.
The announcers also do not mention players by name, instead using second-person pronouns, like saying "you're up next," or "let's see how you approach this hole." These are things that can easily be patched later, but for now the lack of name display and acknowledgement hurts the immersion, as it no longer feels like you are watching a televised event.
When you are not playing as a pro, you can take your My Player out for a few rounds across the various modes. Like the last game, you will want to create your player first, though there are blank templates if you don't want to spend time on making an in-game version of yourself. The creation options don't feel as robust this year, and the changes you can make are limited to specific features like eyes, nose, mouth, and jaw, but do not allow for additional tweaks to really create something that looks like you.
For example, the body slider in this game only goes up and down, so every player you make will be a skinny one of various heights. There is also no way to import your previous character, or like in other 2K sports games, scan your face into the game. While not a deal breaker, the lack of in-depth creation tools may frustrate players, especially if you spent any amount of time with them in the previous game.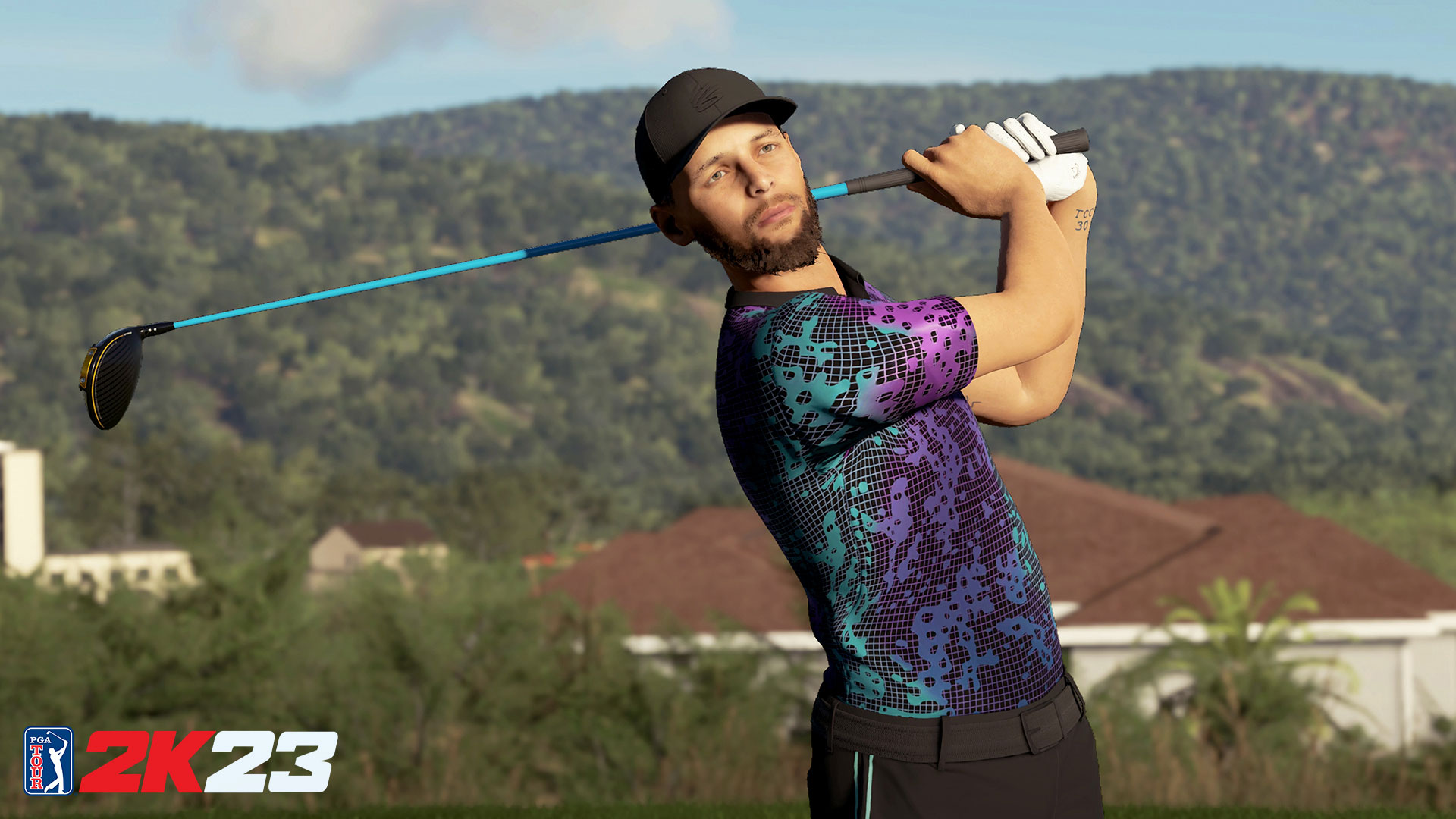 You can create up to three guest characters though, so if you have friends you normally play locally with, they can have players that look like them as well.
While the appearance editor may not be as in-depth as it was before, 2K23 opts to give more options to how your character plays, with the introduction of skill trees and player archetypes. You can choose the type of player you want to be, and what areas of your game will be your strong suit. You can then use attribute points to increase the effectiveness of each type of club in your bag. These RPG-like elements allow for the progression through the career mode to be worth something, as your in-game player gets better as you do.
The more you play the more stat points you get to use, but you also progress through a season pass, a recent familiar staple of "Games as a Service" games. You get awarded with various items through the season, which last a few months, and depending on whether you pay for the season pass will determine how many items you receive, with 10 free tiers, and 50 tiers available to give you items, credits, and XP if you spend the $10.
Thankfully there are no loot boxes in the game, as everything is purchasable via in-game currency and you see what you are getting rather than it being randomized.
Once you have your player you can use them elsewhere in the game, such as the My Career, which functions much in the same way as 2K21, where you start in Q school, work your way through the Korn Ferry Tour to try and earn your PGA card in the hopes of winning the FedEx cup. You still play through events on each tour across the 20 real-life courses, up from 17 last time out, but you can mix up locations for certain events if you want to play elsewhere.
The newest way to use your player is in the new TopGolf mode, which if you have ever played at any of the Top Golf facilities, or more specifically, simulators, should be instantly recognizable. You hit your balls like on any normal driving range, with various targets throughout the range that are worth different points depending on how far back the target is, and where your ball lands within the given target.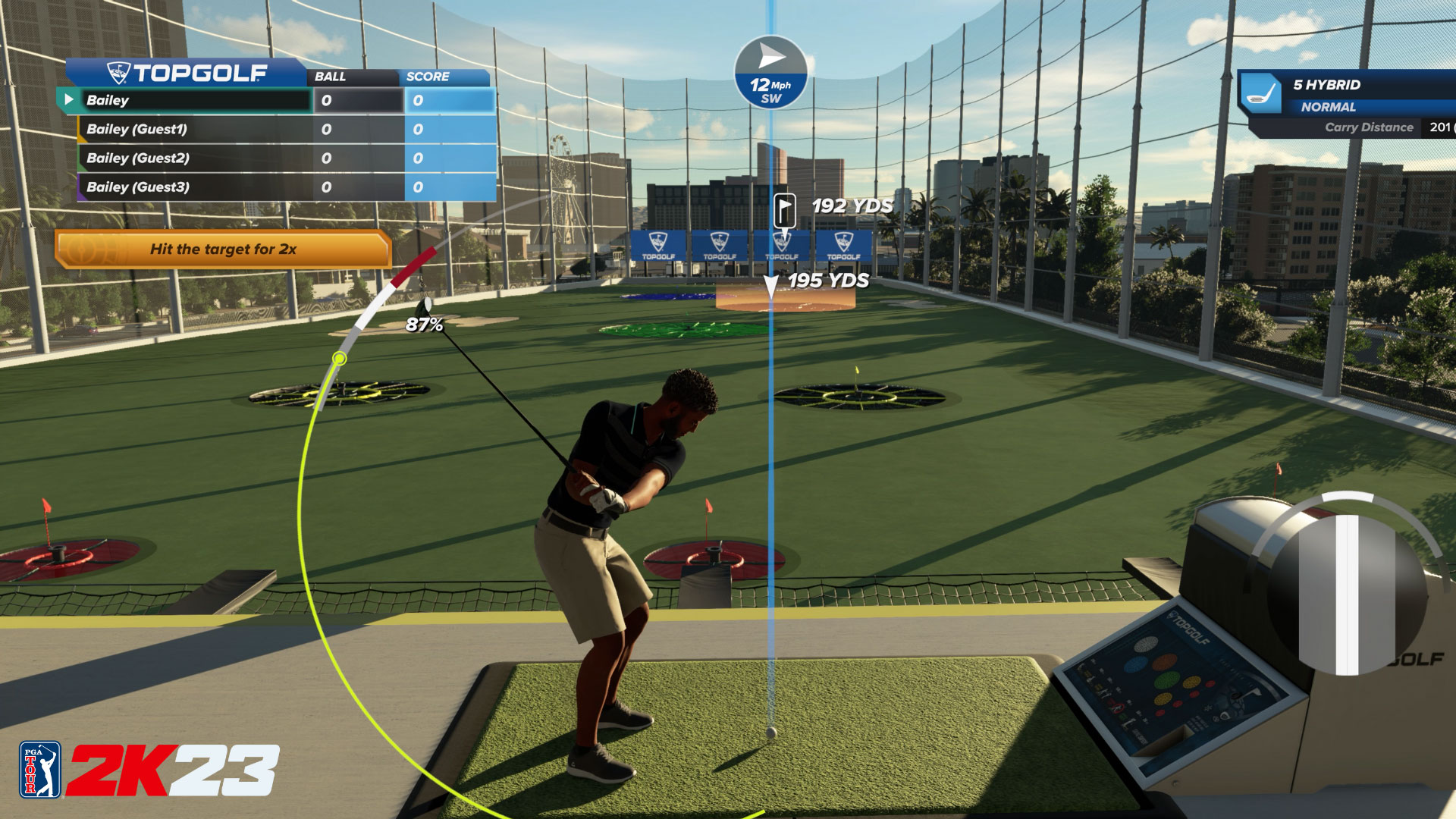 The game calls out specific targets to hit in order to maximize your score, and the player with the most points wins. While it may not be as robust as the real thing, this virtual Top Golf is a great new mode that feels like a more fun way to practice in-game, rather than just hitting the range which is also possible, and should allow for some great single and multiplayer fun.
PGA Tour 2K23 is a worthy successor to 2K21 as the core gameplay elements stay consistent, with new features and controls to add to what was there before. Not everything is as good as the previous game, but the elements where the game is better seem to be more important than the areas where it isn't. The fundamental gameplay is still some of the best golf in recent gaming history, and the new ways to play add depth to a game that last time felt a little lacking.
Ultimately, if you enjoyed the previous iteration of this franchise, you will find all of the same things to love here as it can be just as frustrating, and rewarding as playing the real thing, which is what any good sports game should hope to accomplish.