The pandemic has driven lots of new golfers to the game. Golf can be frustrating until one develops enough of a game to be able to enjoy it. 
The first hurdle is reaching the point where keeping score even makes sense. Next, we want to record increasingly better scores. And the first scoring barrier is breaking 100.
In studying the game for 30-plus years, I have learned that the No. 1 deterrent to scoring at every level is costly ERRORS. I recently ran a study of 1,800 rounds from the database of male golfers that shot 100.
On average, their rounds contained slightly more than 10 errors, each of which cost at least a stroke. 
 

 

View this post on Instagram

 
The program categorizes these errors as follows:
Driving Errors: 
No Shot – Ball hit out of play requiring an advancement or recovery shot to return to normal play.
Penalty – Requires a penalty stroke and drop from the penalty area.
Lost/OB – Stroke and distance penalty.  The ball must be replayed from the tee (playing 3rd shot).
Approach Shot Errors: 
Penalty – Requires a penalty stroke and drop from the penalty area.
The first approach attempt was missed so badly that it leaves a 2nd approach from 50+ yards of the hole. 
Chip/Pitch (shots within 50 yards of the hole, not in sand) or Sand (shots in sand within 50 yards of the hole) Errors:
The shot misses the green, either chunked short or skulled long, AND requires four or more strokes to hole out from the original position.
Putting Errors: 
3-Putts from within 30 feet of the hole.
Missed putt from within 3 feet of the hole.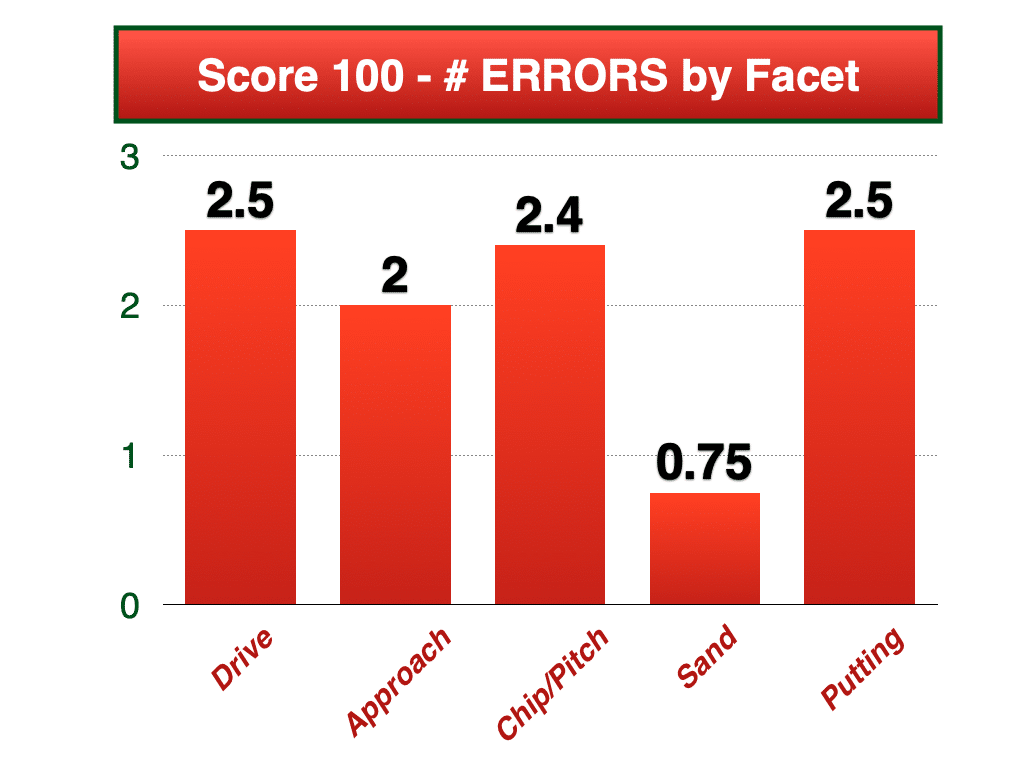 The chart above shows the number of these errors in the average 100 score. I submit that the quickest way to improve will be to track your errors for a few rounds to see how they compare to the chart.
I have included a mock scorecard to illustrate tracking the errors described above. I promise that you will find one or two common errors more prevalent in your game than the averages.  Once identified, you can work with your instructor to reduce that number and see your scores drop. 

In the sample scorecard above, the player has twice the Driving errors as the average male 100 shooter.
When you have conquered that error, you can tackle the next!
---
Peter Sanders is the President and a founding partner of ShotByShot.com, the system SwingU uses for its Versus product.
Peter has worked with PGA Tour players and major champions such as Zach Johnson, Lucas Glover, Smylie Kaufman, Zack Sucher, Sepp Straka, Dylan Frittelli and Michael Thompson to analyze and interpret their data for game improvement.