You might ask: How do I know the differences between these handicap levels? Well, it is my full-time job to know about the numbers behind the game of golf — at all levels.
I have been a student of the game from a statistical standpoint for 30-plus years. I created the strokes gained analysis website, ShotByShot.com, used by thousands of amateur golfers to improve by isolating the strengths and weaknesses of their games. Additionally, I work with PGA Tour players to extract clear answers from the Tour's overwhelming 650-plus ShotLink stats.
I've learned that there is no such thing as an "average" game, no matter the handicap level. We're all snowflakes and find our own unique way to shoot our number.
With that said, ShotByShot.com's 450,000-plus round database enables us to create a composite of the average golfer at each level. One of the beauties is that our data is robust and smooth across all five major facets so that any golfer's strengths and weaknesses — and we all have them — stand out clearly by comparison.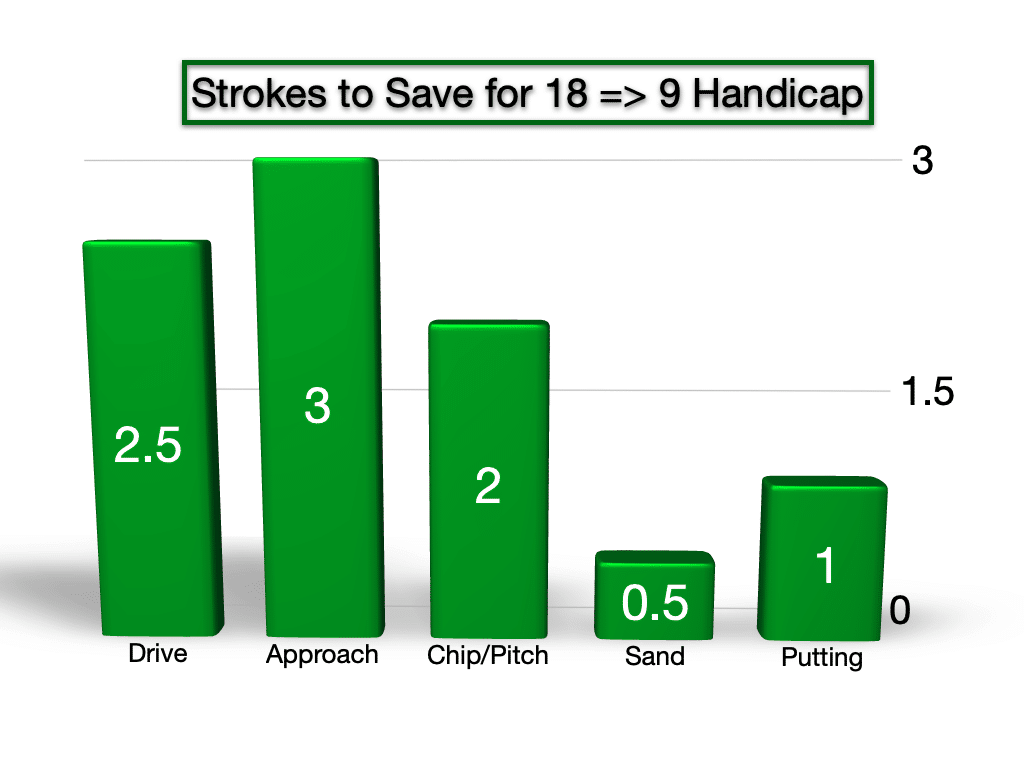 The Data We Used 
18 Handicap: I averaged the 5,000 rounds in our database that match the 18 Differential from Slope Adjusted Course Rating. In other words, the best 8 of 20 rounds when Mr. 18 actually played to an 18 handicap.
9 Handicap: Similarly, his best 8 out of 20 using the 5,000 applicable rounds in our database.
As you might guess, the scoring difference between these two handicap levels is nine strokes. So, if your snowflake matches or is close to Mr. 18's, simply work to drop the shots below by facet and voila, you are there.
The chart below shows the distribution of the strokes by facet that Mr. 18 needs to save to join Mr. 9.
In the coming weeks, I will post five short articles – each describing the most important areas for improvement in each of the five major facets: Driving, Approach shots, Chip/Pitch, Sand shots and Putting.
Next post Mr. 18 => 9: Driving.
---
Peter Sanders is the President and a founding partner of ShotByShot.com, a unique strokes gained analysis program that helps golfers determine the precise strengths and weaknesses of each facet of their golf game, the system SwingU uses for its Versus product.
Peter has worked with PGA Tour players and major champions such as Zach Johnson, Lucas Glover, Smylie Kaufman, Zack Sucher, Sepp Straka, Dylan Frittelli and Michael Thompson to analyze and interpret their data for game improvement. 
Read more from Peter on his Niblicks of Truth blog at ShotByShot.com.