First, what exactly is a Green in Regulation (GIR)?
This may seem like a silly question. It did to me until I heard two long-time clients — both prominent golf instructors — independently of each other coaching their elite juniors that a GIR meant that an approach shot was successful. Really guys?
To be clear, a GIR is a ball reaching the putting surface in two or more strokes less than par, regardless of how it gets there. A few examples of GIR's:
A Par 5 green reached in two shots.
A Par 5 missed in two but the short game shot hit on the green in three.
A Par 4 green driven (reached in one) or two shots.
A Par 3 tee shot that comes to rest on the green.
So, how relevant are GIR's?
In my opinion, extremely! I believe GIR's to be the most important of the Old School, one-dimensional, traditional stats. We've replaced most of the dinosaur stats with a more dynamic and informative analysis methodology – now known as Strokes Gained.  Those that have read my previous articles or visited my website will know these old stats as:
Fairways Hit
Sand Saves
Number of Putts
Number of Putts per GIR
In the SwingU Versus program, Fairways Hit has been retained, but augmented by five categories of the severity of the fairways missed. (See my recent article explaining this further: How Important are Fairways? ). I kept the GIR stat in because it is such an important positive in the game. First, it is an accomplishment to have been efficient enough to reach the green in regulation. and second, it always represents some sort of a birdie opportunity.
The Numbers?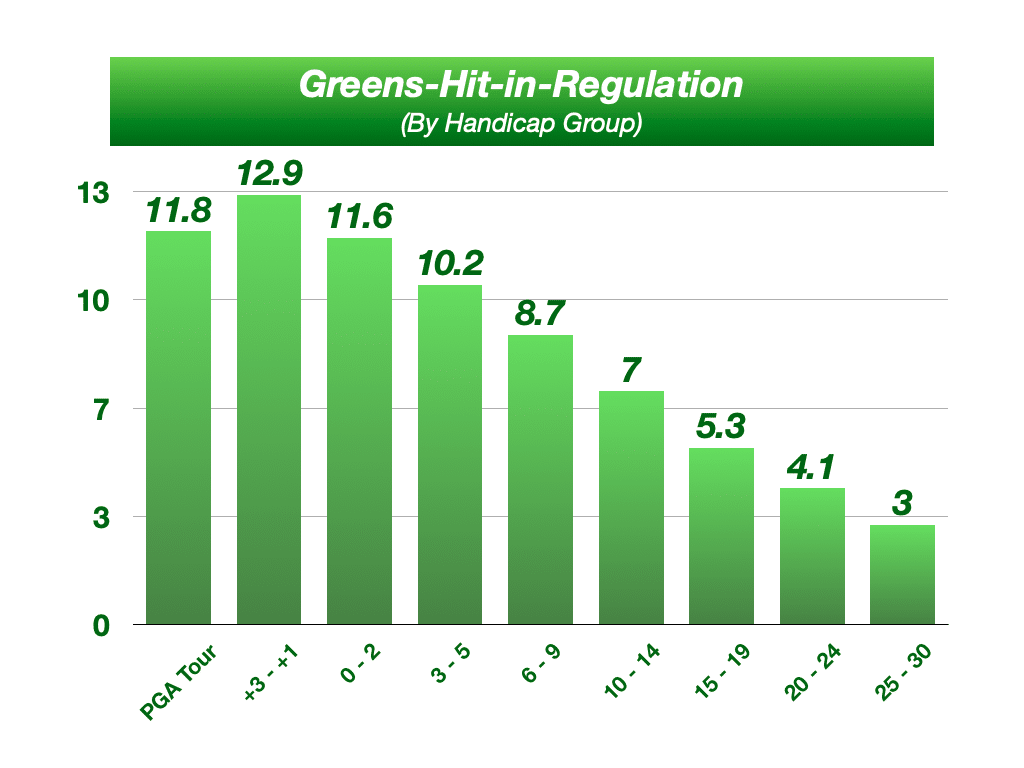 The GIR numbers above represent the number hit by each handicap group in the rounds when they play to their handicap, or the best 8 of their most recent 20 rounds. In other words, if you strive to get to Scratch (0 handicap), your best rounds should average about 12 GIR's.
Finally, you might ask how could the 0-2 handicap group hit virtually the same Number of GIR's as the PGA Tour average?  Here are a couple of reasons:
The dramatic difference in the length of the courses played by the pros vs. amateurs.
Pros tend to attack pins looking for birdies while amateurs learn to excel through consistency – HITTING MORE GREENS!
---
Peter Sanders is the President and a founding partner of ShotByShot.com, the system SwingU uses for its Versus product.
Peter has worked with PGA Tour players and major champions such as Zach Johnson, Lucas Glover, Smylie Kaufman, Zack Sucher, Sepp Straka, Dylan Frittelli and Michael Thompson to analyze and interpret their data for game improvement.