A great week for sponsor's exemption Seonghyeon Kim was nearly ruined on the 72nd green by a missed 3-foot birdie putt.
Having played 71 holes of the limited-field, no-cut CJ Cup in a very respectable 16-under par, Kim reached the par-5 finisher in two and lagged a 30-foot eagle putt to within four feet for birdie as Golf Channel cameras came to the 22-year-old ready to cap off a special week on the PGA Tour. 
However, Kim's birdie putt did a complete 360 on the left lip, leaving his ball hanging over the edge of the cup. In immediate disbelief, Kim looked on for about 10 seconds before making a roundabout journey to the cup.
Some 25 seconds after the ball came to rest on the lip, Kim prepared to tap it in when the ball fell into the cup, giving Kim what he believed to be a birdie 4.
Kim signed for his 4 and a 4-under par 68 that would have put him in an eight-way tie for 25th, however the rules committee determined Kim had broken Rule 13.3a by taking too long to reach his ball overhanging the lip.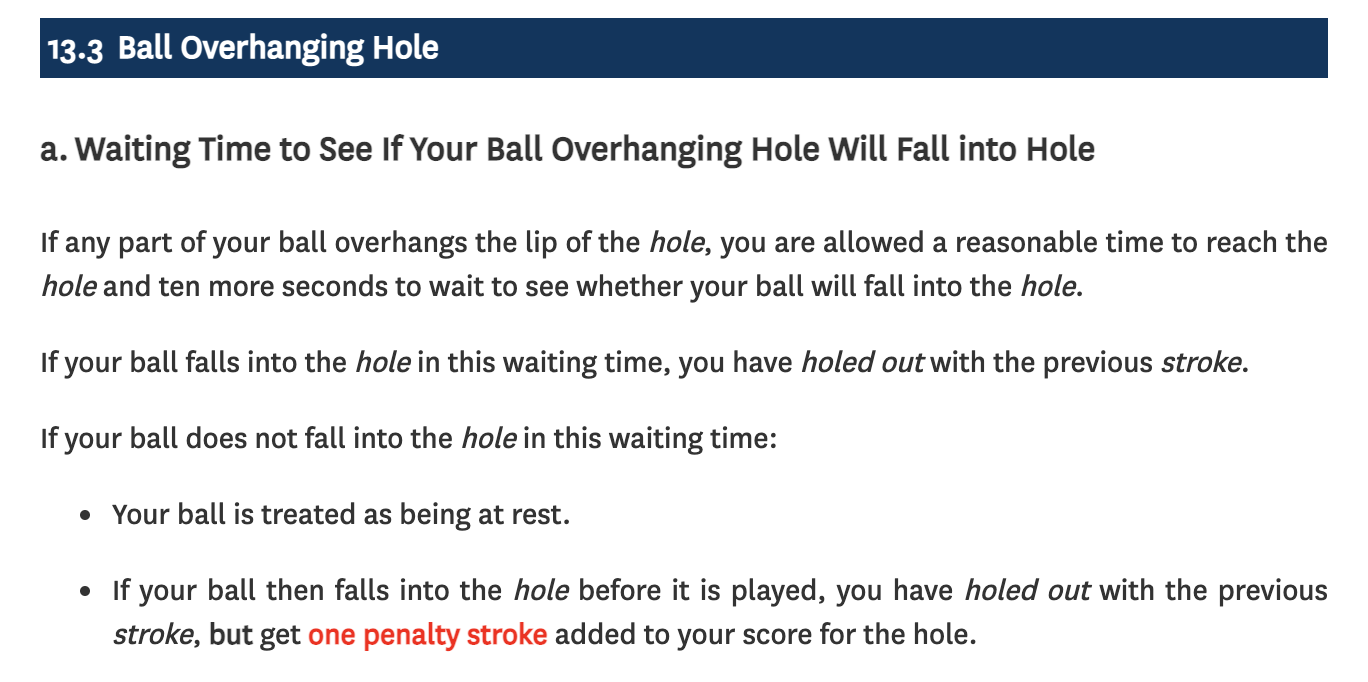 Things got even muddier when it was revealed Kim had signed for his birdie 4 prior the committee had made the ruling, meaning he signed for a score lower than he was ruled to have made, which otherwise would result in a disqualification.
Fortunately for Kim, Rule 3.3 has an exception attached to it.

The PGA Tour rules committee confirmed that Kim's situation fell under the Rule 3.3 exception, and therefore he was given a par 5 on the hole, dropping him seven spots to a tie for 32nd place.
— PGA TOUR Communications (@PGATOURComms) October 17, 2021
What did that one measly stroke cost Kim in dollars and cents? Just $17,346.88, but he still walked away with $51,610 for his efforts.
Kim, who won a major on the Japan Golf Tour earlier this year, will hope to continue his stellar play later this week at the Second Stage of Korn Ferry Tour Qualifying School in New Mexico.