There's a long-running hypothetical that takes place in grille rooms and bars around the world: what would a Tour pro shoot at your home course?
It is so talked-about, in fact, that Golf Digest has enlisted the services of Bubba Watson to travel around the United States in the coming year to do just that. In the first installment, Bubba blitzed Starfire Golf Club in Scottsdale to the tune of 8-under par 62, but it did little to settle the debate.
What goes a little further is what took place earlier this month at Blue Hills Country Club in Canton, Massachusetts, southwest of Boston.
As reported by Tom Gorman of NewEngland.golf, former PGA, Korn Ferry and Mackenzie Tour pro Jake Shuman teed it up last week in the Blue Hills club championship. While Shuman has called it a career on the professional circuit, he would not regain his amateur status until March 2022. 
Undeterred, Shuman entered his home course's club championship with permission from the Blue Hill CC golf committee, which includes the pro and general manager, despite some member grumbling. 
#bluehillcc #jakeshuman #massgolf #usga #amateurgolf #newenglandgolf #usgarulesofgolf #usgarulesamateurstatus and the winner is…not…JAKE SHUMAN! https://t.co/AK3q2KNnkH via @New England dot Golf

— Teetalk (@teetalktom) August 9, 2021
"He should not be allowed to play," one anonymous member told Gorman. "You're either a pro or amateur. You can't be both."
"Why? What's he trying to prove?" another commented "It's not a classy move for Blue Hill."
Gorman, himself a member at Blue Hill, described Shuman as "a member in good standing," but admitted to being put off by his inclusion in the event.
Shuman, who had a solid career at Duke University before turning pro, had fleeting success in golf's major leagues, playing one season on the Mackenzie Tour (2018, nine events, five made cuts) and Monday qualifying into the 2020 Wyndham Championship before applying for his amateur status to be reinstated.
For further clarification, Gorman reached out to Rob Ockenfuss, the USGA's Senior Manager, Rules of Golf & Amateur Status.
"The Rules of Amateur Status consider someone who has applied for reinstatement to be an applicant for reinstatement (A/R). An A/R is a former professional/non-amateur seeking reinstatement and not yet an amateur golfer," Ockenfuss wrote in an email. "An A/R can play in 'open' competitions, that is, open to amateurs and non-amateurs.
"Like any other competition, it's up to the Committee in charge to decide who is eligible, whether based on amateur status, handicap index, or some other stipulation. If a competition is limited to amateur golfers, a professional or A/R would not be eligible, unless the Committee decided it was OK for him to play (in which case, it's not an event limited to amateurs)."
In any event, Shuman played and unsurprisingly, he played well. Listed as a +4.4 handicap, Shuman made his way to the final match against Ben Kelly, the golf coach at nearby Milton High School, in which Kelly was able to dispatch of the former pro, 2-up.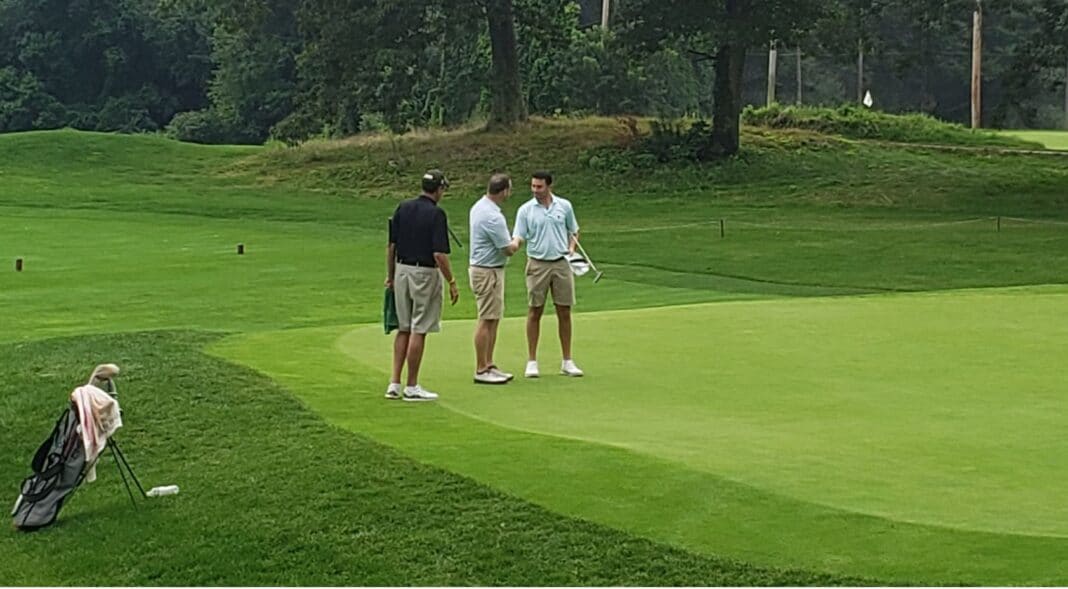 "I just played 110 holes of golf and I'm tired right now," Kelly told Gorman after a 5-under par 67. "I'm just out here enjoying myself this week so this (win) is something to enjoy."
As for Shuman, Gorman described the former pro as "defensive" when asked why he had entered the tournament.
"I entered the tournament because I like to play tournament golf, I know the course well having played here for 20 years and checked with the USGA about eligibility," Schuman said. "There have been other club championships where pros have competed. No one says anything when Phil Mickelson plays in a club championship at one of his courses. I was approved to play by the golf committee. It's not the outcome I wanted, but Ben played an incredible round of golf today to win."