If there's been one bugaboo for Hideki Matsuyama over the course of his career, it's been a bit of a balky putter. One of the preeminent ball strikers on the planet, analysts would bemoan that even an average putting week for the Japanese superstar would have him in contention.
He was better than average on the greens at the Sony Open in Hawaii this weekend, picking up a tournament and career best +7.3 Strokes Gained: Putting, the first time he's led a full-field PGA Tour event in that statistic.
As explained expertly, and somewhat prophetically, last week by Brandel Chamblee when talking about Matsuyama at Kapalua, Hideki was the best putter among the best ball-strikers for the week at Waialae Country Club, finishing fifth in Strokes Gained: Driving (+3.6) and 25th in Strokes Gained: Approach (+2.6). He was solid around the greens when he missed them as well, picking up +1.2 strokes on the field average.
"You can't play this game at the highest level unless you are an extraordinary ball striker, " Chamblee said on Golf Central Pregame last week. "It's not about who makes the most putts, it's about who putts the best amongst the best ball strikers. And when (Hideki) has a decent week at putting he has a chance to win."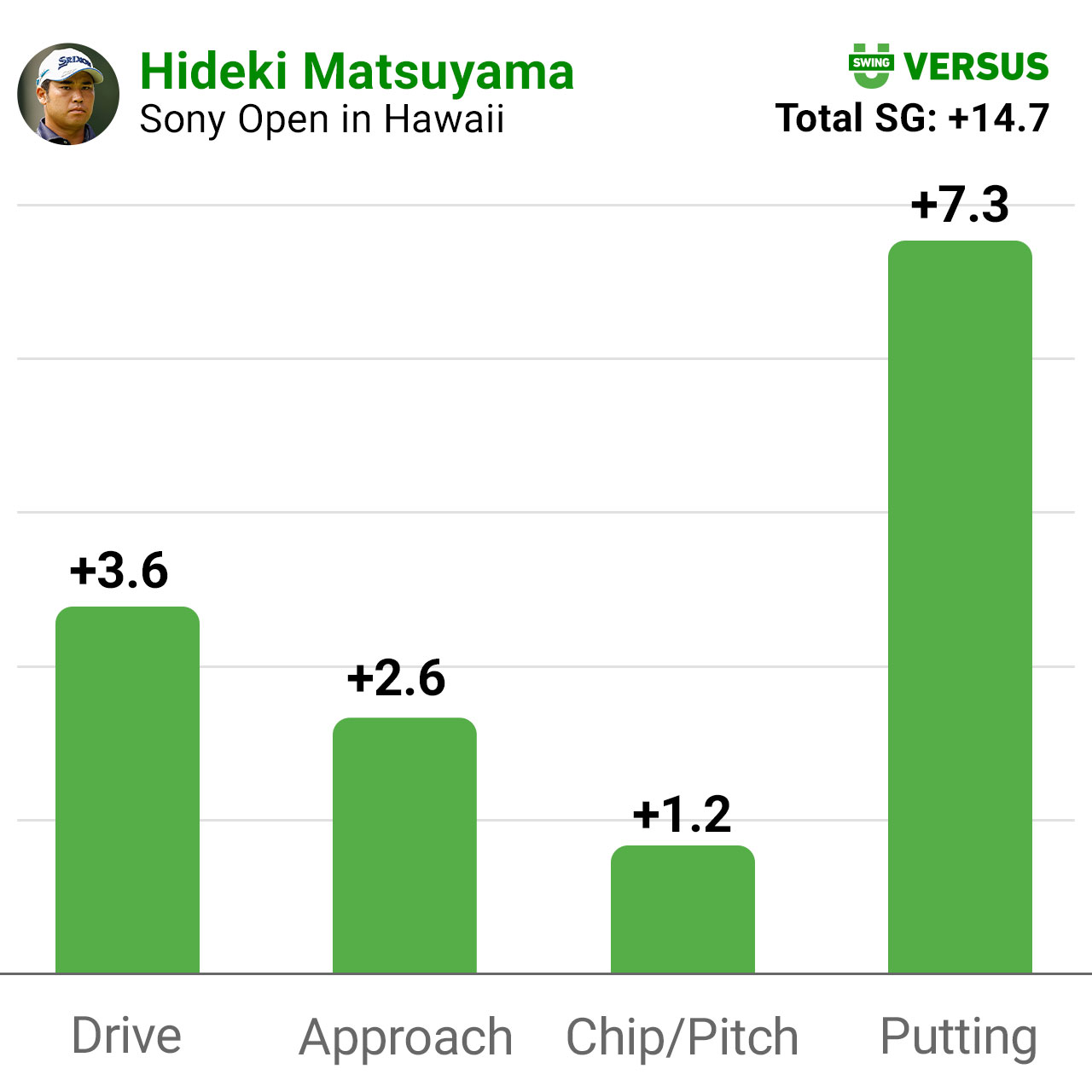 Down five strokes at the turn on Sunday, Matsuyama made four birdies and was aided by Henley's lack of success on the back nine — 8 pars and one bogey.
Matsuyama two-putt birdied the 72nd hole forced to playoff, and then hit one of the best clutch 3-woods you'll ever see on the first (and only) playoff hole to force Henley's hand.
Unable to match Hideki's heroics, Henley sputtered to a bogey while Matsuyama tapped in his eagle putt from inside three feet to get his eighth career victory on the PGA Tour.
Your Game
Strokes gained can seem like a complicated concept, but it's based on a pretty simple premise: how many shots should you expect to need to get the ball in the hole from various spots on the course. And what's even better: you don't even need to know those numbers off the top of your head because they are baked into the stat itself.
Using tools like SwingU Versus, strokes gained becomes even easier. By simply keeping track of your score based upon different inputs that require seconds of your time to plug in, you're able to see where you're gaining or losing shots against par. From there, the next step is simple: identify where you're costing yourself the most strokes and improve upon that facet to see the fastest improvement in your scores.
That's why Rory McIlroy has heralded strokes gained as "the best stat, by far, that has come into our game for the last … well, ever, really." See how strokes gained can help your game with SwingU Versus