Ian Poulter can be a bit prickly at times, and when he was added to the PGA Tour's new Pace of Play observation list, which monitors slow play and slow players via ShotLink, he was predictably peeved.
The policy, which was introduced in January of 2020 and subsequently postponed due to the COVID-19 pandemic, was reintroduced a year later at the Sentry Tournament of Champions. 
The premise of the system is to move the onus for speeding up play on to individuals as opposed to groups by increasing fines for repeat offenders. Additionally, the Tour will monitor what is being called "excessive shot times," which will identify players who take longer than 120 seconds to hit a shot. 
The observation list, which Poulter landed on this week at the Wells Fargo Championship, includes players who take longer than 45 seconds on average to hit a shot, based on ShotLink data. The average will be based on a 10-tournament rolling window, allowing players to improve their pace over time.
Poulter barely made it on the observation list, averaging 45.569 seconds to hit a shot in his latest data pull.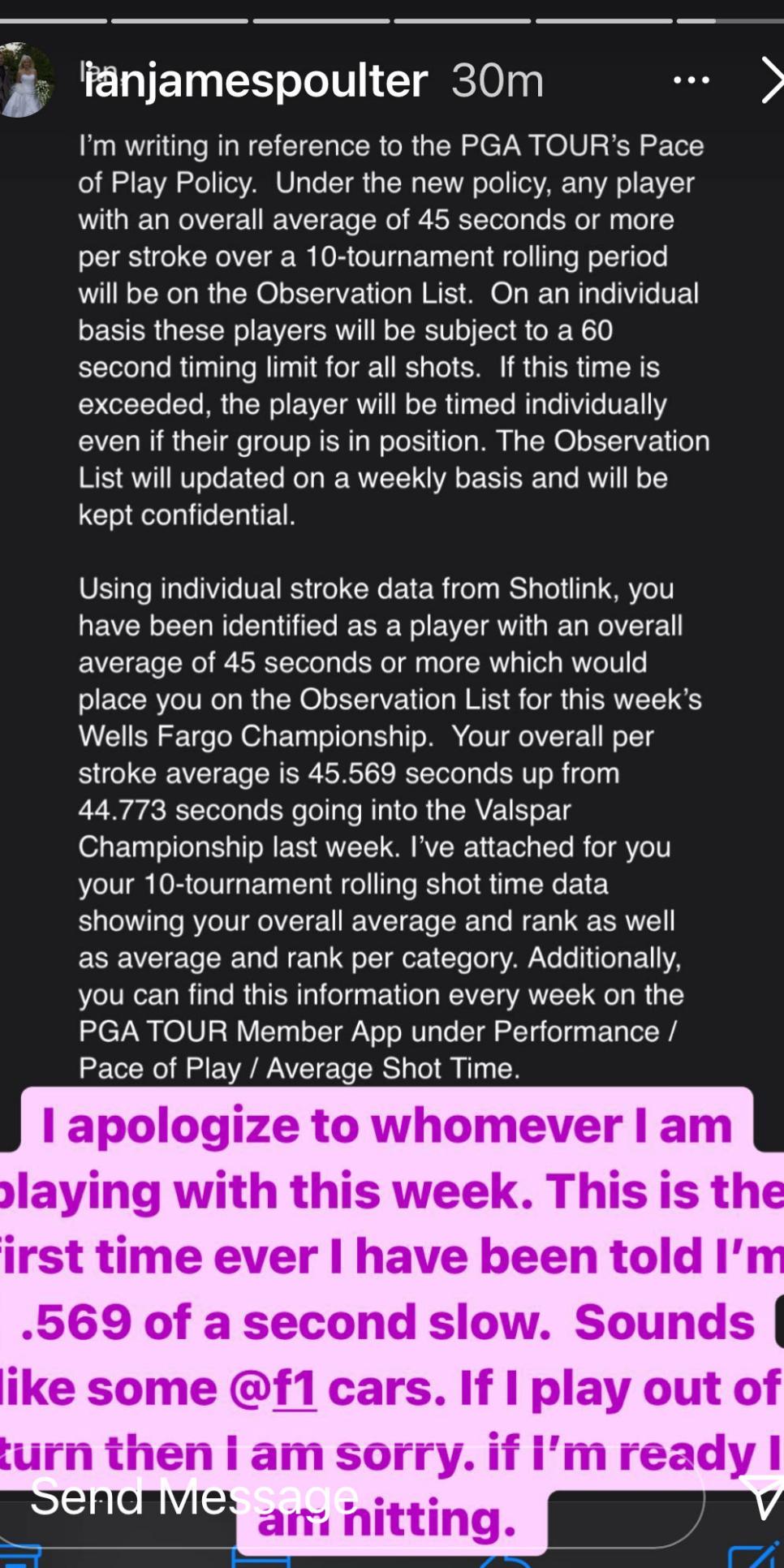 "I apologize to whomever I'm playing with this week," Poulter wrote on Instagram on Tuesday, sharing his notice letter from the PGA Tour. "This is the first time ever I have been told I'm .569 of a second slow. Sounds like some F1 cars. If I play out of turn then I am sorry. If I'm ready I am hitting,"
While Poulter's time is only fractionally over the allowable average, the penalties and fines for bad times are much more severe. 
According to Golf Digest, those who land on the list will be monitored during rounds and subject to a 60-second timing limit for all shots, absent a valid reason for taking longer, and even if the group is not out of position.
A player will receive a warning for their first bad time and a one-stroke penalty for their second. For each additional bad time, another one-shot penalty will be given. Excessive shot times will also result in fines. For a second bad time, a player will be fined $50,000. Each additional bad time is another $20,000.
After an opening-round 1-over par 73, Poulter will need to play quickly and well on Friday at Quail Hollow if he is to play the weekend.