Through 12 holes at the Vivint Houston Open, Jordan Spieth had made four birdies against just one bogey to reach 3-under par to tie for the lead in the last event before the Masters, the major championship at which he holds the best record in golf since 2015 — one win, two runners-up, a third-place finish, a T11 and a T21. 
However, beginning on the 13th hole, the duct tape that has been holding Spieth's game together for the better part of the past two years began to come loose and his biggest bugaboo — big numbers — came into play causing the former World No. 1 to slip from T1 to T73 when the first round was called due to darkness on Thursday. 
In an abbreviated press availability after the round, Speith remarked that he didn't think the two nines at Memorial Park were all that different although his score fluctuated by seven strokes.
"(The back nine is) similar to the front, not a whole lot of different," he said. "15, 16, 17 are where you can make some birdies, but you can also get into some trouble. So some risk-reward when you're attacking stuff or whether you are or not on those few holes. The rest of the holes are very similar to the front."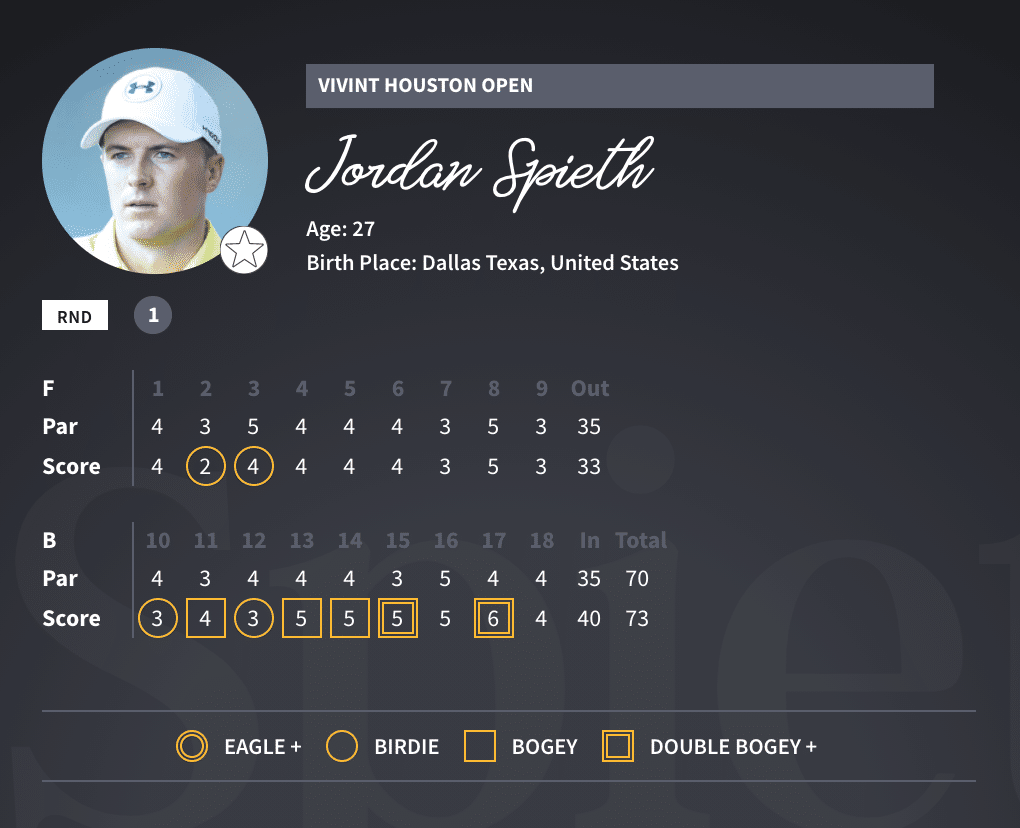 Playing bogey-golf over the last six holes, Spieth's scorecard included two bogeys and two double bogeys, in which he only found two greens in regulation and rinsed an approach from well out of position on the par-4 17th hole. 
Crash. Lots of tears, skinned knees https://t.co/La2F6R5CVm pic.twitter.com/WVIfd9rKM4

— Will Knights (@willknightsTFE) November 5, 2020
Spieth hit 8 of 13 fairways, but just 8 of 18 greens in his opening round, which left him eight strokes behind overnight leader Brandt Snedeker who shot a 5-under par 65. 
Picking up more than half a stroke on the field off the tee, Spieth more than gave that advantage back losing nearly a full stroke in strokes gained: approach and nearly another half stroke in strokes gained: putting, a facet of his game that despite the narrative, ranked him at 102 on the PGA Tour last season.
Spieth wasn't the only player to struggle on the first day of the Houston Open. Brooks Koepka and Dustin Johnson fired 2-over par rounds, while Sergio Garcia shot 4-over, Phil Mickelson shot 6-over and Lee Westwood shot 7-over. Grayson Murray fired an opening-round 15-over par 85 to have the worst round of the day.