During a normal year at the Waste Management Phoenix Open, fans don't even need a fantastic out-of-nowhere round from Jordan Spieth to be whipped into a frenzy. 
Given the past year and the circumstances surrounding the 2021 event, Spieth's Saturday 61 did add some juice to the February tournament that featured 5,000 fans per day. However, there was at least one fan watching on the drivable par-4 17th hole at TPC Scottsdale that opted to provide his own energy to the proceedings. 
Spieth had already made nine birdies through the first 16 holes of his third round, including a 36-foot bomb on the stadium par-3 16th hole just minutes earlier. With water left on the par-4 17th, Spieth bailed out well right of the green and hit a mediocre approach to just under 30 feet.
As Spieth and his caddie, Michael Greller, went through their routine, a fan on the other side of the penalty area was putting on a show.
"On 17, yeah, the guy's chair broke and he fell backward and everyone went nuts," Speith said setting the scene. "We were all laughing. So then I was laughing a bunch, got back into my putt and when I made it I was pointing at him."
As it turns out, the fan's theatrics had drawn a few crucial eyeballs between the time his chair broke and when Spieth's birdie putt dropped.
"I didn't realize he was getting arrested at the time because I hadn't seen him since he fell out of the chair," Spieth said. "I looked up and he was getting arrested, so when I pointed at him it got him going even more, which was not the plan. I thought he was going to just yell louder. Then (the other fans) wanted him to jump in the water and he was trying to and resisting.
"He was dressed like Borat, I think, so he definitely came to have a good time," Spieth said. "I don't think he's having a great time right now."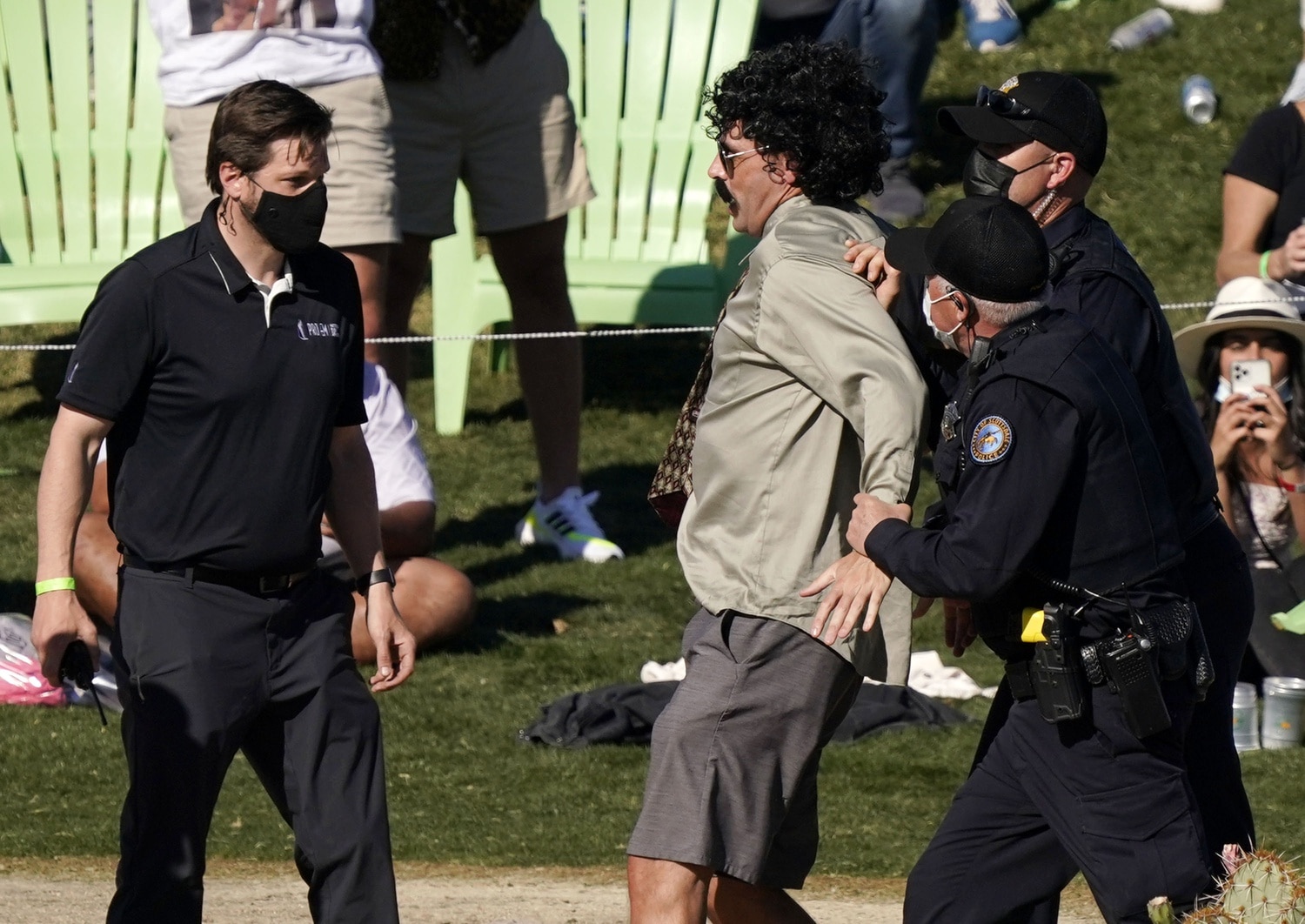 According to The Arizona Republic, Scottsdale police identified "Borat" as Daniel Horan, 48, from Seattle.
Police said Horan was ejected from the event and prohibited from returning to this year's tournament. No arrest or charges were filed.