Phil Mickelson's victory at the 2021 PGA Championship was one for the history books, but a leaked Golf Channel video in the afterglow of the historic achievement has even put Mickelson's win on the backburner in the minds of hardcore and casual golf fans alike.
The rivalry golf fans yearned for between Mickelson and Tiger Woods never really came to fruition, but as Mickelson was on his way to victory this past weekend, a budding and seemingly genuine rivalry was having gas poured on its fire.
Brooks Koepka and Bryson DeChambeau seem to simply not like one another. While most of the interactions resembled a sibling rivalry with DeChambeau playing the role of the irritating younger brother, a failed Koepka interview with Golf Channel's Todd Lewis seemed to convey a genuine dislike coming from Koepka.
Talking about his second round, Koepka began to convey his putting woes on a windy Ocean Course when the crunch of metal spikes caught his attention.
This one?!? pic.twitter.com/rGaCZly9Oe

— Mike Bloom (@mbloom19) May 25, 2021
"I f****** lost … I lost my train of thought. Yeah, hearing that bulls**t," Koepka said after one of the biggest eye rolls of all time.
Lewis assured Koepka that they would restart the interview, but the folks in the TV compound would enjoy that reaction. 
"I honestly wouldn't even care," Koepka said.
The original video, which was allegedly grabbed from an NBC media player, was viewed nearly 10 million times before it was pulled down. However, given the viral nature of the clip, it will always be floating around online. 
There were some conspiracy theorists in the comment sections trying to pick up what DeChambeau said as he walked by. Some subscribed to the belief that Bryson said something to egg Koepka on, but upon further review — and increased audio levels — DeChambeau seems blissfully unaware of what Koepka was talking about.
With raised audio levels, it sounds like Bryson says "I hit such a good drive and a good shot on the last hole man" pic.twitter.com/UD8c15dGja

— The Fried Egg (@the_fried_egg) May 25, 2021
Further proof that Koepka's exasperation was due to DeChambeau's footwear was Bryson jumping into the comments of a repost of the video.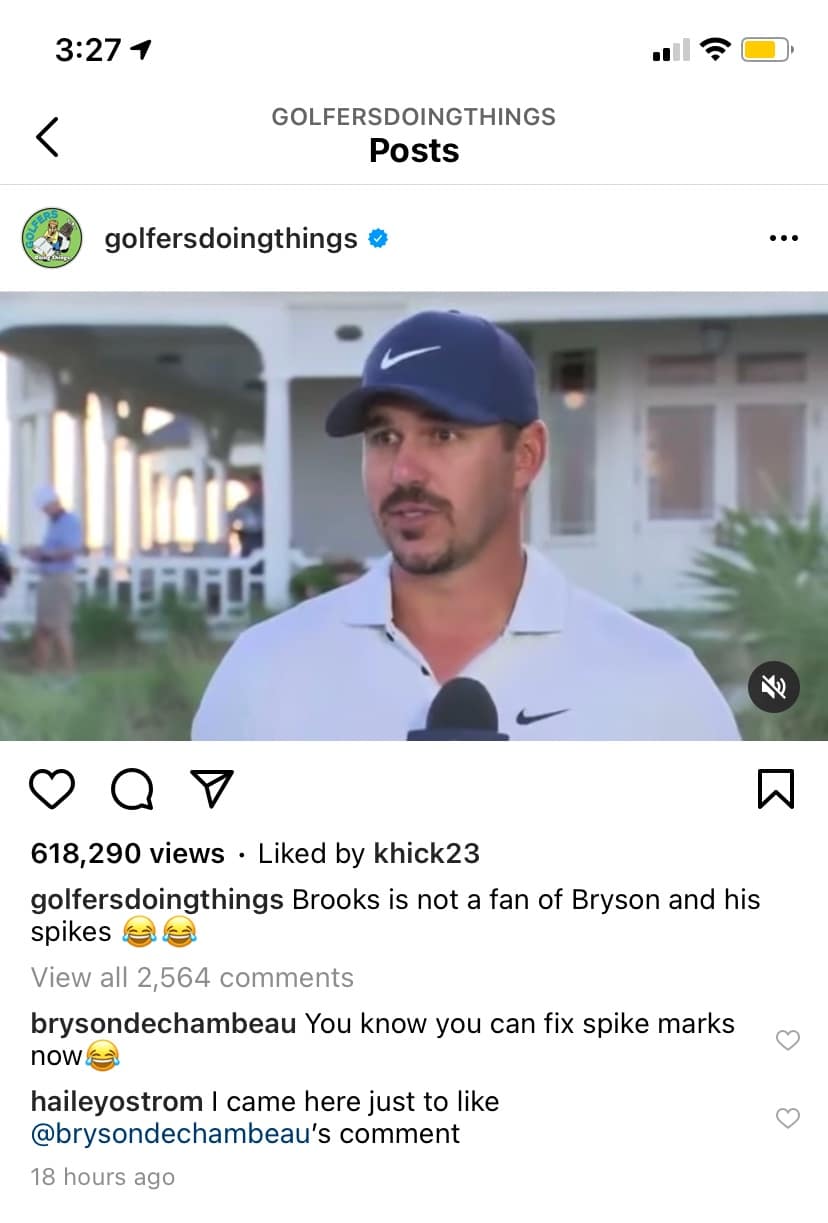 "You know you can fix spike marks now," DeChambeau commented.
The rivalry between Koepka and DeChambeau will continue to be a topic of conversation for the foreseeable future with golf fans hankering for a weekend pairing of the two heavyweights at a major championship in the not-so-distant future.