Up until now, there was a good chance you were more familiar with Mark Lye, the fictional Tour Championship winner, than the Mark Lye who collected his lone PGA Tour victory at the 1983 Bank of Boston Classic.
Yes, that's Lye, resplendent in a gold blazer, standing next to Shooter McGavin and heartily welcoming Happy Gilmore to "the tour" in the 1996 classic, the lone film credit on the 69-year-old's IMDb page. But in his now-former role as a SiriusXM golf analyst, Lye finds himself laying claim to the kind of gaffe that tends to dominate a résumé.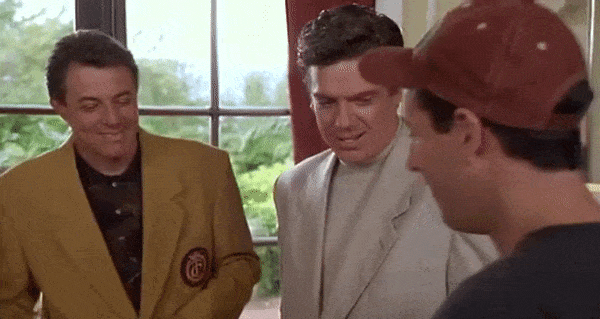 Lye took to his Twitter account Sunday and revealed he'd been fired as host of The Scorecard over comments he made about the WNBA 24 hours earlier in a meandering, misguided attempt at paying a compliment to the growth of the LPGA Tour. Golf.com confirmed Lye's termination through a spokesperson and even reached the man himself.
"I was terminated about comments made about the WNBA, which I apologized for starting the next segment," Lye told Golf.com.
In the ill-fated segment, Lye said: "You know, the LPGA Tour to me is a completely different tour than it was 10 years ago. … You couldn't pay me to watch. You really couldn't. Because I just, I couldn't relate at all. It's kind of like, you know, if you're a basketball player — and I'm not trashing anybody; please, don't take it the wrong way — but I saw some highlights of ladies' basketball. Man, is there a gun in the house? I'd rather shoot myself than watch that."
From his own Twitter account, @letitflye, Lye posted on Monday: "The fact that I can't relate to WNBA does not make me sexist in any way. All you haters should listen to the whole segment, where I completely glorified women's golf, which I love to cover. Thanks for listening."
The fact that I can't relate to WNBA does not make me sexist in any way. All you haters should listen to the whole segment, where I completely glorified womens golf, which I love to cover. Thanks for listening.

— mark lye (@letitflye) February 6, 2022