Mini-tour golf is basically one big money game between the best golfers you've ever seen with the endgame being a cutthroat version of career survive and advance
These circuits and events are the stepping stones to even reach the ladder of a card-carrying Tour member, so it goes without saying that money — as with most things in life — is extremely valuable in funding those dreams.
That's why what happened last month at the Big Money Classic, a second-year mini-tour event that requires a $2,799 entry fee and promises a $100,000 winner's check was such a debacle
First reported by Ryan French of Fire Pit Collective, 24 players, including the 12 top finishers were never paid after a title sponsor and private investor both backed out. The host course, Orange County National, and the local PGA section, which provided rules officials for the event, haven't been paid either.
What's more, a women's mini-tour event scheduled to be put on by Big Money LLC had begun collecting entry fees, but has since been canceled with the entry fess yet to be refunded.
All in, according to French's reporting, Dustin Manning, owner and operator of Big Money LLC and the Big Money Classic, is on the hook for somewhere in the neighborhood of $472,000.
There is a sliver of a silver lining: $254,000 is being held by Square, the financial services company that processed the men's event's entry fees. Square is planning to release the funds to Manning in February (the Big Money LLC account had a hold placed on it due to a violation of terms), but that still leaves over $200,000 unaccounted for.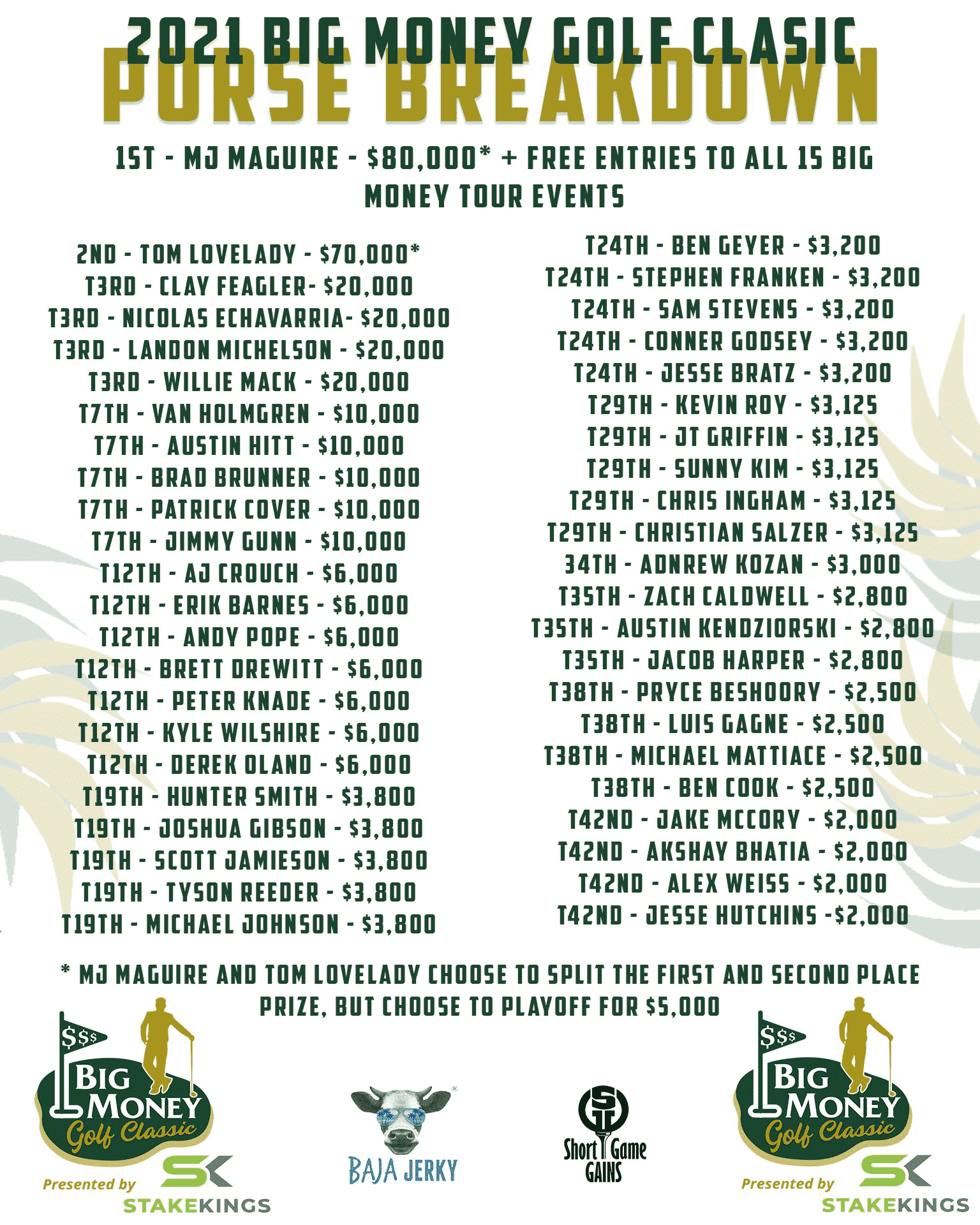 Among those still awaiting payment is SwingU Versus Ambassador Austin Hitt who tied for 7th place ($10,000) and won a skin ($5,250). Hitt said the unforeseen loss of capital will reverberate throughout the players' 2022 seasons and beyond.
"Unfortunately, I have to budget like I'm never going to see the money," he said. "It makes it so that you can't do all the things that you were expecting. Maybe you have to cut out some Monday qualifiers or maybe it's one less trip to see your coach. Whatever it is, everything just gets a little tighter."
Manning has said his highest priority is to get the players paid, but there's over $300,000 due to the competitors from the Big Money Classic, over $100,000 in entry fees to be refunded to the women who already ponied up for the now-canceled event and nearly $60,000 in other outstanding debt.
According to French, Manning has retained both civil and criminal counsel despite believing he hasn't committed any crimes. And multiple players who have yet to be paid have notified law enforcement and the FBI. Even with the tournament in the rearview mirror, it seems as if this whole saga has only just begun.