In case you were curious how much weight Bryson DeChambeau's words can carry, look no further than the response by the PGA Tour Rules Committee to DeChambeau's champion's press conference at the Arnold Palmer Invitational.
Taking an unconscionable route across the lake at the par-5 6th hole on both Saturday and Sunday at Bay Hill, DeChambeau was asked whether there were any opportunities to take advantage of his length at the upcoming Players Championship.
"I have thought about sometimes on 18 going left into 9," DeChambeau said. "But we'll see, with the stands and everything, if it's even worth it. But that's really the only one that I could see being unique and a little different as of right now. There's really not another hole."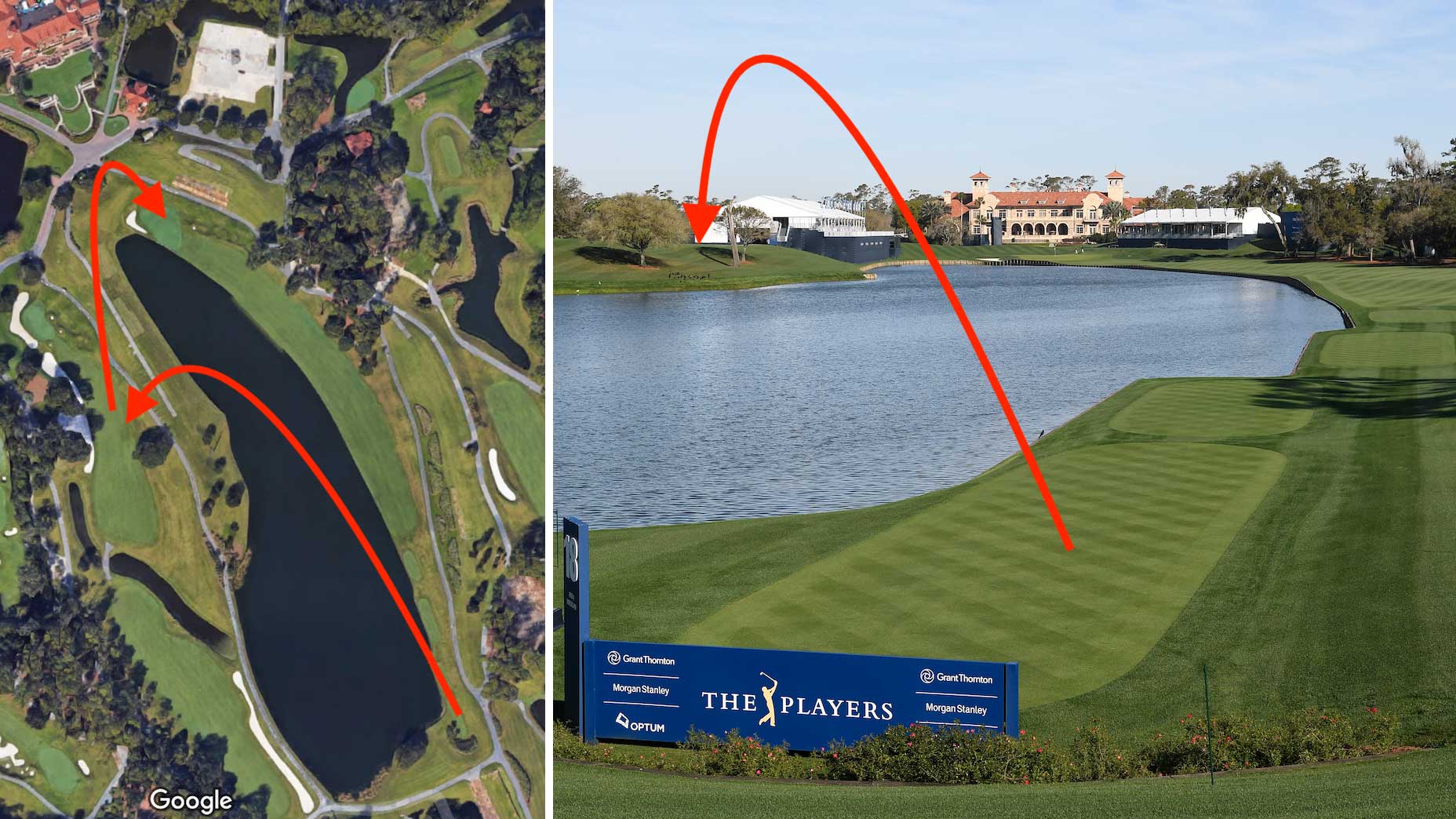 The 462-yard finishing hole at Sawgrass features water all down the left side, which comes into play on both the tee shot and approach. DeChambeau's line wouldn't eliminate the water from either shot, but it would give him more room to miss on his drive as well as on the approach.
"It just gives you a better shot into the green, I think, personally, where you can just hit it a little long and you're always going to be okay," DeChambeau said. "It's probably not worth it. I mean, the cover's like 310, but we'll see. I look at all options and hopefully there's an advantage there. But if not I'll just hit 4-iron down the fairway and hopefully an 8-iron or 7-iron into the green."
DeChambeau reiterated his musing on Tuesday at Sawgrass as well, although he tempered expectations. 
"I'll probably give it a try (in a practice round), but it's most likely not going to happen (in competition)," he said. "If there's stands there's really no reason to go for it when I could just drive it 100 yards from the green if I get a good wind normally. It's not really that big of an advantage, but taking the water out of play and having an easier second shot, it may be easier, I don't know."
And we'll never know because unbeknownst to DeChambeau or the media, the PGA Tour Rules Committee was already looking into the possibility of someone trying it, and had decided to put the kibosh on it in the name of safety.
THE PLAYERS Championship Hole 18 Internal Out of Bounds Notice pic.twitter.com/VpkgyDoRcl

— PGA TOUR Communications (@PGATOURComms) March 9, 2021
"In the interest of safety for spectators, volunteers and other personnel, the Players Championship Rules Committee has installed an internal out of bounds left of the lake for play on hole 18," the committee's statement said, citing other instances of internal out of bounds previously used on Tour.
Before the official announcement, Golf Channel's Todd Lewis reported that DeChambeau was made aware of the decision.
Before the announcement of internal out of bounds on 18 at @THEPLAYERSChamp Gary Young who is the VP of rules & competition for the @PGATOUR spoke personally with @b_dechambeau about their decision and according to Young Bryson was fine with it.

— Todd Lewis (@ToddLewisGC) March 10, 2021
Although the pomp and circumstance of The Players is a piece of the puzzle for the decision to make left of the lake on 18 internal out of bounds, a Bryson-lite, if you will, was the first to try — and pull off — the left-of-the-lake shot in competition at the AJGA's prestigious Junior Players Championship last summer, as detailed by Golf.com's Alan Bastable. 
16-year-old Jeevan Sihota underwent his own body transformation during last year's quarantine and added muscle and distance to his game, which allowed for him to attempt the shot that Bryson had spoken about. 
What does 131 mph swing speed, 191 ball speed and 374 yards look like? 💣💣 Jeevan has been working on speed, hitting the gym and crushing groceries!! 16 years old and sending it!#hittingbombs #victoriasgolfexperts #juniorgolfvictoria @superspeedgolfcanada #victoriagolfcoaching pic.twitter.com/1BIxmWt58U

— John Randle (@RandleGolf) June 5, 2020
Sihota played the 18th hole with a drive to the 9th and a short iron into the green three straight rounds. He played the difficult closer in 1-over for three rounds, making birdie-bogey-bogey en route to a 46th-place finish.
But does he feel playing 18-to-9-to-18 strategy is a better way to play the hole?
"Yes, 100 percent," Sihota said, before adding a caveat. "You need to get it at least 340. If you don't hit it 340, it's totally not worth it — you'll probably have to punch out."
Entertaining? Absolutely. Relatable? Not in a million years.