The 2020 PGA Championship was compelling and exciting. Harding Park defended itself admirably against the big bombers. The ultimate winner, Collin Morikawa, prevailed with surgical skill and accuracy.
I was glad to see that ShotLink data and Strokes Gained Analysis was used and published, but disappointed that the raw ShotLink data, that I use to process my Shot By Shot analysis, was not available. As a result, I could clearly see each player's Strokes Gained numbers and ranking but could not uncover the exact reasons WHY.
I decided to fall back on an article that I wrote in April 2010, a year before the PGA Tour launched Strokes Gained Putting (the Tour's first toe in the Strokes Gained pool.
I had been studying the winners on Tour for years and discovered a fairly simple "70% Rule" that most Tour winners had in common – that is at least 70% success in three critical stats:
Greens Hit in Regulation, Scrambling and 1-Putts 5 – 10 feet
I decided to see how the Top 3 finishers in the PGA Championship stood up to this simple test. As you can see in the chart below, only Collin Morikawa passed, exceeding 70% in all three areas. Dustin fell short in GIR's and 1-Putts from 5 to 10 feet and Paul Casey similarly fell short in 1-Putts.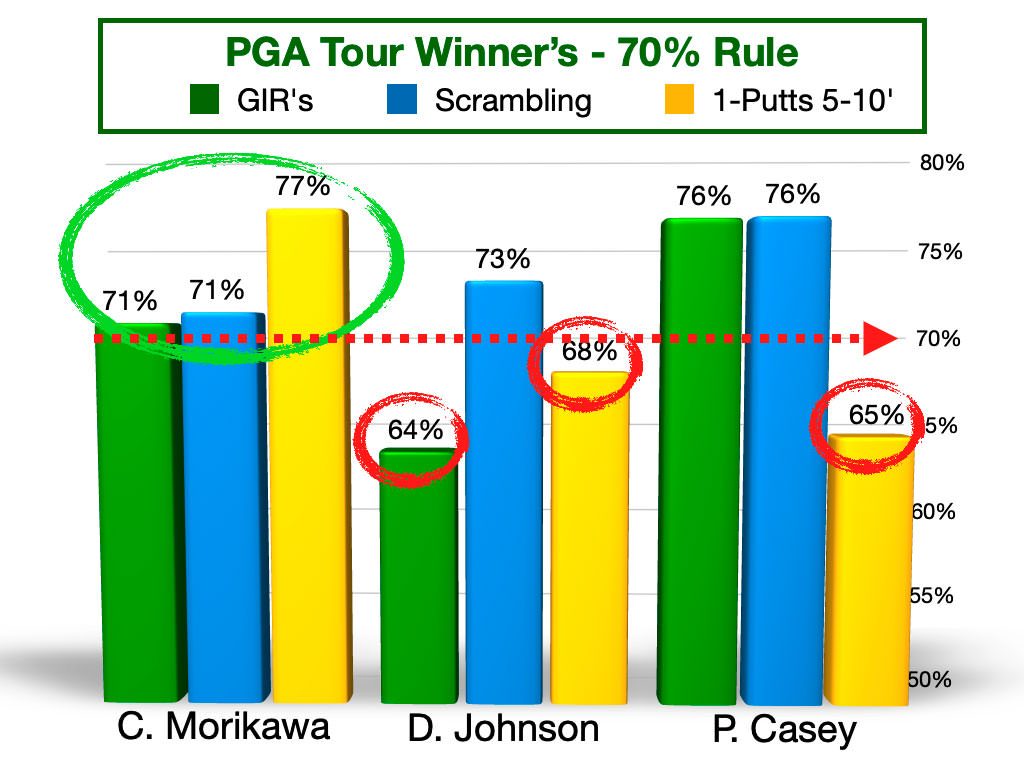 There are obviously other important stats and outcomes that contribute to the final scores and the two shots that separated Collin from Dustin and Paul. One could argue that Collin's spectacular drive to reach the Par 4, 16th green leading to an eagle was the difference.
It certainly appeared to result in the difference, but then how does one account for all four rounds? For this major, I am satisfied that my 70% Rule is still valid.
---
Peter Sanders is the President and a founding partner of ShotByShot.com, a unique strokes gained analysis program that helps golfers determine the precise strengths and weaknesses of each facet of their golf game.
Peter has worked with PGA Tour players and major champions such as Zach Johnson, Lucas Glover, Smylie Kaufman, Zack Sucher, Sepp Straka, Dylan Frittelli and Michael Thompson to analyze and interpret their data for game improvement. 
Read more from Peter on his Niblicks of Truth blog at ShotByShot.com.