Golf has a way of playing cruel tricks on us, and no one is immune, including Tiger Woods.
A promising start to his title defense at the 84th Masters fizzled following an opening-round 68 thanks to chilly mornings, long days on the course and an aging body. What remained, however, was Woods' experienced mind, which allowed him to overcome obstacles that would have doomed more inexperienced players.
Some crafty play kept Woods at 5-under par through 54 holes, but in a ironic twist of fate, the site of Woods' march to triumph 19 months ago was the stage for his worst hole as a professional golfer. 
The par-3 12th hole at Augusta National Golf Club is famously tricky. Measuring just 155 yards, its position on the property encourages swirling winds, which gives players fits as evidenced by the collapses its authored over the years.
However, Woods knows from experience that the Sunday pin position, which tempts players to take dead aim, is a fools errand; the play is over the bunker and to the middle of the green, and that's the line he took en route to victory last year.
On Sunday, however, Woods played the fool and ended up hitting three balls into Rae's Creek — one from the tee, another from his drop and a third from the back bunker — on his way to a septuple-bogey 10.
Tiger Woods finds the water for the third time on No. 12.

He would go on to make a 10. pic.twitter.com/xNAdsu08Bt

— CBS Sports (@CBSSports) November 15, 2020
Woods explained after the round that it wasn't a lapse in strategy, but a swirling wind that doomed him.
"I committed to the wrong wind," he said. "The wind was off the right for the first two guys, and then when I stepped up there, it switched to howling off the left. And the flag on 11 was howling off the left. I didn't commit to the wind, and I also got ahead of it and pushed it, too. Because I thought the wind would come more off the right and it was off the left. And that just started the problem. From there, I hit a lot more shots and had a lot more experiences there in Rae's Creek.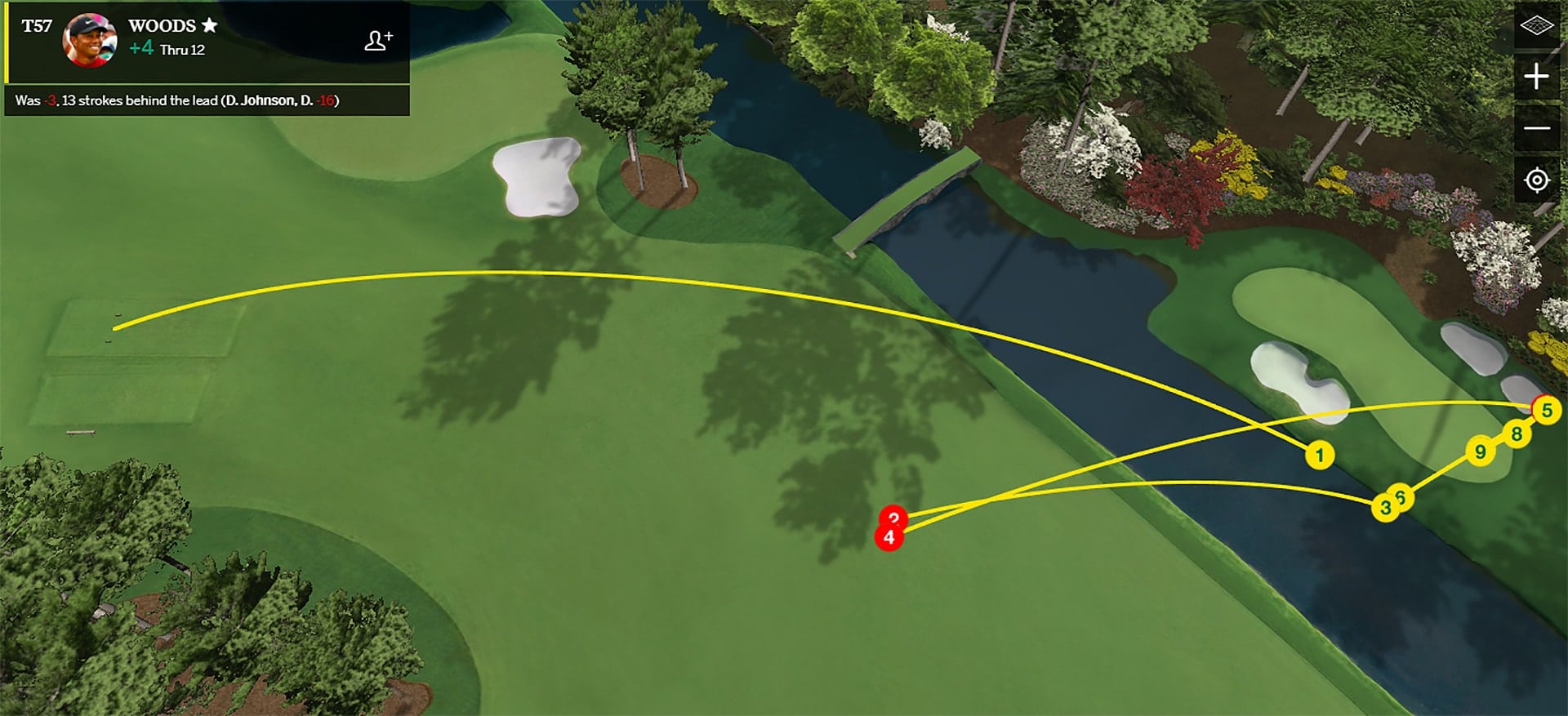 "That's part of our sport. This sport is awfully lonely sometimes. You have to fight it. No one is going to bring you off the mound or call in a sub. You have to fight through it. That's what makes this game so unique and so difficult mentally. We've all been there, unfortunately. I've been there and you just have to figure out the next shot, and I was able to do that coming home."
Tiger's 10 on No. 12 was his worst score as a professional, topping the 9 he made on the par-4 third hole at Muirfield Village Golf Club in 1997. 
It took Tiger Woods 23,789 holes on the PGA Tour before he made his first 10.

— Justin Ray (@JustinRayGolf) November 15, 2020
Perhaps as noteworthy as his 10 on 12 was the way Woods bounced back and finished his round. Fresh off his 10, Woods birdied holes 13, 15, 16, 17 and 18 to shoot a 39 on the second nine and get back to red numbers for the tournament. 

Woods' 76 dropped him into a tie for 38th place, a mediocre result aided by an incredible finish.