One of the more bizarre tournaments of the year — last week's Memorial Tournament — continues to make news as more and more players have voiced their opinion on the unusual situation with Jon Rahm's COVID-induced withdrawal as the 54-hole leader.
Given Rahm's six-shot lead through three rounds, there were naturally fans commenting that whoever would go on to win would do so with an asterisk attached as Rahm had proven to be the best player in the field that week.
Dylan Fritelli, a 31-year-old PGA Tour winner, is firmly in the camp that Rahm played with fire and he got burned, going so far as to call fans who degraded Patrick Cantlay's victory "clowns."
Speaking this week at the John Deere Classic media day, the site of Fritelli's lone Tour victory in 2019, the South African likened Rahm's contraction of the virus to breaking the Rules of Golf.
"I'm surprised that not more guys on Tour have (gotten vaccinated), but the Jon Rahm issue, I caught a bit of heat on social media for commenting on the Patrick Cantlay win poster the PGA Tour put out," Fritelli said. "And I just said, some people I described them as clowns, talking about how Jon Rahm actually won this tournament, and it's simply not true. Patrick Cantlay is the winner of the tournament. End of story.
"I think it's quite silly for people to go out there and think you can do something, whether it's play professional golf, play another sport or work in business and not follow the rules. We've signed up to play by the rules. If Jon Rahm picked his ball up, walked over the hole and dropped it next to it and tapped it in, I think a lot of people would be unhappy that he broke a rule."
😳😳

Not holding back then…

⬇️⬇️⬇️https://t.co/wOFAB290f1

— bunkered (@BunkeredOnline) June 9, 2021
"So the fact that the rule is in place and the protocols are in place, the Tour has done an amazing job over the last year and a bit, it's crazy how we got up and running so quickly," he continued.
"Obviously, a few guys have tested positive but no one as far as I can tell has ever passed on COVID within the tournament confines.
"I think the Jon Rahm issue may also push a lot more guys to have the vaccine, because you have the vaccine, you're safe, you're protected; you won't be tested and you then can't run afoul of that rule of testing positive and being automatically taken out of the tournament."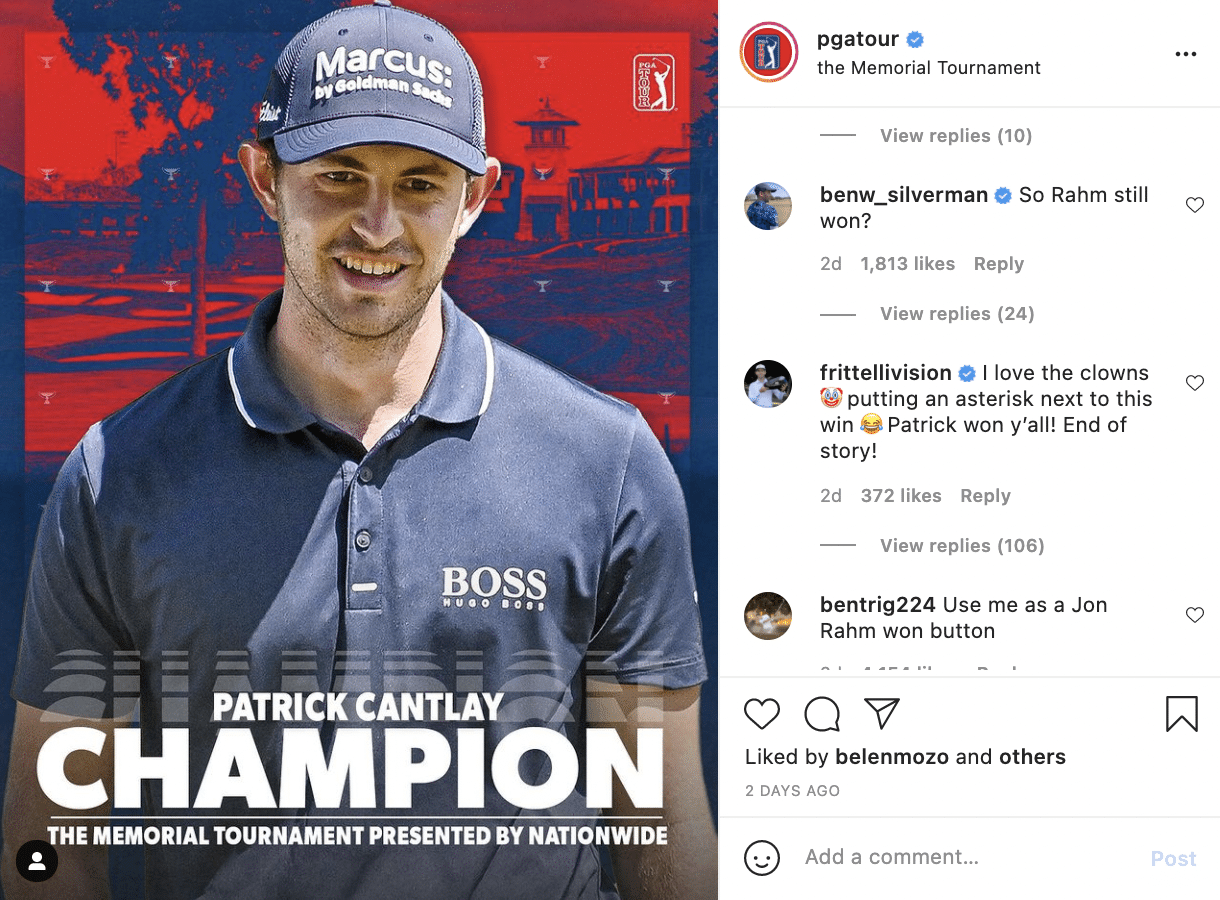 While Fritelli agreed with the decision to pull Rahm from the tournament after he tested positive, he did have some empathy for the World No. 3.
"It would be tough," Fritelli said when asked how he would have responded to a similar situation. "Obviously, he had some heads up. He knew what was going on. He knew he was being tested. So it is shocking and it is surprising and it does suck, I agree. But PGA Tour protocols are in place for a certain reason, and unless you revisit those and we want to okay guys with COVID to play in their own group and to play separately and be totally separated from the field, a rule is a rule. Unfortunately, once you sign up on Tour, we sign up to a code of conduct, we sign up to operate under the rules of the PGA Tour, and sadly for him it went the other way.
"That's $2, $3 million that he probably missed out on, let alone the World Ranking points from winning something like that. But I think it's a lesson. I hope other guys on Tour see it as a lesson. It's something that you should learn from; hey, housekeeping, logistics, let's take care of that stuff, too. You can't just go out there and think, 'I'm a golfer, I'm just going to play golf 24/7.'
"You've got to have the other things in line too. If he would have had the vaccine, it never would have been an issue because he wouldn't have been tested and he wouldn't have been subject to any of those issues."