On a weekend that was — at least in part — overshadowed by the kick-off of the LIV Golf International Series, Rory McIlroy put on a show in Canada, outdueling Justin Thomas, Tony Finau, Justin Rose and Sam Burns to claim his 21st PGA Tour victory, one more win on the cirtcuit than a certain LIV Golf CEO.
McIlroy defended his 2019 RBC Canadian Open win three years later — the tournament wasn't held in 2020-2022 due to the pandemic — by shooting a final-round 8-under par 62 to win by two strokes over his playing partner, Finau. The third member of the grouping, Thomas, finished four shots back in solo third place at 15-under par.
Immediately following the completion of the round, McIlroy wasted no time in tossing a dagger at the rival upstart league, which crowned its inaugural champion on Saturday.
"This is a day I'll remember for a long, long time," McIlroy told CBS' Amanda Ballionis-Renner on the 18th green at St. George's Golf Club. "Twenty-first PGA Tour win, one more than someone else, that gave me a little bit extra incentive today and am happy to get it done."
"This is a day I'll remember for a long, long time."@Amanda_Balionis spoke with @RBCCanadianOpen Champion Rory McIlroy after he successfully defended his title. pic.twitter.com/uhEZDIk0A2

— GOLF on CBS ⛳ (@GOLFonCBS) June 12, 2022
While McIlroy's performance on the microphone rarely comes into question, his skill on the course was equally as impressive in Canada. For the week, McIlroy ranked inside the top-7 of every Strokes Gained category, led by his approach game, which gained +6.5 strokes on the field average, fifth-best in the field.
McIlroy was also fifth-best in SG: Chip/Pitch where he picked up +3.5 strokes. Off the Tee, McIlroy's usual strong suit delivered as well as he picked up +4.2 strokes on the field from the tee box. And on the greens, McIlroy excelled as well, gaining +5.9 strokes on the field average.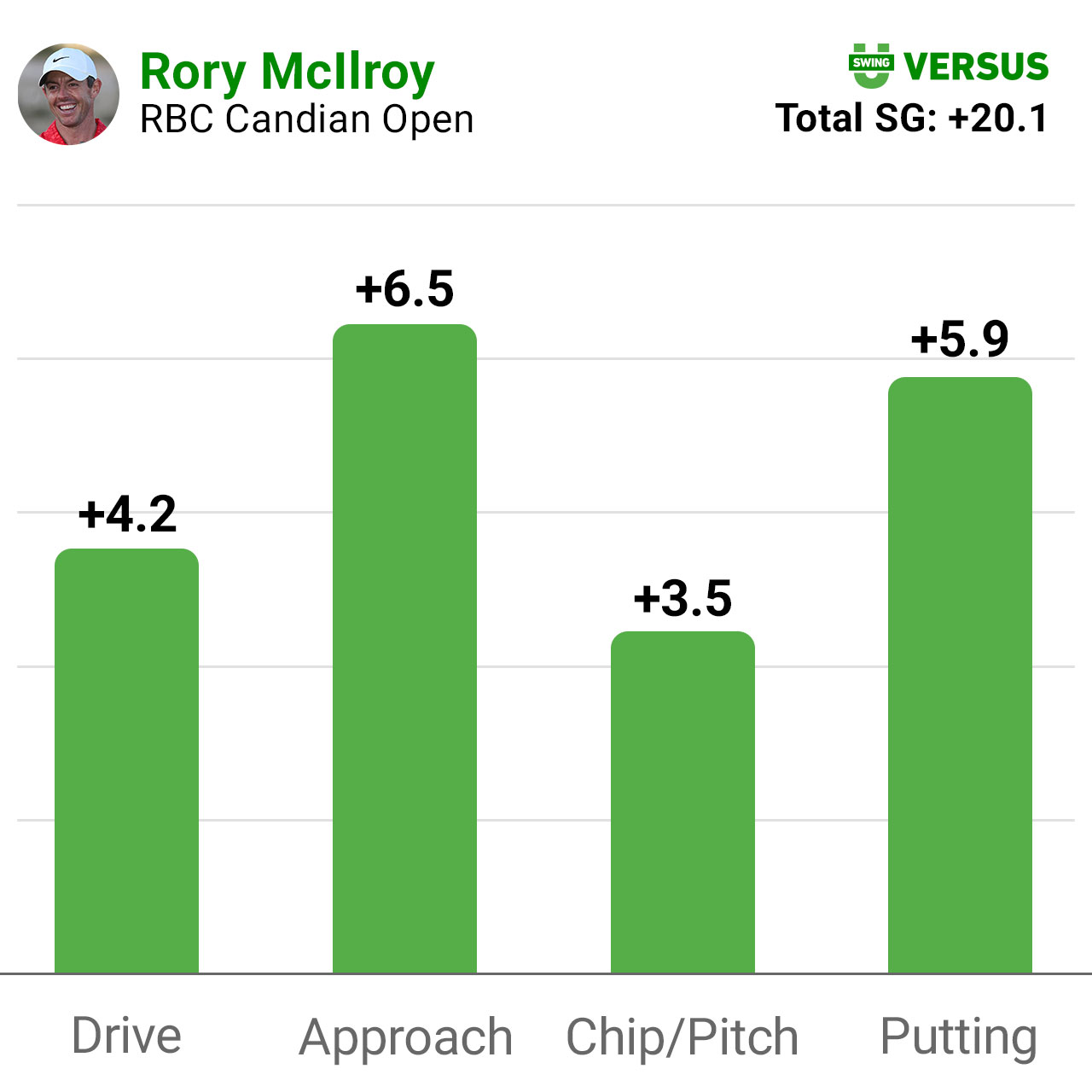 Continuing his defense of the PGA Tour in the press room after the completion of the tournament, McIlroy was introduced to the assembled media by the moderator as moving "into a tie for 31st on the all-time PGA Tour wins list," to which McIlroy quipped, "And one more than Norman."
"I think going up against the best and beating the best always makes it extra special," McIlroy continued. "And then, look, I alluded to it, I had extra motivation of what's going on across the pond. The guy that's spearheading that tour has 20 wins on the PGA Tour and I was tied with him, and I wanted to get one ahead of him. And I did. So that was really cool for me, just a little sense of pride on that one."
McIlroy now sets his sights on The Country Club at Brookline and this week's U.S. Open. The last time McIlroy won a major championship — the 2014 PGA Championship — he also won the week before.