Just three weeks after breaking through to win for the first time on the PGA Tour, Scottie Scheffler proved he was more than a one-hit-wonder, shooting 140 over the weekend at the Arnold Palmer Invitational to win once again.
After 70 starts without any winning fruit to bear, Scheffler has now won twice in his last three starts, both of which came against some of the stiffest competition of the season. 
Interestingly, Scheffler's strokes gained report for Bay Hill is vastly different than when he won at the WM Phoenix Open in February.
Whereas Scheffler leaned upon his driving and putting in Phoenix, the Dallas resident lost strokes to the field average off the tee at the API and topped the field in Strokes Gained: Approach.
Inside Scheffler's Strokes Gained Statistics
En route to a playoff victory over Patrick Cantlay at the WM, Scheffler lost -1.6 strokes to the field when approaching the green; contrast that with his field-leading +8.1 SG: Approach numbers this week in Orlando and you have a recipe for victory.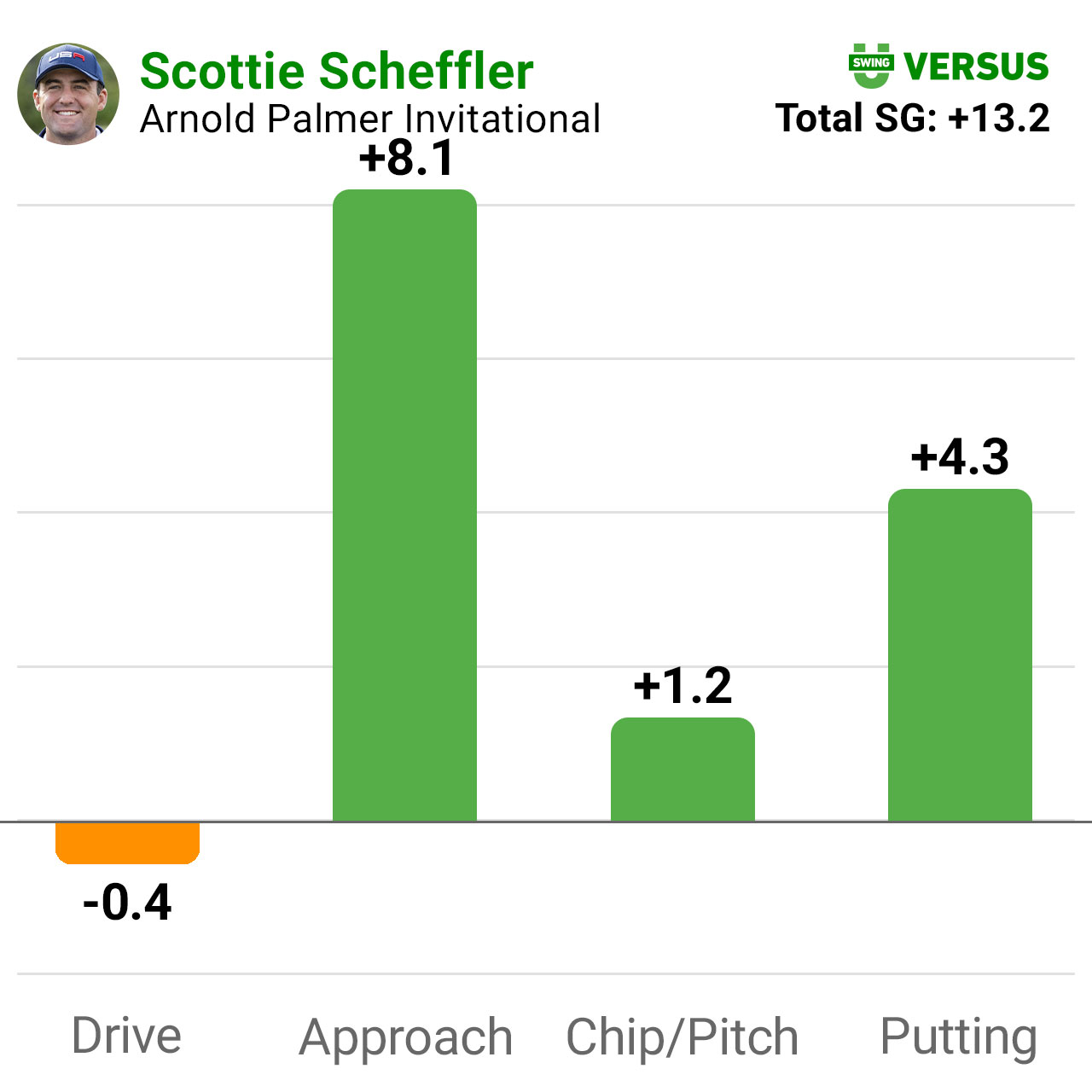 A stellar week on (+4.3 SG: Putting, 17th in the field) and around (+1.2 SG: Chip/Pitch, 28th in the field) the greens helped Scheffler overcome his average driving week in which he lost -0.4 strokes to the field average, including a -2.2 SG: Drive in the final round.
"I trusted myself and (caddie) Teddy (Scott) as much as I have probably in any round," Scheffler said after the win. "I did not swing the club well at all today off the tee. I was hitting a lot of bad spots, but I just kept grinding. I made some key putts towards the end and two great lie putts to finish off the round."
Scheffler heads to this week's Players Championship, the biggest purse in professional golf ($20 million) now ranked inside the top-5 in the world, coming in at No. 5.