Vijay Singh is famous for hitting more golf balls than any rational human being would even consider, but you'd be hard-pressed to find one that he has hit with such little conviction that resulted in more a demoralizing result than the one he hit on Thursday at the U.S. Senior Open. 
Playing the drivable par-4 13th hole at Omaha Country Club during the first round of the championship, Singh's drive veered well right of the target and found some high grass next to a nearby tee box.
Attempting to chop his approach down to the green, Singh made hosel-first contact, shooting the ball out to the right and directly towards a group of unsuspecting spectators who didn't seem to realize Singh was playing behind them. While the ball wasn't traveling at injury-inducing speed, it had enough juice on it to knock over a fan.
Turned on the US Senior Open for one second and this is what comes on. @BrendanPorath @the_woke_yolk pic.twitter.com/dYncnextUR

— Ben Cousins (@cousins_ben) July 8, 2021
As the fan falls out of his chair, seemingly in slow motion, the adult beverage he is holding tauntingly spilled from its container right onto his chest, leaving the man demoralized.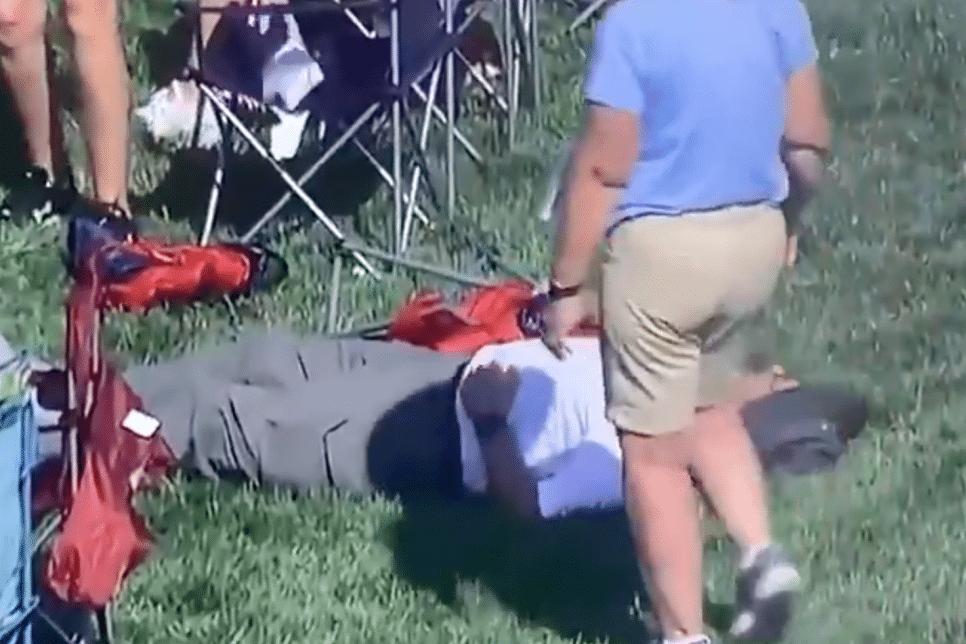 As mentioned by the broadcaster, a woman had been knocked out her chair a few minutes earlier thanks to a wayward Tom Pernice, Jr. flop shot.
Here was the aforementioned lady getting hit in a chair. They're going down like flies in Omaha! pic.twitter.com/CuL48s85wa

— Brett Gates (@BrettGates) July 8, 2021
Fans were dropping like flies around Omaha C.C. on Thursday afternoon.
Singh would go on to shot 75 in the first round, but rallied to post a T26 finish while Pernice Jr. shot rounds of 75-73 to miss the cut by a stroke.