Nothing really! I looked long and hard at the three events:
Northern Trust: DJ blew the field away by 11 shots.
BMW: Lost to Jon Rahm in the most dramatic playoff I've ever seen.
Tour Championship: Started with a lead and played well enough to maintain it.
My goal was to find the one thing that stood out. What was it that he did clearly better than the other great players that were hot on his heels? I scoured eleven of what I believe to be the most important PGA Tour performance stats. Obviously including the four Strokes Gained stats and others that highlight the major skills in the game.
In the three events, DJ was ranked #1 in only four of my key stats. No surprise that 3 of the 4 fell in his dominance of the Northern Trust:
.453 Strokes Gained Tee to Green (Northern Trust)
90% Greens-in-Regulation (Northern Trust). Winners average 70%.
28′ 1″ Proximity to the Hole (Northern Trust)
100% Going for the Green, on Par 5's (Tour Championship).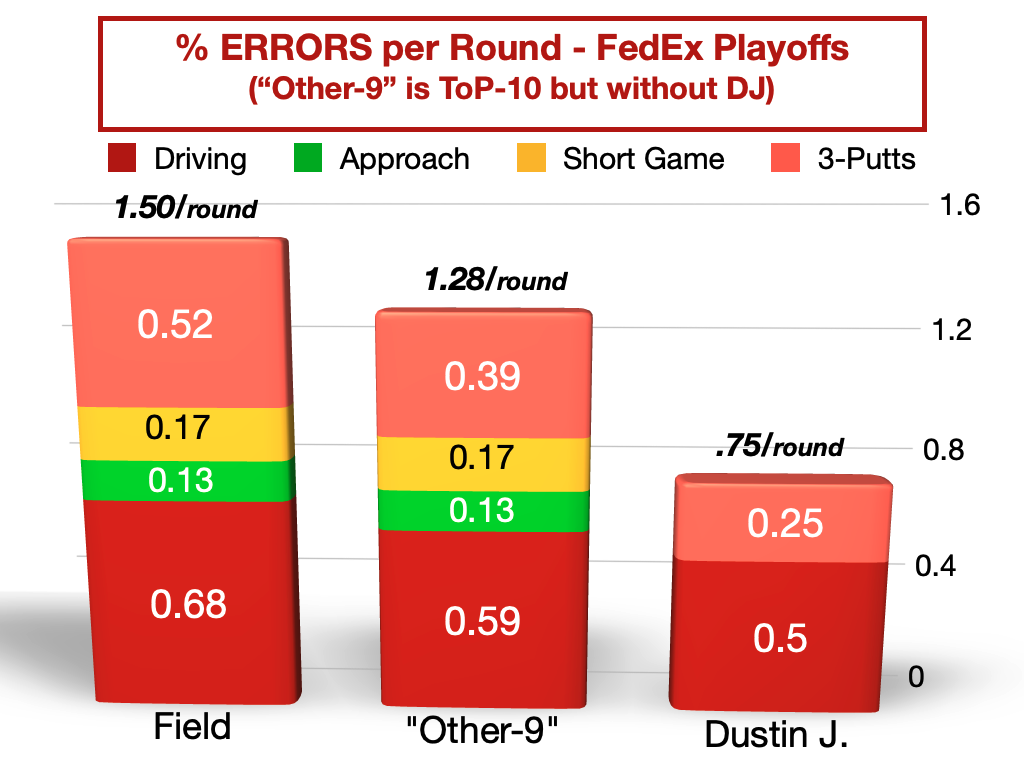 My comparison of the "OTHER-9" top finishers in the playoffs did not reveal any bombshells. But in running my own analysis of the ShotLink data to uncover "Niblicks of Truth" that the PGA Tour does not look for or display, the Frequency and Severity of ERRORS proved to be the difference I was looking for!
If you've read my work before, you know I like to programmatically cull out the number and cost of the errors that have such an impact at every level of the game – even the Tour. Very briefly they are:
Driving – Balls hit out of play and requiring recovery shots or penalty results.
Approach – Penalty results
Short Game (Chip/Pitch or Sand shots within 50 yards of the hole) – Shots that miss the green AND require 4 or more strokes to hole out.
Putting – While not every 3-Putt is an error, for the purposes of this study I am going to consider that they are.
My gotcha moment was the discovery that Dustin's errors were not only significantly fewer (58%) than the Other-9 and the field (50%), but when they did sneak into his game they were only 50% as costly.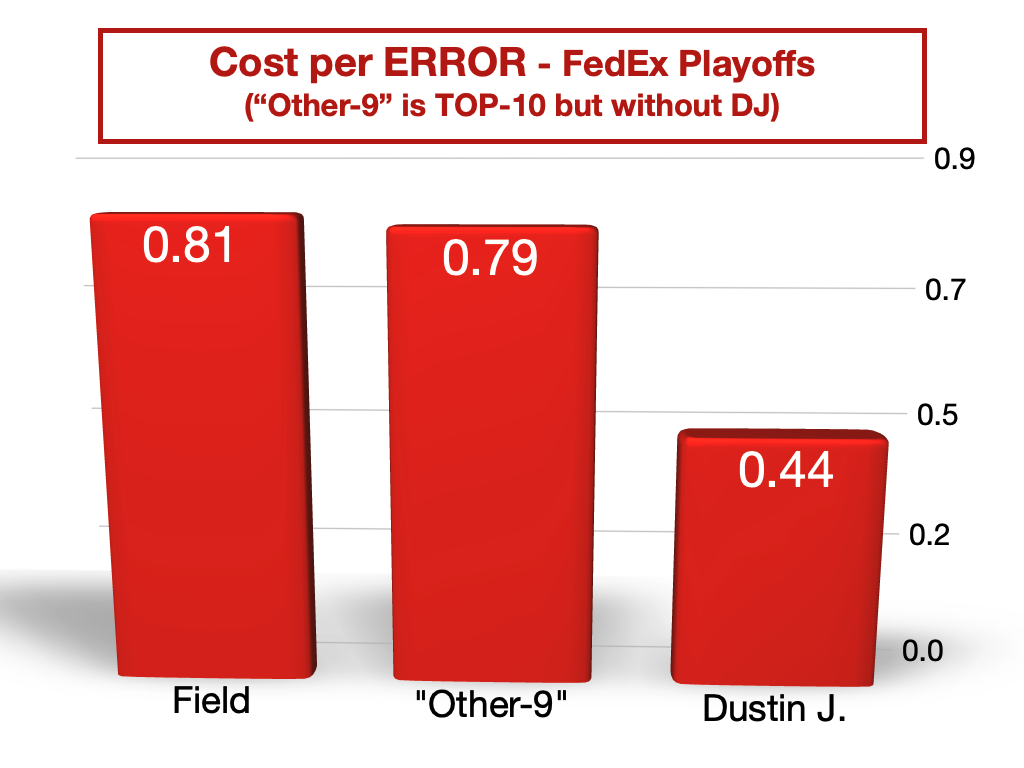 Bottom line, Dustin distanced himself from 2nd place in the three events by 14 shots. I estimate that 8 shots, or 57% of his cushion, can be directly attributed to his avoidance of and recovery from ERRORS.
---
Peter Sanders is the President and a founding partner of ShotByShot.com, a unique strokes gained analysis program that helps golfers determine the precise strengths and weaknesses of each facet of their golf game.
Peter has worked with PGA Tour players and major champions such as Zach Johnson, Lucas Glover, Smylie Kaufman, Zack Sucher, Sepp Straka, Dylan Frittelli and Michael Thompson to analyze and interpret their data for game improvement. 
Read more from Peter on his Niblicks of Truth blog at ShotByShot.com.