The shakeup and shut down of Golf Channel's Orlando-based headquarters may have been expedited after 11 Golf Channel employees joined a class action lawsuit against Lockheed Martin alleging the defense and aerospace giant failed to properly manage and dispose of potentially harmful toxins that workers allege contaminated them, according to reports from The Orlando Sentinel and GeoffShackelford.com. 
The Orlando-based headquarters were expected to close at the end of the calendar year, but a staff email sent on Oct. 2 and obtained by Shackelford alerted the small number of employees who had been reporting to the office amid the pandemic that the building would be closed until further notice as Golf Channel officials "thoroughly (investigate) the matter to ensure that (the) campus environment is safe."
"In light of the allegations, we are thoroughly investigating the matter to ensure that our campus environment is safe," Golf Channel president Mike McCarley wrote in the email. "While we do so, out of an abundance of caution, we ask that you continue to work remotely as has been the case during the pandemic. Over the next few days, we will communicate with the limited number of employees currently allowed on-site to further limit access, involving moving our production off-site beginning Monday."
According to court filings obtained by The Morning Read, the suit alleges Golf Channel employees were exposed to an "environmental nightmare" because of their proximity to the company's nearby tests on missiles and other weapons systems. Alleging negligence on the part of Lockheed Martin at its location south of Orlando, the employees complained that they were diagnosed with numerous ailments, including multiple sclerosis, brain lesions and cancer.
Golf Channel Headquarters Closed For "Investigation" Out Of "An Abundance Of Caution" https://t.co/tlebAjR2uZ

— Geoff Shackelford (@GeoffShac) October 5, 2020
"For a period of many years, the people at Lockheed Martin were conducting tests on bombs, delivery systems and missiles, and those toxins escaped," John Morgan, the founder of the Orlando-based personal-injury firm Morgan & Morgan, told The Sentinel. "The essence of what our experts have told us that they believe happened is that these toxins were not properly disposed of, remediation was not properly handled and that these dangerous chemicals were placed into the air. And with that, over a period of time, a large number of people became sick, became deadly ill and actually died."
The location of the Lockheed Martin site is very close to 7580 Golf Channel Drive as shown by the overhead view, courtesy of Google Maps.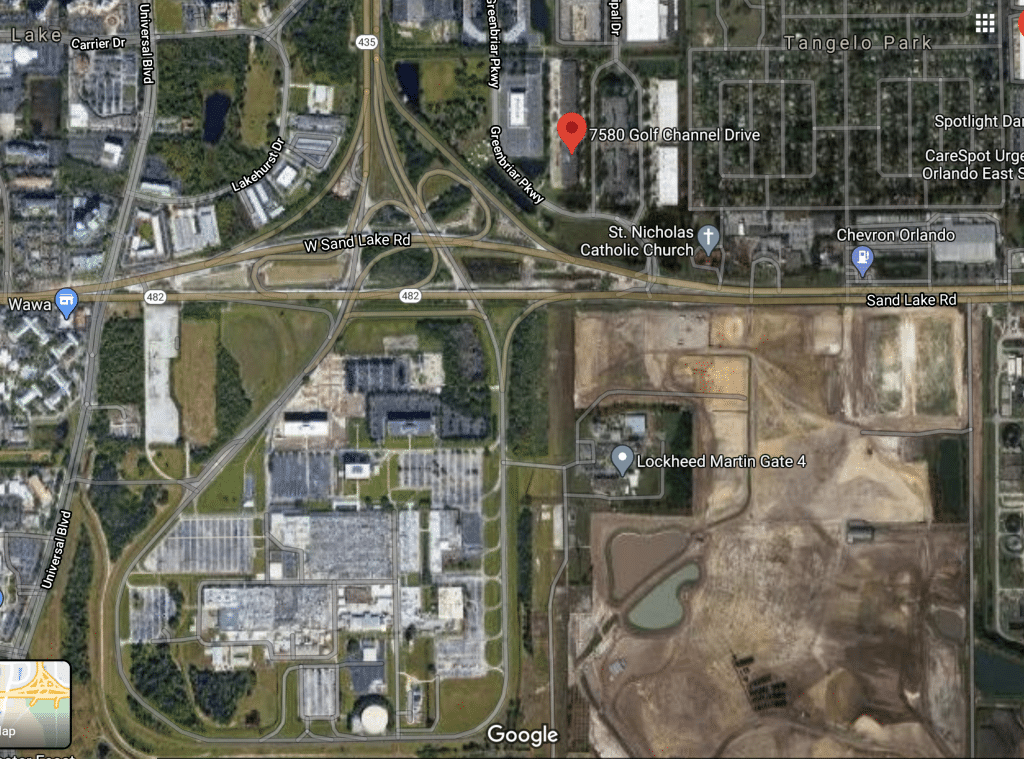 "If a company puts profits over the health and safety of people, lives are destroyed," Morgan said in a statement after a virtual press conference, according to The Sentinel. "We allege that Lockheed Martin may have hurt the health and wellbeing of our clients, and everyone who lives and works near this facility. We allege that Lockheed Martin knew the harm their actions could cause and did it anyway."
The Golf Channel is now facing three open lawsuits, according to Shackelford: the Lockheed Martin class-action suit, another that claiming that NBCUniversal's Golf Channel has been "selling viewers' personal information and viewing history without their permission," and a lawsuit over the use of Golfpass, a trademarked service.