Speaking simplistically, there are two ways to stand out in the crowded putter space: exceedingly low price or distinctively superior quality.
For avid golfers who understand the importance of a consistent and reliable flat stick, the latter bucket is where many of us fall. We know the heavy-hitters in the space — the Scotty Camerons and Bettinardis of the world — but there's a relatively new player in the space (especially in American markets) that is turning the best players in the world as well as amateur golfers into believers: Argolf.
A quick background on the company: two golf-crazed French aeronautical engineers and a golf professional had a chance meeting a decade ago and decided they could make a better putter than what was currently on the market. Based in Brittany, France, the first family of Argolf, Olivier, Sébastien and Sonia Colas wanted to pay tribute to the identity of the region, which has strong ties to the Arthurian legend, hence the company's name and the line of products they produce.
With offerings such as the ARTHUR, LANCELOT, EXCALIBUR and PENDRAGON, the tether to the legend is strong throughout their offerings, but the focus of this review is the ARTHUR, Argolf's best-selling blade putter model.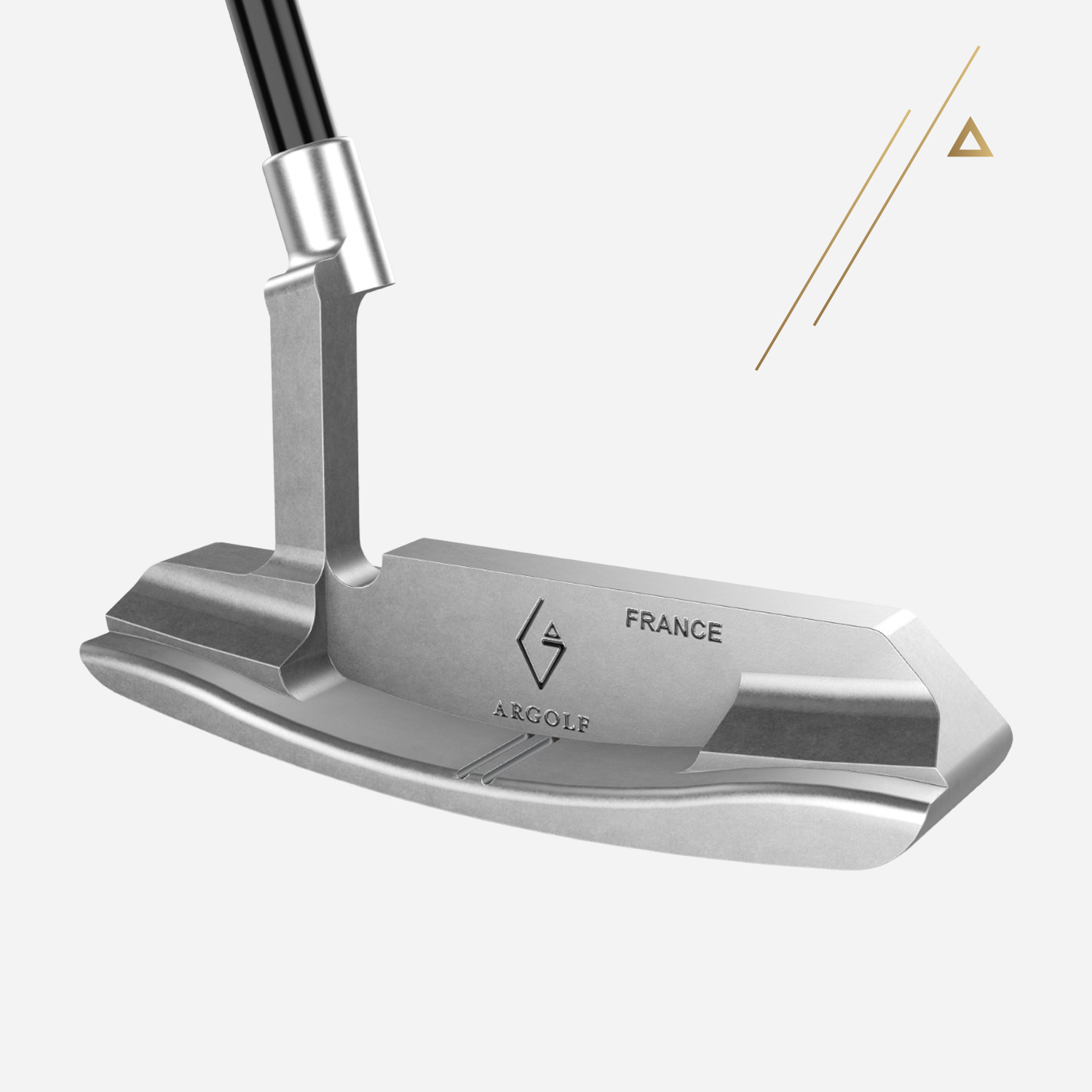 The Background
Like many golfers around my age who grew up on Tiger Woods, when we got the chance to splurge on a putter, the only option was the Scotty Cameron Newport 2. After all, if Tiger used that putter and he was the best putter in the world ipso facto I should use the same putter as him, which I did for the better part of 15 years. 
Fast-forward to 2020, a global pandemic, a decent amount of on-course golf and a lot of basement putting, I was ready to take my putting to another level. Previously, I had only been lured away from my trusty Scotty Cameron in spells, mostly by TaylorMade's Spider Tour putter. 
In hindsight, the only putter I cheated on my Scotty with was an accidental peek into my future. Three putts into a recent putter fitting on a SAM Putt Lab, my fitter asked, "How long have you been putting with the Newport 2?" And he quickly followed up with, "Yeah, that putter (Newport 2) is completely wrong for your stroke."
Awesome. 
As it turns out, Tiger often talks about releasing the toe of his putter because he's a toe-hang, arc putter whereas I am more of a straight-back, straight-through kind of guy. The transition for me to a face-balanced mallet putter was difficult but beneficial. 
All that is to say, to play and putt my best, I need less toe hang in a putter, which primarily comes in larger-backed clubs, so when the ARTHUR showed up on my porch, it was like holding my very own Excalibur: a relatively heavy blade putter than featured more of a mid hang that really fit my eye straight out of the box.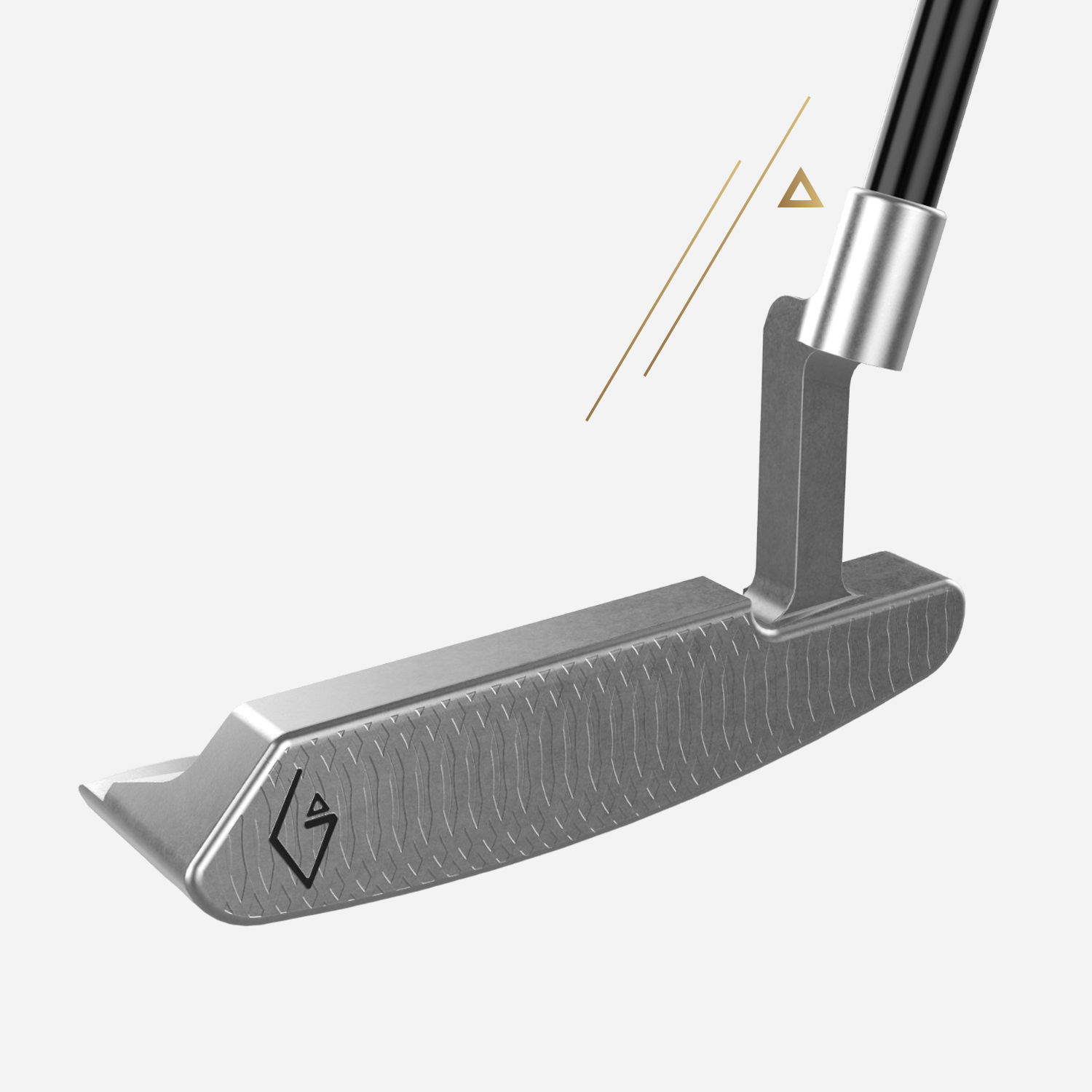 The Look, Sound And Feel
Staring down at a blade putter was like riding a bike, but more like one of those e-bikes that basically pedals themselves. The comparatively loose feel I have with my Newport 2 — the toe swinging freely and uncontrolled — was nowhere to be found.
A part of my routine before pulling the putter back is a regrip/release of tension in my hands. With my Scotty, and other toe-hang putters, this leads to the toe closing down momentarily, requiring me to reset the blade before putting. This has been abetted with a heavier mallet-style, and I'm happy to report the 370g head of the ARTHUR sits dutifully in the position I have set it.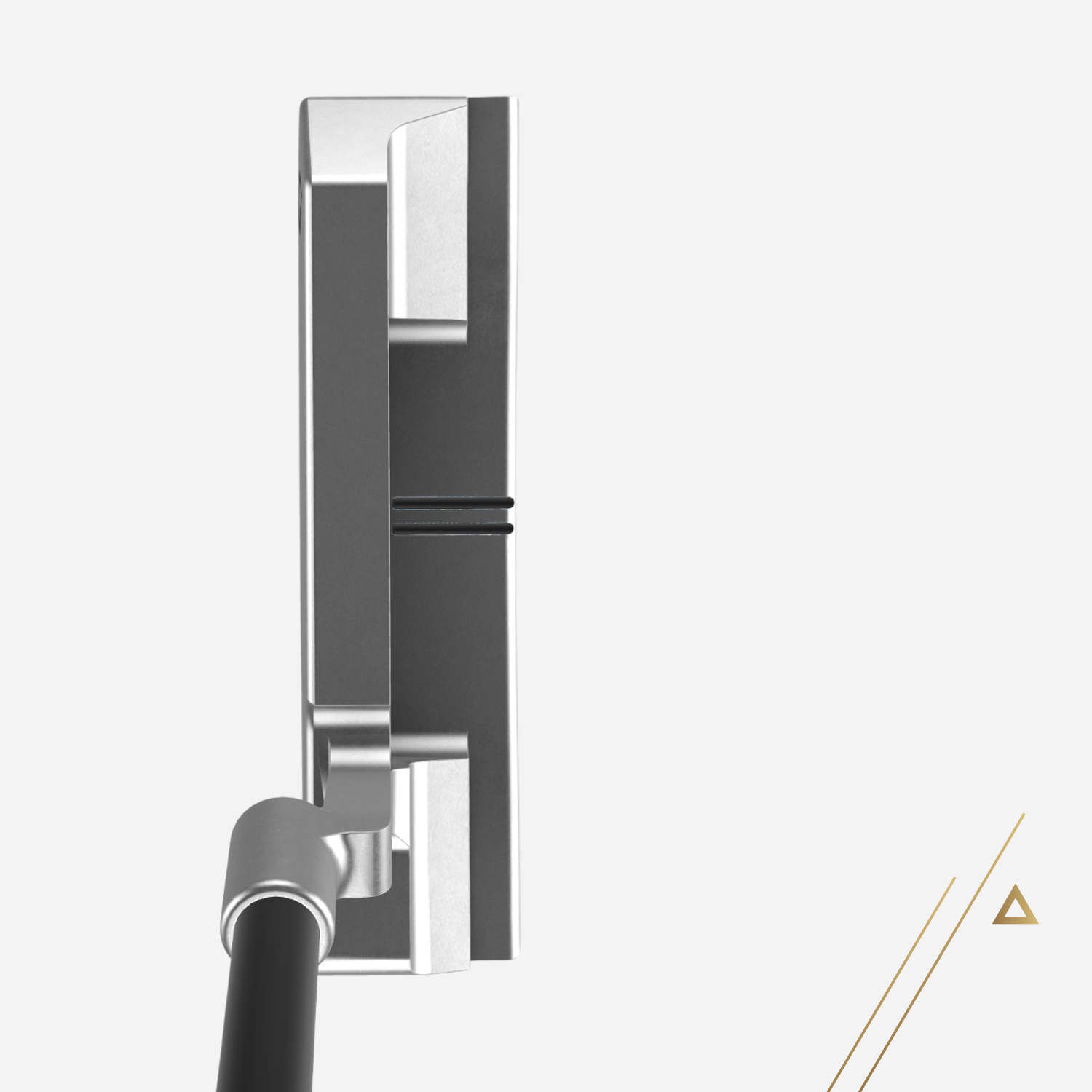 The ARTHUR also has a few design differentiators that separate it from your typical Ping Anser or Scotty Cameron Newport 2 as you can see from the above-view picture. Most notably for me was the double sight lines on the back flange.
In reading up on the putter, this design feature elicits responses ranging from "not a fan" to "love it." Count me in the "love it" group.
As someone who has a love/hate relationship with a line on the golf ball, I've fallen into a steady, albeit inconsistent pattern of when and where I use the line on my golf ball. Outside of 15ish feet, I set the ball logo-up so as not to distract myself with a super-exact start line, which tends to distract me from putting good speed on putts I really shouldn't expect to make. However, closer to the hole on slight breakers, I'm a line disciple and having the two sight lines "frame" the line on my ball was a nice aid for me.
The sound and feel of the ARTHUR was superior to my Cameron across the board. Bearing in mind my Cameron is 15 years old, there was no contest between them. Hitting a few putts back-to-back with the two putters, I let out an audible and unexpected, "Ew," when striking the Cameron after the ARTHUR.
Even on heel and toe hits with the ARTHUR, the roll was comparable to centered strikes. Way out of the toe and in off the heel even rolled fine, while providing some of that gear effect that lets you know you really put a bad stroke on the ball. 
Personalization
It would be doing the folks at Argolf a disservice if I didn't at least touch on the potential for personalization on your putter. As more of a traditionalist, the minimalistic "CHRIS" they stamped on the back bumper of the putter suited me just fine, but if you're into a little more pizzaz, I haven't seen any other high-end company offer the range of designs that Argolf has.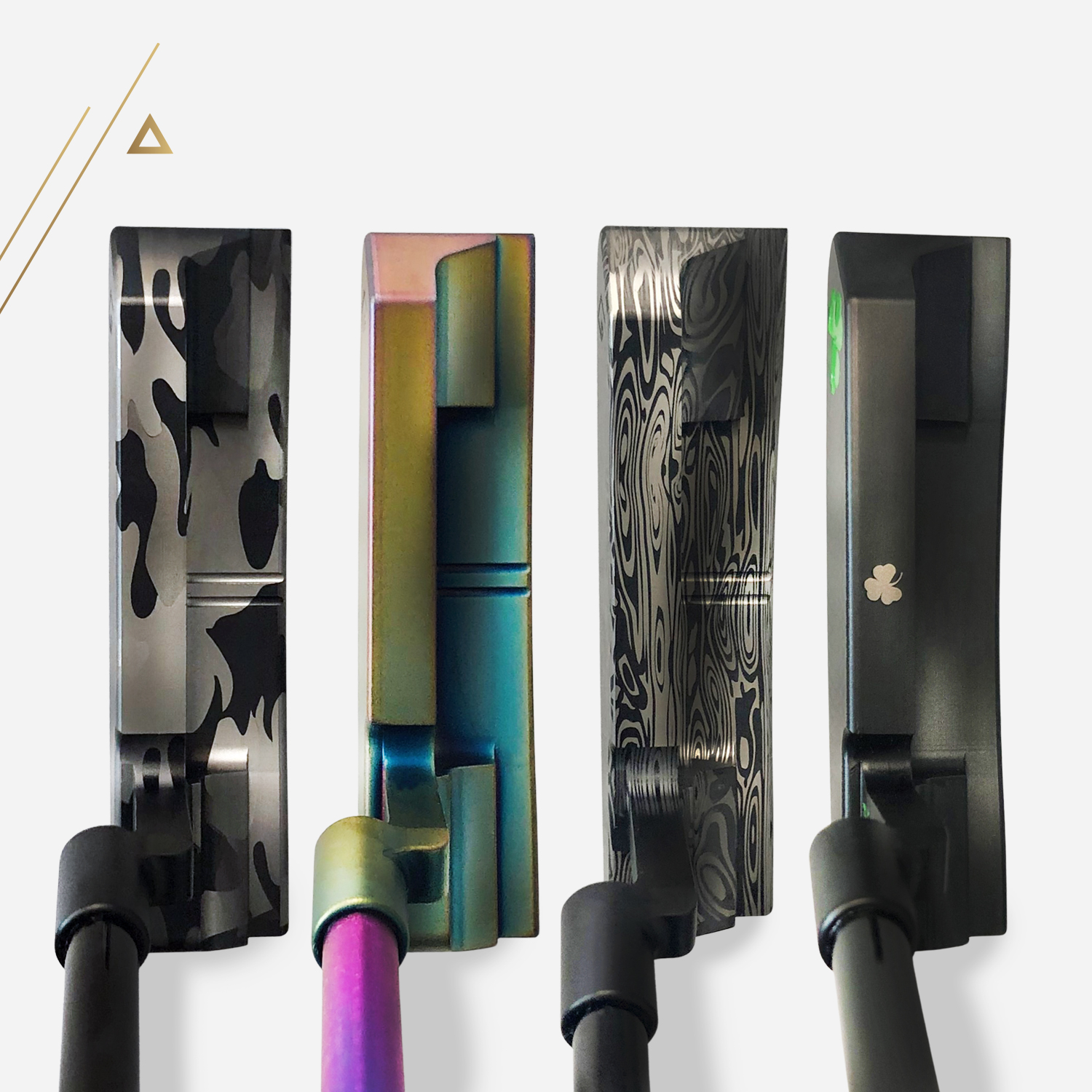 Everything from stamping to engraving is on the table and they come out pretty great-looking for someone who likes to flash a little more personality on the course.
The Conclusion
It shouldn't come as a surprise that a pair of aeronautical engineers could design a putter that can simulate the weight and stability of a mallet while keeping the muted aesthetic of a blade, but for me, it still did, and I'm grateful for it.
While it's bad news for my (un)trusty Newport 2, it's great news for a certified putter tinkerer who is constantly looking for a change of scenery when putts refuse to fall with my current gamer. Bouncing from putter to putter has never been my thing, but rotating through a few tried-and-true options has been more my style and within a few minutes of stroking the ARTHUR, it solidified its place in my rotation.
The ARTHUR starts at $359 and can be customized from 32″ all the way up to 38″. Loft, lie and grip are all up for discussion in your initial checkout as is the option for the standard chrome steel shaft or a black PVD coating. Etching and personalization can be taken care of on a per order basis as well.
To find out more about the ARTHUR and Argolf, check out their website.