I've learned that there is no such thing as an "average" game, no matter the handicap level. We're all snowflakes and find our own unique way to shoot our number. With that said, ShotByShot.com's 450,000-plus round database enables us to create a composite of the average golfer at each level.
I'm posting five short articles, each describing the most important areas for improvement in each of the five major facets — Driving, Approach shots, Chip/Pitch, Sand shots and Putting — to take you from an 18-handicap to a 9-handicap.
For approach, we need to save 3 strokes. This facet involves the greatest number of long game opportunities – on average 17.6 full swing attempts per round. These attempts are generally split 70% from the fairway and 30% from the rough.
Let's ignore the sand for now as it accounts for approximately only 1 shot every three-plus rounds. Except to say that when you find yourself in a fairway bunker, it is usually a mistake, so take your medicine, get back in play and avoid doubling the pain.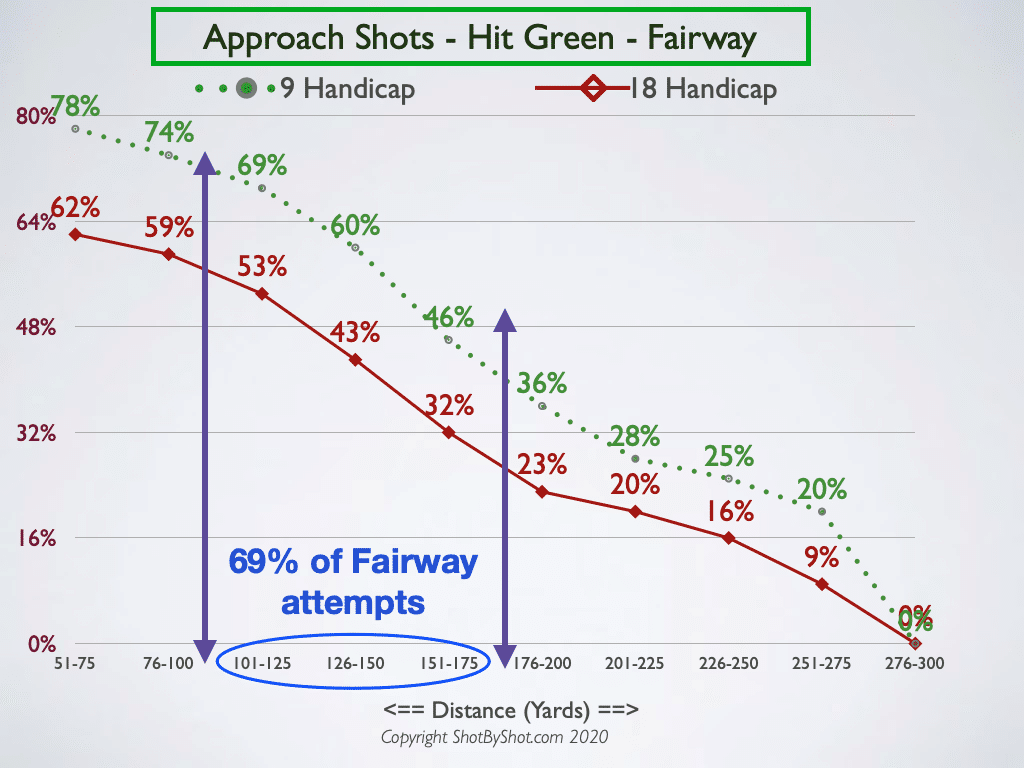 Where to save three strokes? Avoid penalties and that's at least one stroke. Then hit three more greens in regulation and you are there – Mr. 18 averages five GIR's vs. Mr. 9's eight. Obviously, the key is to improve accuracy.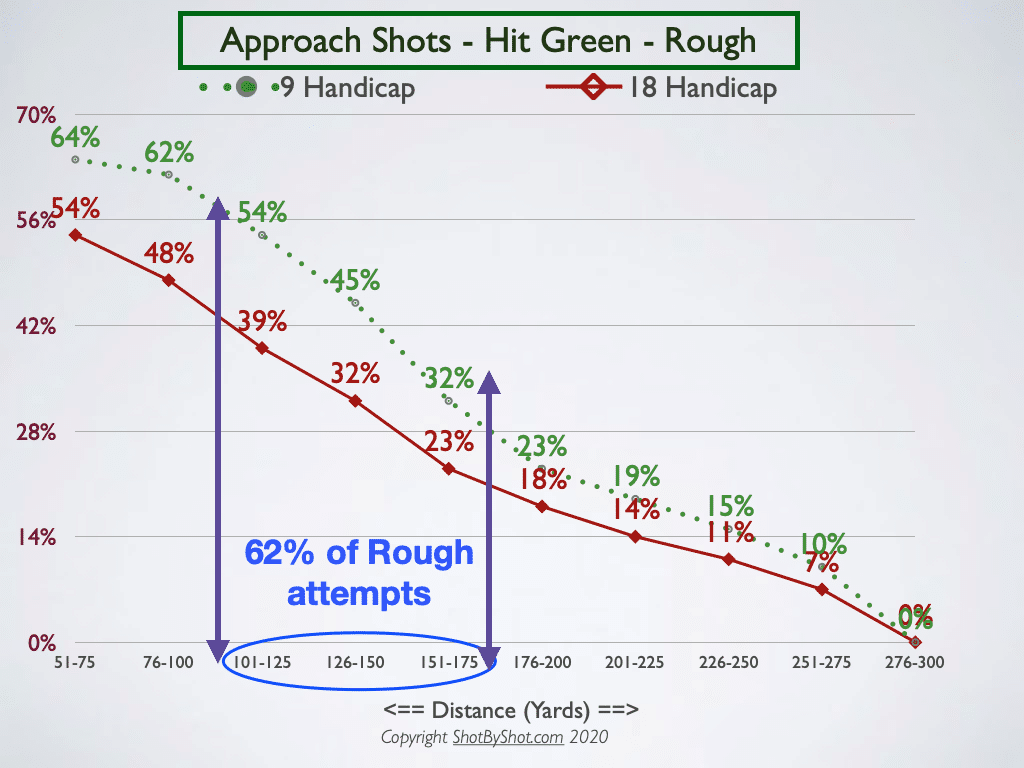 I recommend working on the distance ranges circled in the charts below and devoting 70% of your work to fairway shots. From distances longer than the circled ranges, make smart choices, play within your capabilities and avoid errors and penalties.
Easy?!
At either handicap level, from long-range, you will miss more greens than you hit. Knowing this, work toward "good misses" – the fat side of the green, short but in the fairway, etc.
Finally, my data supports that hitting the green is far more important than worrying about "proximity to the hole," but that's another article.
---
Peter Sanders is the President and a founding partner of ShotByShot.com, a unique strokes gained analysis program that helps golfers determine the precise strengths and weaknesses of each facet of their golf game, the system SwingU uses for its Versus product.
Peter has worked with PGA Tour players and major champions such as Zach Johnson, Lucas Glover, Smylie Kaufman, Zack Sucher, Sepp Straka, Dylan Frittelli and Michael Thompson to analyze and interpret their data for game improvement. 
Read more from Peter on his Niblicks of Truth blog at ShotByShot.com.