While Patrick Mahomes and Josh Allen were just getting warmed up in the first half of the AFC Divisional Playoffs, Hudson Swafford was showing off his own clutch gene on the back nine at PGA West's Stadium Course.
Trailing the 54-hole co-leaders by three strokes coming into Sunday in Palm Springs, Swafford overcame an opening bogey to shoot 3-under par 33 going out and then went par-free on the back nine through the first six holes to reach 20-under par for the tournament.
On the par-5 16th, Swafford stuck his second shot to eight feet for a go-ahead eagle, and he gave himself another shot cushion on the island green 17th, rolling in a 20-footer for birdie.
The University of Georgia product's second win in the desert featured yet another example of "the best putter out of the best ball strikers" winning on Tour, producing a strokes gained profile of negligible driving and scrambling gains, but he picked up nearly 11 strokes on the field average approaching the green and putting over two rounds at the Stadium Course (note: no strokes gained information is collected at PGA West Nicklaus or La Quinta Country Club).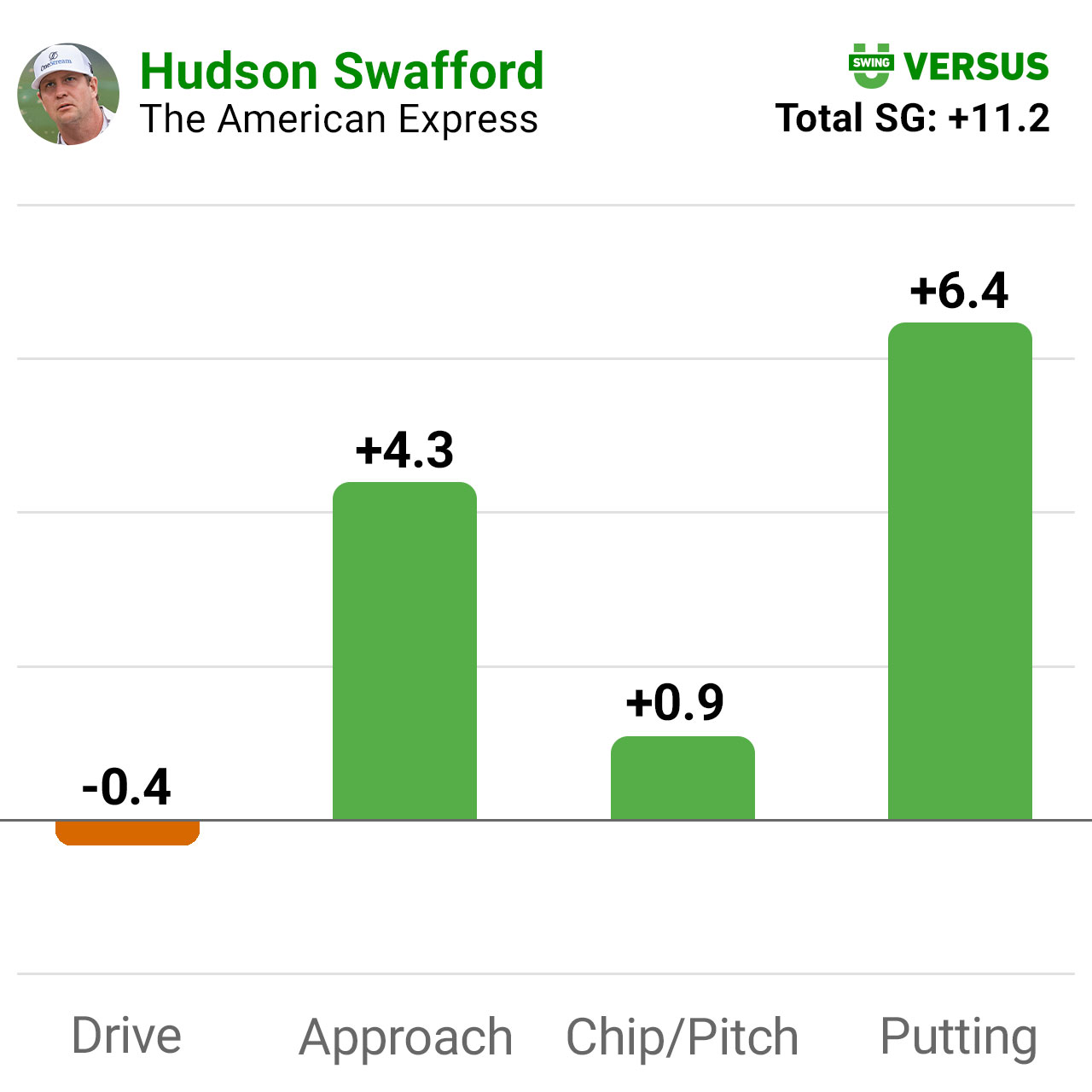 Swafford ranked fourth in the field in SG: Approach and second in SG: Putting for the week.
"I putted unbelievable this week," Swafford said. "I actually changed putters this week to a heel-shafted putter to help it swing a little bit more and rolled it incredibly well."
The win was Swafford's third on the PGA Tour and second in Palm Springs in the last five years. He moved up 105 spots in the Official World Golf Ranking to No. 61.
Your Game
Strokes gained can seem like a complicated concept, but it's based on a pretty simple premise: how many shots should you expect to need to get the ball in the hole from various spots on the course. And what's even better: you don't even need to know those numbers off the top of your head because they are baked into the stat itself.
Using tools like SwingU Versus, strokes gained becomes even easier. By simply keeping track of your score based upon different inputs that require seconds of your time to plug in, you're able to see where you're gaining or losing shots against par. From there, the next step is simple: identify where you're costing yourself the most strokes and improve upon that facet to see the fastest improvement in your scores.
That's why Rory McIlroy has heralded strokes gained as "the best stat, by far, that has come into our game for the last … well, ever, really." See how strokes gained can help your game with SwingU Versus.—CC