Winter, for those of us who observe, can feel like a pause button on golf. And while Tuesday marks its official start date, golf courses in the northeast and other regions that experience the season's full complement of weather phenomena have been frosted over for weeks.
But don't despair. We're here to remind you that your game doesn't have to go into hibernation based on what some dumb calendar says. Whether you're looking to bundle up and take advantage of the occasional precipitation-free day and log some real rounds, or you want to move your practice regimen indoors until the spring, there are a number of ways we cold-weather folk can make the most of the supposed "off-season."
Golf.com recently unveiled its "8 tips for conquering winter golf," and we'll highlight a few of those survival tactics here. But that was a guide focused mainly on playing outdoors, which would require many of us to trespass on tracks that will remain shuttered for the next few months.
Read on for a sampling of tips, drills, training aids and even long-term project ideas to warm any golfer's heart during what can feel like a grim stretch.
Layer Up And Leg It Out
If you are planning to brave the elements, Golf.com's Zephyr Melton provides some helpful if somewhat obvious pointers here. Among the most important? Well, what you're wearing, of course.
Anyone who's ever dug out of a blizzard knows that the required gear severely limits your range of motion. But if you eschew cumbersome parkas and puffer vests in favor of a few lightweight layers, you can keep yourself warm on the course without sacrificing too much mobility. And you'll have the option to peel them off if you feel yourself maintaining (or exceeding) a comfortable core temperature.
Thermal base layers — top and bottom — are pretty easy to track down. And most of the top golf apparel brands make down jackets, thin vests and hoodies and a variety of winter accessories that are both stylish and functional. Keeping your hands warm is a must, so you'll want to adopt a Tommy "Two Gloves" Gainey aesthetic. Just don't follow his lead on much else. 
It's also imperative that you leave the cart in the barn and get some steps in. Keeping the blood flowing between shots will help you avoid soft-tissue injuries. Plus, you'll be exercising outside at a time when such an activity can be scarce. The only thing left to do is find a reliable weather app and hunt for a playable course near you. 
It snowed last night. I'm playing golf tomorrow. Welcome to the northeast!

— Shane Bacon (@shanebacon) December 9, 2021
Strike It Solidly … Or Suffer The Consequences
Right around the time the leaves begin to fall, golf courses situated in colder climates offer the added benefit of helping you to practice some creative shot-making. Balls don't carry as far, wind plays havoc with the flight of your shots and, yes, course maintenance tends to slip a bit, resulting in some sub-optimal lies. You'll be forced into a bit more deliberation than what's typical of a perfect summer round. 
Mishits — especially those involving thin contact — produce "stingers." And not the cool kind whose piercing, low-flying trajectories we love to trace. So how can you assure yourself of more solid strikes, thus avoiding the kinds of mistakes that leave your hands tingling? SwingU Faculty member Ben Pellicani has a handy drill for producing solid and predictable contact. You'll be equipped for cold-weather golf, yes, but it's a technique that can help you stay dialed in year-round.
Become A Flatstick Fiend
Oft-neglected by amateurs, in part because mastering its mechanics requires fewer physical gifts than the full swing, the putting stroke is the perfect area on which to focus when you're relegated to your living room or basement.  
Sure, there are myriad ways to simulate a round indoors using every shot in your repertoire (and we'll cover those in a bit). But to paraphrase the great Lee Carvalho, "how's that gonna help your putting?"
For starters, you can purchase a quality putting mat for around $150. And once you become an assassin from that critical range of 6-10 feet, you can start adding a little flair to your stroke by mimicking one or all of the funky set-ups you see below.
 

 

View this post on Instagram

 
Watching and borrowing from the pros isn't a bad way to absorb some useful tendencies, as SwingU Academies Master Faculty member Stan Utley demonstrates here. These guys have their quirks and idiosyncrasies for a reason — they help them stay composed as they stand over putts worth millions.
Win A Virtual Major
Coinciding with golf's rise in popularity amid the COVID-19 pandemic is a spike in the sales of high-tech golf simulators. Everywhere golf is played traditionally, you'll also find golf retailers with onsite simulators and even some standalone joints solely intended to host this unique form of entertainment.
Chances are, there's a place like this as near to you as your favorite muni. And pretty much any scenario you could dream up — battling it out with your friends at Augusta National for the virtual green jacket or simulating the latest Ryder Cup matches — is achievable through technology that gets more sophisticated by the year.
So round up your foursome, bring some favorite beverages and play a streamlined round on a bucket-list course. No searching for lost balls. No waiting between shots. Just an express buddies trip — minus the airline tickets.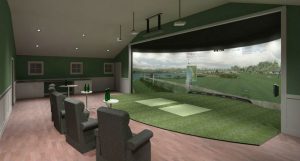 But, if you're feeling industrious, you could just …
Build Your Own Simulator
Our own Chris Chaney did all the legwork (and armwork and handwork) to transform half of his two-car garage into the ultimate at-home hitting bay — and all for less than a thousand bucks. Chaney chronicled the twists and turns the project took him on, spelling out all the maneuvers and material choices he used to keep a hefty price tag, um, at bay. Follow his steps, and you just might find yourself turning, as he puts it, "any mundane evening into a self-made Masters Sunday."