Give Brooks Koepka credit… he isn't picky when it comes to who he's willing to go after online.
While his usual muse, Bryson DeChambeau, deals with rumors about joining a Saudi-backed splinter Tour, Koepka went after another star player who's also made headlines this week at the Saudi International: Phil Mickelson.
Pot, meet kettle
Commenting on a Golf Digest Instagram post that quoted Mickelson as saying, "The media rights are but a small fraction of everything else. And it is the Tour's obnoxious greed that has really opened the door for opportunities elsewhere," Koepka called into question the whistle-blower.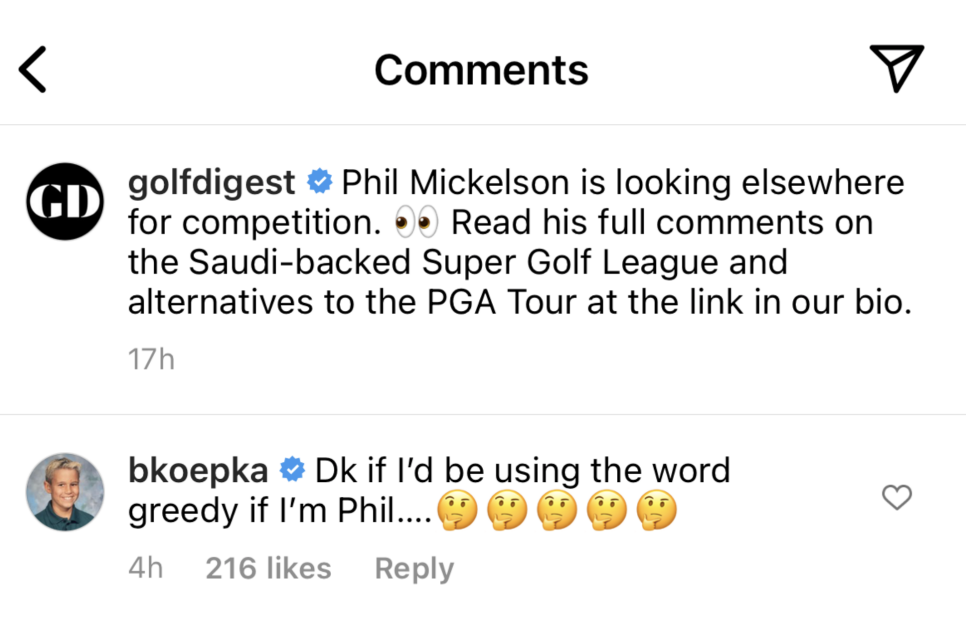 "(Don't know) if I'd be using the word greedy if I'm Phil…" he wrote.
While Koepka has never been one to shy away from a payday — even going so far as to participate in one of Mickelson's made-for-TV exhibitions late last year and having teed it up in past iterations of the Saudi International — he's not in the Middle East this week, and should he stay consistent with previous statements, probably won't be for the foreseeable future. 
"I am out of the PGL. I'm going with the PGA Tour," Koepka told The Associated Press.
"I have a hard time believing golf should be about just 48 players. I get that the stars are what people come to see, but these guys who we see win, who have been grinding for 10 or 15 years, that's what makes the cool stories. I'd have a hard time looking at guys and putting them out of a job."